Sabic launches PP compounds based on renewable and recycled feedstock; Borealis helps Uponor create world's first cross-linked PE-X pipes based on renewable feedstock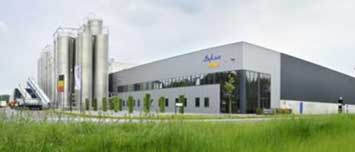 Chemical firm Sabic says that its production of a new range of PP compounds and Stamax PP resins based on bio-renewable and advanced recycled feedstock at Genk, Belgium, has received TÜV Nord accreditation under the ISCC Plus scheme. This certified product offering aligns with Sabic's Trucircle initiative.
"We are extremely proud of being the first in the industry to obtain ISCC Plus certification for PP compounds and resins produced with feedstock from renewable and recycled sources. This gives our PP customers a valid alternative for enhancing their environmental balance and achieving ambitious sustainability targets," says Lada Kurelec, General Manager for PP & E4P Business, Sabic. "The large-scale production of these new materials at our manufacturing site in Genk also ensures security of supply, while it contributes to our efforts of mitigating the impact of our products on climate change and fossil depletion."
The ISCC Plus certification honours the implementation of a mass balance accounting system that traces the material flow across complex supply chains from the feedstock to final products. The approach allows OEMs to document and quantify the sustainability of their applications made from certified materials. Moreover, brand owners can use the certification to highlight the sustainable material content of their products, offering consumers a more responsible choice. The mass balance accounting follows predefined and transparent rules, which then define whether a product can be classified as renewable or circular.
For Sabic, this means that for each tonne of renewable or circular feedstock fed into the production process to substitute fossil-based feedstock, approximately one ton of the output material can be classified as either renewable or circular.
In addition, Sabic says it has performed a life cycle analysis (LCA) comparing the renewable and the traditional fossil-based routes according to PAS 2050 methodology for biogenic carbon accounting. The results show significant Global Warming Potential (GWP) reductions, with near CO2 neutrality achieved at a renewable content of 40%. On cradle-to-gate and cradle-to-gate plus end-of-life levels, each kg of Sabic PP compound based on certified renewable feedstock can reduce fossil depletion by up to 40% and lessen the carbon footprint of applications by up to 95%.
The PP compounds are targeted at high-performance automotive applications, from bumpers and painted or unpainted exterior trim components to interior door panels, instrument panels and visible interior trim. Certified bio-renewable based long-glass-fibre reinforced polypropylene Stamax resins are targeted at structural automotive applications such as front-end carriers, instrument panel carriers, tailgate structures, door modules and others.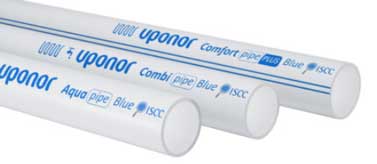 Meanwhile in other news, materials firm Borealis has been collaborating with pipe specialist Uponor to enhance the sustainability of cross-linked polyethylene (PE-X) pipes. The resulting is the world's first pipe portfolio made from PEX with renewable feedstock accredited by mass balance accounting under the ISCC Plus scheme.
Borealis' PE is derived from second-generation natural resources, such as waste from pulp production or residues from food processing oils, and has been used by Uponor in the new PEX Pipe Blue products that boast a carbon footprint reduction of up to 90% when compared to conventional fossil-based PE-X pipes. This also marks a major step forward to help customers in the building and construction industry achieve their sustainability targets in plumbing, heating, ventilation and air-conditioning (HVAC) installations.
Since introducing PE-X pipes to the world 50 years ago, Norwegian pipe maker Uponor has continuously improved their product offering and processes. "The fact that we can now offer our customers 100% renewable based PEX Pipe Blue means that they can greatly reduce the climate footprint of their installations and meet tomorrow's regulations for a more circular and renewable construction industry, today", explains Robert Molund, Managing Director, Uponor AB. "With the use of Bornewables feedstock and the huge CO2 reduction opportunity, we are convinced that PEX Pipe Blue will soon be the new reference standard in this important market."
The significantly lower carbon footprint of PEX Pipe Blue compared to traditional fossil-based PE-X pipes is based on Environmental Product Declaration (EPD) calculations according to EN15804+A1 and CML/ISO21930 standards. EPD evaluates the environmental impact of products by means of life cycle assessment (LCA). All the data is verified by an independent third party.
Under the ISCC, for every tonne of certified Bornewables PE-X used in production, an equivalent amount of PEX Pipe Blue can be claimed as certified renewable, without compromising on quality or efficiency. To ensure that all requirements are met, Borealis and Uponor's ISCC PLUS certificates are audited annually.
"We are delighted to be able to make such a significant contribution to the circular progress of the plastics infrastructure and pipe industries," says John Webster, Global Commercial Director, Infrastructure for Borealis. "Real advances toward greater sustainability and carbon neutrality require dedicated collaboration with value chain partners that share common goals. PEX Pipe Blue with Bornewables is an impressive example of what can be achieved when market leaders join forces."
(PRA)
---
Subscribe to Get the Latest Updates from PRA Please click here
©2022 Plastics and Rubber Asia. All rights reserved.

©2022 Plastics and Rubber Asia. All rights reserved.
Home
Terms & Conditions
Privacy Policy
Webmail
Site Map
About Us
SOCIAL MEDIA