Engineering Plastics: Better plastics shaped by electronic/electrical market trends
Engineering plastics' growth in the global market is being fuelled by their superior mechanical and/or thermal properties, chemical resistance, wear resistance, and high dimensional stability when compared to commodity plastics, especially in the electronic/electrical market.
Engineering plastics are commonly used in industries such as automotive, aerospace, and transportation, as well as electrical and electronics, consumer appliances, industrial machinery, packaging, construction, and medical. The materials are currently used in products where proper material selection is required to meet performance requirements and match manufacturing process demands without incurring additional costs.
Sustainability of materials remains a priority
The latest generation of engineering plastics are designed to be circular, meaning they are recyclable, reusable, and made from recycled materials, with sustainability at the forefront of the material development agenda.
Chemical supplier Sabic has introduced LNP Elcrin WF0061BiQ resin, which uses ocean-bound PET bottles as a feed stream for chemical upcycling into polybutylene terephthalate PBT resin.
The LNP Elcrin WF0061BiQ grade is a glass fibre-reinforced PBT material that features non-brominated, non-chlorinated flame retardancy meeting the UL94 V0 standard at 0.8mm and F1 rating. It also delivers heat resistance, toughness and stiffness, and high flow well-suited for moulding thin-wall applications for outdoor environments.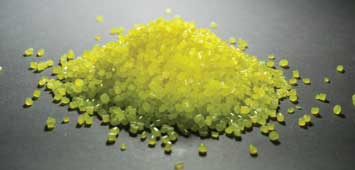 This latest addition to Sabic's portfolio is a material solution for consumer electronics applications such as fan housings in computers and automotive seating, as well as electrical connectors and enclosures. The compound, based on an internal life cycle analysis conducted in accordance with ISO 14040/14044 protocols, can offer potential reductions of up to 14% in carbon footprint and up to 25% in cumulative energy demand, when compared to the virgin PBT compound reinforced with glass fibre, adds Sabic.
Sabic expects to upcycle 10 billion ocean-bound waste plastic bottles in the next decade with its proprietary upcycling technology, which involves repolymerising ocean-bound PET into PBT with virgin-like performance properties.
Similarly, a recycled POM (polyoxymethylene) product derived from both post-industrial and post-consumer sources of POM has been developed by speciality chemicals firm Celanese and Japanese materials maker Mitsubishi Chemical Advanced Materials (MACAM). The Eco-R POM is a recycled content option of Celanese's Hostaform/Celcon POM.
MCAM will handle the recycled feedstock collection, separation, and processing, while Celanese will provide the formulation, product technology, and production capability for Eco-R.
Celanese introduced POM Eco-B, a biobased, biomass-balanced polyacetal product, in 2020. Despite the fact that Eco-B is commercially available, customer and industry adoption has been slow.
Celanese adds that it expects to offer to existing and new customers its Eco-R solution with a recycled content offering of up to 30%.
To promote Celanese's POM's global market growth, both companies have completed the restructuring of Korea Engineering Plastics (KEP), a 50:50 joint venture between Celanese and Mitsubishi Gas Chemical Company (MGC). KEP was formed in 1987 to manufacture and market POM in Asia, focusing on serving domestic demand in South Korea.
Celanese adds that it will gain access to OEMs in Asia as well as more direct participation in key markets outside of China as a result of the restructuring.
Safety in food processing
The food industry is critical as it needs to meet the ever-increasing demand for food products and packaging. As a result, faster output of food processing equipment is required, which means contending with high temperatures and having less downtime. Engineering materials allow food processing equipment to operate at temperatures that some conventional materials cannot tolerate without breaking down, leaking, or damaging equipment parts, resulting in waste, contamination, and low productivity.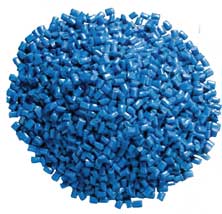 Ensinger, a German engineering plastics manufacturer, says it has doubled the benefit of engineering plastics with its newly launched detectable compound to improve food production safety. The new material, which is based on POM-C, has been specially developed for injection-moulded components used in the food processing industry.
The Tecacomp POM ID 1055303 is said to guarantee the components' mechanical and tribological properties. The compounds, which comply with the (EU) Regulation 10/2011 and of the FDA, are used in all situations where plastic fragments from equipment, cable ties, or transport boxes must not contaminate the products being processed. Even small particles of the filled Ensinger ID compounds can be detected and separated using metal and X-ray detectors due to its visually noticeable blue colour.
The base polymer from PP, PA66, POM and PEEK, and different fillers of POM-C, provide good sliding friction properties and a good combination of toughness and strength.
A low glass transition temperature also enables them to be used at temperatures down to minus 50 °C, for example in freeze-drying units. Low moisture absorption and good hydrolysis and chemical resistance also make it a promising material for use in wet environments which are cleaned frequently. The compounds fulfill the requirements of (EU) Regulation 10/2011 and FDA, concludes Ensinger.
(PRA)
---
Subscribe to Get the Latest Updates from PRA Please click here
©2022 Plastics and Rubber Asia. All rights reserved.

©2022 Plastics and Rubber Asia. All rights reserved.
Home
Terms & Conditions
Privacy Policy
Webmail
Site Map
About Us
SOCIAL MEDIA