Advertorial: Taipeiplas launches pre-show monthly campaigns featuring Smart Manufacturing, Innovation, and Sustainability
The physical edition of Taipeiplas is scheduled to return from 27 September to 1 October 2022 at the Taipei Nangang Exhibition Centre, Hall 1 (TaiNEX 1) in conjunction with ShoeTech Taipei. A month-long online exhibition will continue till 27 October.
This year's Taipeiplas focuses on three major themes - "Smart Machinery," "Next-gen Materials" and "Circular Economy - Net Zero Carbon Emissions." Starting from June, the organiser, TAITRA, has launched monthly theme-based campaigns to unveil the highlights of the coming Taipeiplas with social media news, exhibitor & production introductions, e-newsletters and videos. E-newsletter subscription and visitor registration are both now available on the official website.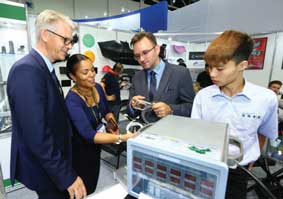 The pre-show monthly campaigns for the show kick off with the first theme "Smart Manufacturing" in June. The plastics and rubber manufacturing has become greatly different from what it was, says TAITRA. In the past, the manufacturing processes of plastics and rubber such as the parameters setting, the material selection, and the processing of complex components relied on the operation and judgment of experienced labour. Smart manufacturing technologies today have turned the production line to be fully automated, more efficient, meanwhile, led the industry to create new business models.
Key industry players from home and abroad such as ANN TONG, ARBURG, BASF, DIING KUEN, ENGEL, FKI, FSC, MULTIPLAS, WITTMANN BATTENFELD, YEI are all gearing up to make a splash at Taipeiplas 2022 by presenting their smart machines and smart manufacturing solutions.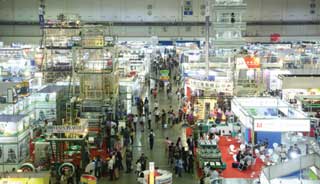 FCS and FKI for example, two leading plastic injection moulding machine manufacturers in Taiwan, have integrated Manufacturing Execution System (MES) into every section of their machine production and assembly lines. Multiple benefits are achieved, including more accurate production control, improved quality management and production cost reduction. Taiwan plastic and rubber machinery manufacturers are transforming to become smarter, and at the same time, providing a full line of services in building smart production lines overseas.
Besides the onsite and online exhibition, Taipeiplas 2022 will have a line-up of seminars, forums and featured events, On-site Guide for Online Visitors, PLASpotlight Live, themed guided tours, and procurement meetings, all together to explore the innovative trends in plastic and rubber industry and also to create a refreshing exhibition experience.
The online visitor registration for Taipeiplas and ShoeTech Taipei 2022 is available on the official websites: www.taipeiplas.com.tw / www.shoetech.com.tw
For more updates and full events information, please visit the official websites, or follow the shows on social media.
(PRA)
---
Subscribe to Get the Latest Updates from PRA Please click here
©2022 Plastics and Rubber Asia. All rights reserved.

©2022 Plastics and Rubber Asia. All rights reserved.
Home
Terms & Conditions
Privacy Policy
Webmail
Site Map
About Us
SOCIAL MEDIA