Innovation meets sustainability with TPEs
Kraiburg TPE, a global TPE manufacturer of a wide range of thermoplastic elastomer products and custom-engineered TPE solutions offers custom-engineered TPE solutions for sustainable packaging, ergonomic accessories and furniture, and the home decorative market. The Germany-headquartered company also offers the Thermolast M and Thermolast K series of compounds to meet the safety and design criteria required for oral care devices.
A guilt-free cuppa: reusable coffee cup lid made of TPE
Sustainability, convenience and enjoyment are now no longer contradictions – and manufacturers are responding: for example Cadios GmbH, a German start-up business that has developed the first reusable lid for coffee mugs and cups. The conically shaped lid made of TPE fits onto most common household cups and with its durability can make a lasting contribution to waste reduction. The "Udo" lid is available in many colours and can be customised on request.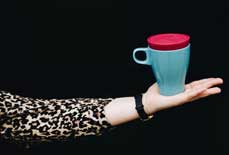 There is high demand for smart solutions in the takeaway food sector that are as sustainable as possible. To protect the oceans and the environment, a ban on the sale of single-use goods will be coming into effect on that date. The ban applies to single-use products such as drinking straws, swizzle sticks and cotton swabs, tableware and disposable cups. There are already plenty of alternative products, but most of them involve complete replacement with new products such as recyclable coffee cups. To solve this problem, the German company Cadios has developed the first reusable coffee cup lid: "Udo" is made in Germany in a climate-neutral process. In addition, the TPE compound, also produced in Germany, can be returned to the technical production cycle through in-process recycling.
Since the creators of "Udo" regard sustainability and quality as the central aims of their work, their materials choice was in favor of a compound from Kraiburg TPE's portfolio. The halogen-free Thermolast K product is particularly suitable for applications in everyday use and provides appropriate durability without losing its high quality over an extended period of time. The compound also has a soft-touch surface, making it very comfortable to hold but still providing a non-slip grip. The TPE can be custom-coloured in any way you like and customised with a company logo using laser technology. Excellent mechanical properties and good compression set also meet usersrequirements. Additional advantages of the compound used include the possibility of in-process recycling; being dishwasher safe; having outstanding good grip due to excellent haptic properties; high-temperature resistance; suitability for multi-component injection moulding; conformity with Regulation (EU) No. 10/2011, US FDA CFR 21, and DIN EN 71-3.
TPEs for exceptional ergonomic accessories and furniture design
Kraiburg TPE offers compounds with exacting properties to provide the necessary design flexibility and durability in ergonomic accessories and furniture for optimum user experience.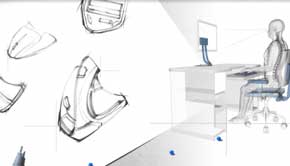 Advancements in TPE innovation have seen the material boosting the design and functionality in many accessories and furniture applications. Ergonomic accessories and furniture support good posture through its innovative design and comfort while improving productivity and wellness.
Kraiburg TPE's premium compounds support applications in the furniture and fixtures industry and meet requirements for style, comfort, safety, performance and functionality.
Kraiburg TPE's thermoplastic compounds feature a soft-touch surface with excellent resistance to skin oil, sunscreen and sebum, making them ideal for backrest and armrest applications, arm and wrist supports, and seat cushion of ergonomically designed chairs.
The wide hardness range of our materials provides possibilities in various applications that require different hardness levels. Besides, our TPEs have excellent adhesion to plastics such as PA, PP, ASA, PC, PC/ABS, PMMA, PE, PBT and SAN. They can be economically processed in multi-component injection moulding and co-extrusion processes. Our TPEs are resilient, and feature good elasticity to always keep them in shape for ergonomic applications.
Furthermore, Kraiburg TPE's products offer the benefits of scratch, abrasion, and chemical resistance. These properties are suitable for applications that are prone to scratches and wear/tear marks, and to maintain the furniture's aesthetics. The TPE compounds also promote durability for accessories and furniture to withstand constant positioning adjustments to ergonomically optimise workstations.
The personal preference of a user rules in accessories and furniture choices include the coloring options. Kraiburg TPE's coloured compounds feature easy-colouring and excellent color-stability material. We offer pre-colourable compounds with various colour options, guaranteeing worldwide consistent colour quality.
From design conceptualization to realising end products, Kraiburg TPE's product specialists offer support throughout the process. We ensure the consistency of our support to our customers worldwide to help them with any challenges during the development of their products.
Inspiring Innovation in home décor applications
Today's modern homeowners are constantly seeking ways to express their individuality. The last few years have seen a proliferation of home decor items made with thermoplastic elastomers (TPE) and this trend is expected to continue as TPE innovation offers more distinct advantages with its soft-touch, smooth surface and easy processing features.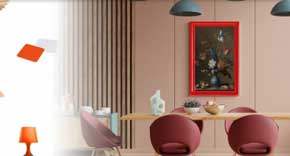 Aesthetic design trends are constantly evolving and the ability to be aware of these trends and apply them appropriately can be critical to a product's market success. In a sea of competition, the visual and tactile appearance of a physical product is often the initial and most important impression a customer has of any given brand and product.
Home décor items are usually produced by using soft, smooth and easy-to-shape materials, and this is where TPEs fulfil the requirements with its soft-touch, smooth surface and the design flexibility into various shapes.
There are many obvious advantages of using TPEs for home decorative items. First and foremost, design flexibility which is processable through multi-component injection moulding and extrusion in various shapes. In terms of aesthetics, TPEs offer a plethora of colouring options, including colour effects for more design flexibility.
TPEs are available in a wide hardness range – from VLRH (very low rubber hardness) to Shore D, allow designers to flexibly apply on various decoration elements to enhance the appearance of the end products. TPEs are also high elasticity with excellent compression set, which is ideal for sealings and meeting standards for watertightness and dustproofs.
Kraiburg TPE's specially designed home decorative TPE compounds possess excellent adhesion to plastics such as PA, PP, ASA, PC, PC/ABS, PMMA, PE, PBT and SAN. As such, they are suitable to be applied on home décor items such as photo frames, lamp shades and as decorative elements on lamps, wall decorations such as mirror frames, wall trimmings and many other decorative applications.
For enhanced durability, our TPE compounds offer high quality surface finishing with good scratch and abrasion resistance. This makes them ideal for applications on decorative sculptures and figurines. Thanks to these superior characteristics, they can be applied on anti-slip elements for decorative items, figurines and damping elements on side tables and cabinets.
Kraiburg TPE also provides worldwide consistent colour quality with various precoloration options available to its customers everywhere.
"We set high standards for the materials that are used for our design products, because we want to supply our customers with an honest, sustainable and high-quality product. Kraiburg TPE's compound scored with its whole package. The material meets our expectations and helps to supply our customers with genuine added value. After all, hot drinks taste best when you drink them from your favorite cup," says Carina Frings, Head of Marketing & Design, Public Relations at Cadios.
This Thermolast K product is translucent and available all over Europe.
TPEs grit their teeth for dental equipment
If the eye is the window to the soul, the mouth is the gateway to overall health. Dental health care and oral hygiene solutions are vital. New dental solutions and technologies are being developed to advance oral care, including interdental devices such as smart toothbrushes, water flossing, elastomeric sticks, oral irrigators, dental implants, digital dentistry, teledentistry, and more. These new devices provide patient comfort and access to oral care.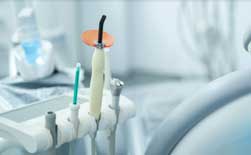 New materials such as thermoplastic elastomers (TPEs) support the expansion of the dental technology sector where demand for more ergonomic, functional and cost-effective devices is growing.
Kraiburg TPE's compounds possess the exact mechanical properties and easy processing characteristics suitable for dentistry equipment applications.
The TPEs can enable equipment manufacturers and designers to achieve flexible, durable, products with low surface friction; chemical, abrasion and scratch-resistance; and soft-touch feel to meet the current market demand.
Available in various pre-colouration options, the compounds can be processed through injection moulding and extrusion. The TPEs also have good adhesion to PP, PE and polar thermoplastics, allowing for flexibility in innovating products.
The TPEs are suitable for applications in an array of dental equipment such as hand grip of hand pieces and dental mirrors, dental retractors, mouth props, pluggers, surgical aspirators and more.
Kraiburg TPE's Thermolast M series complies with the VDI 2017 and ISO 10993-5 standard and is also listed in the Drug Master File.
The TPEs are sterilisable, are free of latex, PVC, heavy metals and phthalates, making them excellent for use in dental equipment applications.
This compound series also has optimum safety with excellent control management in KRAIBURG TPE's Medical Service Package, which guarantees optimum raw materials purity and solid 24-month supply security.
Meanwhile, selected compounds from the Thermolast K series comply with food grade standards such as the Commission Regulation (EU) No 10/2011, the Code of Federation Regulation Title 21 (21CFR) of the US Food and Drug Administrator (FDA), as well as with China GB (GuoBiao) standards.
(PRA)
---
Subscribe to Get the Latest Updates from PRA Please click here
©2021 Plastics and Rubber Asia. All rights reserved.

©2020 Plastics and Rubber Asia. All rights reserved.
Home
Terms & Conditions
Privacy Policy
Webmail
Site Map
About Us
SOCIAL MEDIA