China R&D: Lanxess opens tech centre in Shanghai; Invista to build R&D centre to advance nylon 6,6 development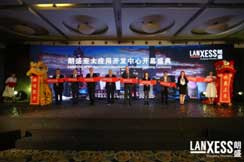 German specialty chemicals company Lanxess recently opened its APAC Application Development Center (AADC) at Shanghai Chemical Industry Park (SCIP). The new centre is said to substantially increase the company's local innovation capabilities. Initially, it combines the research activities of the Business Units Polymer Additives (PLA), Lubricant Additives (LAB), and Urethane Systems (URE). The AADC is the first project put into operation at SCIP's new InnoGreen Shanghai International Chemical New Materials Innovation Centre. It was opened one year after the groundbreaking ceremony.
Lanxess adds the establishment of the AADC also underlines its confidence in China's growth potential. As the world's largest chemical market, China already accounts for 40% of global chemical sales, and the figure will approach 50% by 2030.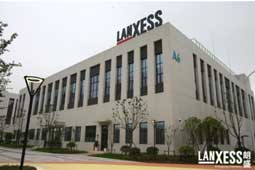 To meet the growing market demand, Lanxess has increased its presence in China and enhanced its market position in the entire Asia-Pacific region through continuous investment. In 2018, the company launched a new regional setup in the Asia Pacific region, covering Greater China, Japan, South Korea and the ASEAN countries to promote synergies between countries and business units.
In September 2019, Lanxess signed an MOU with SCIP to set up an integrated site as a new base for sustainable growth in China. Two months later, the company announced its plan to establish a comprehensive application development centre to strengthen its innovation capabilities in China and the Asia-Pacific region. This came as the need for localized product grades increased due to shifting demand toward value added products in China. In March 2020, Lanxess announced that the AADC would be located at SCIP. The delivery of the AADC building took place in December 2020.
"We are proud of being the first company to settle at the InnoGreen Shanghai International Chemical New Materials Innovation Center. The AADC will enhance our local innovation and strengthen our confidence in the Chinese market, and ultimately serve our customers in the entire Asia-Pacific region," said Ming Cheng Chien, President of Lanxess Asia Pacific.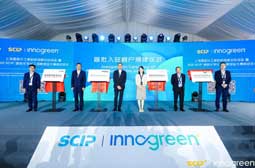 In other news, Invista Nylon Chemicals (China) Co. plans to establish its new Asia Innovation Centre in Shanghai, China. As its first R&D centre for nylon 6,6 application development in Asia, the project, with an investment of more than US$15 million, marks the company's next milestone in growing the nylon 6,6 value chain in China.
Located at SCIP, Invista adds its lab will be among the first at the Shanghai International Chemical New Materials Innovation Centre (INNOGREEN).
The 2,500-sq-m lab will be equipped with polymer R&D equipment necessary for polymer application development and customer support for product trials. It will also include polymer compounding extrusion and injection moulding capability, and analytical and mechanical test equipment to characterise polymer resin properties.
The Asia Innovation Centre will focus on the application needs in engineering polymers for key industries such as automobile and electrical & electronics. Located near Invista's integrated nylon 6,6 facility in SCIP, the lab will promote its nylon 6,6 capabilities in China—R&D, production, sales, technical services—to provide customers with superior quality nylon products and solutions.
"The markets in China play an increasingly important role in Invista's global business, and the plan to establish the Asia Innovation Centre in Shanghai is a clear example of our commitment to further supplying strong local and regional demand for high-quality nylon products as China is also expected to become the world's largest nylon consumer," said Pete Brown, Invista's executive vice president of nylon polymer.
The company adds it will continue to engage stakeholders as plans for the Asia Innovation Centre advance and anticipates the lab will be fully operational by the end of 2021.
(PRA)
---
Subscribe to Get the Latest Updates from PRA Please click here
©2021 Plastics and Rubber Asia. All rights reserved.

©2020 Plastics and Rubber Asia. All rights reserved.
Home
Terms & Conditions
Privacy Policy
Webmail
Site Map
About Us
SOCIAL MEDIA