Recycling: Versalis ties up with Forever Plast for mechanical recycling; Ravago acquires two UK recyclers
Versalis, Eni's chemical company, and Forever Plast, an Italian recycler, have signed a new agreement as part of a project aimed at transforming Versalis's Porto Marghera industrial site. Forever Plast will provide exclusive license for the plant to recycle post-consumer PS, HDPE. The plant, which is scheduled to go onstream in 2024, will be located in the available areas at the petrochemical site of Porto Marghera and will have a capacity of 50,000 tonnes/year of pre-sorted waste, from which it will produce recycled polymer compounds.
The agreement confirms the acquisition of an exclusive licence to build an advanced mechanical recycling unit for selected post-consumer plastics from waste sorting, in particular PS and HDPE. The licence acquired from Forever Plast will expand Versalis' product portfolio from recycled raw materials, in the mechanical recycling of PS for high value-added applications, including food packaging.
The deal also includes an extension of the contract with Forever Plast, which will ensure the volumes required for the expansion of Versalis' portfolio of recycled products and consolidate its current competitive advantage. In 2020 the company started a collaboration based on which new PS compounds with up to 75% of recycled content, already available on the market under the Versalis Revive brand, were developed for food packaging, thermal insulation and the electrical sector.
The development of a mechanical recycling hub for Versalis at Porto Marghera started in 2021 with the acquisition of the technology and facilities of Ecoplastic, which uses a pre-treated EPS-based raw material as feedstock.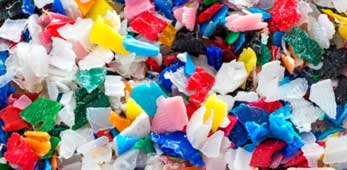 Meanwhile in other news, to grow its operations further in the UK, Belgian plastics firm Ravago has acquired two UK recyclers Venture Polymers and Aurora Manufacturing for an undisclosed sum. Cheshire-based Venture and Lancashire-based Aurora produce reprocessed PP and HDPE, with a joint 20,000-tonne capacity.
Manuel Gayo, Ravago Manufacturing Europe's business director, said: "This is a key step in Ravago's growth strategy in post-consumer recycling-based compounds as we continue to support our customers with solutions to meet the ever increasing demand for post-consumer recycled plastics."
Alex Cook, Aurora Manufacturing's managing director, said: "Following two decades of work within the UK plastics recycling industry we are pleased to announce the acquisition of our businesses into the Ravago group. As the recycling market continues to mature within the UK we are very much focused on expansion and realising our full potential in the coming years. The investment and support of Ravago will play a key part in this and will accelerate our ability to adapt and meet the requirements of the future market for recycled plastics."
The Ravago group operates internationally and supplies plastics to for the automotive, electrical appliances, wire and cable, and packaging sectors. It sells more than 6.7 million tonnes/year of polymers.
(PRA)
---
Subscribe to Get the Latest Updates from PRA Please click here
©2022 Plastics and Rubber Asia. All rights reserved.

©2022 Plastics and Rubber Asia. All rights reserved.
Home
Terms & Conditions
Privacy Policy
Webmail
Site Map
About Us
SOCIAL MEDIA