Recycling: Trinseo/GMP to set up recycling plant in the Netherlands; Neste acquires European rights to Alterra Energy's thermochemical liquefaction technology

Speciality materials firm Trinseo and GMP Group (GMP), a circular business innovations company in the Netherlands, are to set up a polystyrene (PS) recycling plant in the Netherlands. The plant, with a targeted 25,000 tonnes/year of food-contact-grade recycled PS pellets by purification, is slated for start-up in 2024.
PS is a common material used in numerous applications, including packaging and consumer goods. Food-contact PS is an ideal material for food packaging, and recycled food-contact PS helps contribute to the circularity of packaging materials, especially when packaging waste remains a concern in many domains.
Trinseo and GMP's collaboration aims at providing a framework for cooperation, on an exclusive basis, the construction and operation by GMP of an advanced pre-treatment or regeneration plant, which will purify PS waste and deliver high-quality recycled PS pellets via the Super Clean recycling process. There is also an intended execution of a long-term tolling and off-taking agreement.
"The Trinseo–GMP collaboration is yet another important move toward helping our customers reach their sustainability goals and closing the loop for a circular economy, and both companies realise that the most successful way to do this is through synergy along the value chain," said Nicolas Joly, Trinseo's Senior Vice President, Plastics and Feedstocks. "This collaboration shows our continuous efforts in sustainability marching toward our 2030 sustainability goals."
"This partnership is an essential step forward in our strategies contributing to a healthier world and increased sustainability. Every day, we look for circular business innovations like valuing plastic waste by recycling it into new resources. Together with Trinseo, we can now develop, build, and operate a state-of-the-art recycling plant in Europe. This will increase the reuse of a substantial volume of polystyrene in consumer food packaging. Furthermore, we can provide other sustainability solutions and improve circularity in various value chains," said Gerard Putman, General Director of GMP Group.
The intended collaboration will see the two companies conduct research into other supply and processing opportunities, utilizing their combined technology expertise to help develop more sustainable solutions.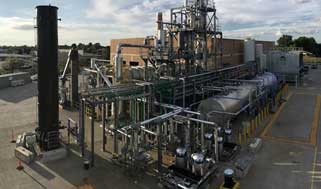 In other news, Finland-based sustainable materials firm Neste has purchased the European rights to Alterra Energy's liquefaction technology, further solidifying the company's efforts to advance chemical recycling. Alterra Energy is a US-based company that has developed a proprietary thermochemical solution for liquefaction of hard-to-recycle plastic. In Akron, Ohio, the company is already running an industrial-scale facility that transforms end-of-life plastics into an intermediate product, which can be further refined into raw material for new plastics and other petrochemical products.
In 2020, Neste acquired a minority stake in Alterra Energy. Neste has further processed liquefied waste plastic sourced from, among others, Alterra Energy in a series of trial runs at its refinery in Finland. Together with Ravago, Neste also plans to set up a joint venture to deploy the Alterra Energy technology in Vlissingen, the Netherlands. Furthermore, to scale up processing capacities for liquefied waste plastic at its Porvoo refinery in Finland, Neste is currently conducting a feasibility study to examine investing in proprietary pretreatment and upgrading capabilities. Through chemical recycling, the company aims to reduce dependence on virgin fossil resources and accelerate circularity in the production of polymers and chemicals.
"Acquiring the rights to Alterra Energy's technology in Europe enables us to offer a holistic solution to our partners," says Heikki Färkkilä, Vice President Chemical Recycling at Neste Renewable Polymers and Chemicals. "Neste will be able to provide the full chemical recycling package: from waste plastic to product, offering high-quality drop-in feeds for the production of new polymers and chemicals."
With the clear target to process more than 1 million tonnes of waste plastic per annum from 2030 onwards, Neste continues engaging with companies along the plastics value chain. This includes upstream partners such as recycling companies and technology developers, but also chemicals production partners and brand owners looking for more sustainable, circular solutions.
The ongoing joint technology development between Neste and Alterra Energy and the continued processing of mixed plastic feeds in the Akron facility have given Neste confidence that the Alterra Energy technology is among the winning solutions for the liquefaction of waste plastic material.
"We are pleased that Neste, a global leader in sustainability, has chosen Alterra Energy's advanced recycling technology to further accelerate its efforts towards circularity of plastics throughout Europe," says Frederic Schmuck, CEO of Alterra Energy. "Throughout the rest of the world, we will continue to support petrochemical industry players in meeting their sustainability commitments to brand owners and consumers."
While Neste has acquired the European rights to the technology, Alterra Energy will continue to operate independently in the rest of the world with the aim of commercialising the technology through licensing. As a partner and shareholder, Neste adds it is committed to supporting the continuous development of Alterra Energy's technology, establishing it as one of the leading solutions in chemical recycling of plastic waste on a global level.
(PRA)
---
Subscribe to Get the Latest Updates from PRA Please click here
©2022 Plastics and Rubber Asia. All rights reserved.

©2022 Plastics and Rubber Asia. All rights reserved.
Home
Terms & Conditions
Privacy Policy
Webmail
Site Map
About Us
SOCIAL MEDIA