Recycling tie-ups: Petronas Chemicals/Alam Flora work towards circularity in Malaysia; LG Chem partners with Hwaseong City and Seongji for recycling waste PVC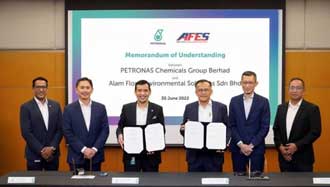 Malaysia's Petronas Chemicals Group Bhd (PCG) and Alam Flora Environmental Solutions Sdn Bhd (AFES) are collaborating in the recycling of plastic and food wastes and are evaluating a potential partnership to build waste segregation facilities in Malaysia. AFES will supply plastic waste that consists of PE and PP for PCG to produce circular products, which will be used in food packaging, healthcare, and industrial applications.
AFES will also supply organic and food waste for the purpose of R&D towards the potential manufacture of high-value fertiliser for sustainable agriculture, the companies said in a joint statement.
This recent MoU signing follows the two MoUs that PCG inked with KDEB Waste Management and One Biosys Sdn Bhd for a similar collaboration earlier this year, thus further strengthening PCG's commitment towards the circular economy.
"We are delighted with our partnership with AFES. The shift towards a circular economy requires action from a broad range of stakeholders, from those involved in production and manufacturing through to end users of products as well as those in the waste management industry," PCG managing director Mohd Yusri Mohamed Yusof said in the statement.
He said the positive participation of these organisations in collaborating to unlock the value within the solid waste ecosystem in Malaysia is a testament to the economic and social shift within the industry in understanding the latent value hidden in waste materials.
Meanwhile, AFES director Datuk Mohd Zain Hassan said: "Creating a sustainable environment is the cornerstone foundation of our business, and our goals are well-aligned with those of PCG's and the United Nations' Sustainable Development Goals.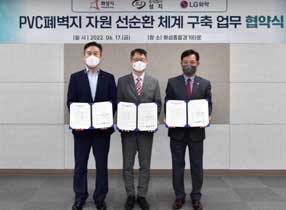 In other news, South Korean chemical firm LG Chem is teaming up with a local government authority and a recycling SME to take part in a pilot project for recycling waste PVC wallpaper (silk wallpaper).

LG Chem recently signed an MOU with Hwaseong City and Seongji regarding the construction of a waste PVC wallpaper separated disposal, collection, and recycling system, and the three parties agreed to cooperate actively in recycling PVC waste, which is one of the most common general-purpose plastics used as the raw materials for various products such as window frames, pipes, floor materials, wires, wallpaper, etc.
It is expected that through this cooperation, a new pathway for recycling waste PVC wallpaper, which is being thrown away as general wastes, will be created. Silk wallpaper, which is used as wallpaper for most homes, is a useful resource that can be used as regenerated materials, but currently is being incinerated in its full amount due to the lack of a separate collection system and because it is disposed of while being mixed with other wastes.
According to the MOU, Hwaseong City will draw up education and policies for practicing and spreading proper separated disposal of waste PVC wallpaper, collect waste wallpaper generated in apartments, store it at the Hwaseong resourcing facility (Goju-ri, Paltan-myeon) and hand it over to the recycling company, Seongji.
Seongji will separate the layers and PVC coating layer from the collected waste wallpaper and remove foreign particles on it based on its recycling experience and technology spanning over 20 years, use the paper powder as supplementary materials for paper moulds, egg boxes, etc. and send the PVC coating layer to LG Chem.
LG Chem will, using its compounding technology, convert the PVC coating layer to produce "pure" PCR PVC and apply it in various products such as flooring materials to expand the recycling market and enter new markets.

This pilot project will first be implemented in about eight complexes that expressed their intent for participation in a survey conducted on apartment complexes in Hwaseong. And depending on the progress of the pilot project, reviews will be made on whether to expand it to all other areas of Hwaseong as well.

Hwaseong Environmental Business Chief Park Min-cheol stated, "We hope that through this MOU, we will be able to build a system where waste PVC wallpaper, which were treated simply as wastes in the past, can be transformed into useful resources, as the first step for Hwaseong to become a leading city of resource circulation."
LG Chem PVC/Plasticizers Division Leader Yungshin Hwang stated, "Starting with this pilot project together with a local government, we will continue to expand areas eco-friendly technologies and its applicable fields that can circulate waste plastic resources, which are being incinerated or disposed of in everyday life."
(PRA)
---
Subscribe to Get the Latest Updates from PRA Please click here
©2022 Plastics and Rubber Asia. All rights reserved.

©2022 Plastics and Rubber Asia. All rights reserved.
Home
Terms & Conditions
Privacy Policy
Webmail
Site Map
About Us
SOCIAL MEDIA