Recycling: Showa Denko/Microwave Chemical in microwave-based project to produce feedstock; BASF's catalysts and adsorbents to enable recycling
Japanese firm Showa Denko K.K. and Microwave Chemical Co. have started joint development of a new microwave-based chemical recycling technology to directly transform used plastic containers and packaging into basic chemical feedstock such as ethylene and propylene. The two companies are implementing various steps to achieve carbon neutrality by 2050, and aim to commercialise the new technology soon.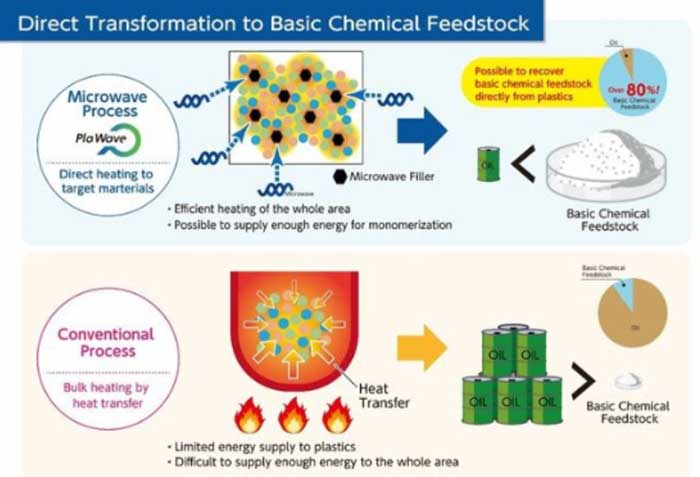 SDK and Microwave Chemical will aim to develop a technology that decomposes used plastic containers and packaging by irradiating microwave, thereby producing basic chemical feedstock. By the end of this year, the two companies will study conditions for formation of product through microwave heating, search for catalysts to improve the yield of targeted components, and try to optimise conditions and processes for decomposition to establish basic technology.
In the joint technology development, the two companies will use microwave heating, a kind of electric heating used also in a microwave oven. When an object is irradiated, microwave directly affects dielectric material, resulting in internal heating, selective heating and rapid rise in temperature. Compared with other heating methods, microwave heating is special in that it heats only the object. In the planned process, we will use microwave absorber (filler) to give energy in a focused way to used plastic, enabling efficient decomposition of used plastic into basic chemical feedstock. It will also reduce energy consumption for decomposition compared with conventional methods. Taking advantage of such characteristics of microwave heating, we will aim to transform used plastic directly into basic chemical feedstock with low energy consumption and high efficiency.
SDK has been engaged in chemical recycling operations since 2003 at its Kawasaki Plant, producing clean hydrogen and ammonia through thermal decomposition of used plastic. As a result, SDK has accumulated overall know-how concerning procurement of raw materials, decomposition, and manufacture of final product. Meanwhile, Microwave Chemical has the capability to scale up microwave technologies. In the area of chemical recycling, the company has established "PlaWave," a platform of microwave-based plastic decomposition technology, thereby dealing with various types of plastic.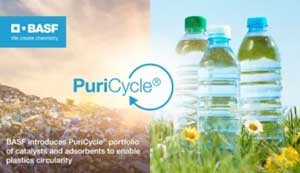 Meanwhile in other news, German materials firm BASF has launched PuriCycle, a new line of catalysts and adsorbents developed to selectively remove or convert a wide range of impurities in pyrolysis oils and enable downstream processing of circular plastics streams. It says that PuriCycle can help customers meet industry compositional compliance standards, benefit from high efficiency purification and upgrading solutions, and increase their flexibility in the chemical recycling process of plastics.
PuriCycle purifies pyrolysis oils, a secondary raw material obtained from the chemical recycling of plastic waste that is fed into the production process for new plastics at the beginning of the value chain. Purification of pyrolysis oils obtained from waste plastics is among the most demanding technical tasks in chemical plastics recycling. Impurities, such as halogen, nitrogen, oxygen and sulphur compounds but also higher levels of reactive components such as dienes, complicate the downstream use and impose strict limitations on the further processing of such streams in the production of new materials.
"With our PuriCycle portfolio, we are in a very strong position to make a difference in chemical plastics recycling and to enable plastics circularity. The ability of the PuriCycle products to purify the most challenging pyrolysis oil streams is a major contribution to help closing the plastics loop, minimizing waste and ultimately opening up new feedstocks for the chemical industry", said Detlef Ruff, Senior Vice President, Process Catalysts at BASF.
(PRA)
---
Subscribe to Get the Latest Updates from PRA Please click here
©2022 Plastics and Rubber Asia. All rights reserved.

©2022 Plastics and Rubber Asia. All rights reserved.
Home
Terms & Conditions
Privacy Policy
Webmail
Site Map
About Us
SOCIAL MEDIA