Recycling: Project STOP achieves circular waste milestones in Indonesia; Bersih Indonesia launched by Alliance to tackle plastic waste for 6.5 mn residents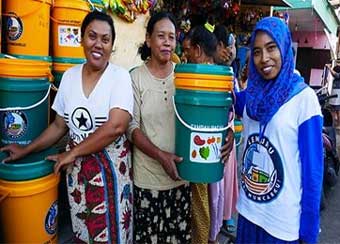 At the end of 2021, Project STOP (STOP Ocean Plastics), which works hand-in-hand with city governments to create effective circular waste management systems in high-pollution areas of Southeast Asia, has created social and environmental impact in three cities in Indonesia and is now ready to scale-up to the entire region of Banyuwangi.
Since its start in 2017 until the end of 2021, the programme has brought circular and waste management services to more than 260,000 people in three cities in Indonesia (many receiving waste collection for the first time), built five waste processing facilities, and contributed to permanently preventing more than 20,000 tonnes of waste (including 2,350 tonnes of plastic) from leaking into the environment.
Operating in three cities, Muncar and Pasuruan in East Java and Jembrana in Bali, the Muncar programme was handed over to the local government and its community in February 2022, followed by the launch of its expansion over the entire Banyuwangi Regency, East Java.
Co-founded in 2017 by chemical firm Borealis and global advisory and investment firm SYSTEMIQ, Project STOP works in city-partnerships, to create sustainable circular waste management systems, and drives the transformations towards circular economy. The programme follows a "system-enabler" approach whereby it designs and implements reliable, low-cost waste collection services, builds waste sortation facilities to sort recyclable materials, sales of recyclables and runs behaviour change and clean-up campaigns in the communities where it operates. Moreover, the team engages with local stakeholders to improve the waste system governance, inform local policy regulation, and builds institutional capacity building.
This impact was made possible thanks to the invaluable support of the national and local government agencies, including the Ministry of Environment and Forestry, the Coordinating Ministry for Maritime Affairs, the Ministry of National Development Planning/National Development Planning Agency, the Ministry of Public Works and Public Housing, the Banyuwangi Government, the Pasuruan Government and the Jembrana Government, including the environmental agencies of Muncar, Pasuruan and Jembrana.
Apart from Borealis, Project STOP's strategic partners include the Norwegian government, Nova Chemicals, Borouge, Nestlé the Alliance to End Plastic Waste, and Siegwerk.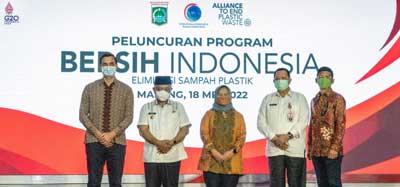 Meanwhile in related news, the Indonesian government has another key milestone. The Coordinating Ministry for Maritime and Investment Affairs (CMMAI) together with the Malang Regency, and global non-profit organisation the Alliance to End Plastic Waste (Alliance), have partnered to launch the Bersih Indonesia: Eliminasi Sampah Plastik programme to improve waste management and help the country meet ambitious targets to reduce marine plastic waste leakage by 70% by 2025, and near-zero plastic waste pollution by 2040. It is said to be one of the world's largest public-private partnerships for waste management and will enhance collection, sorting and recycling of plastic waste for 6.5 million residents across Indonesia.
The project, in line with the country's need to fulfil waste management targets set out by the country's National Action Plan for Marine Debris Handling and National Plastic Action Partnership (NPAP), aims to contribute to better collection, sorting, and recycling of plastic waste in Indonesia. It also aims to demonstrate a financially sustainable plastic waste management model in an emerging market that can be scaled and replicated across Indonesia, and beyond.
As ASEAN's largest economy with a population of over 270 million people, Indonesia is a key player to reduce plastic waste, both regionally and globally. In 2019, it partnered the Global Plastic Action Partnership and became the first country to introduce the National Plastic Action Partnership.
It aims to achieve a 70% reduction in marine plastic waste leakage by 2025, and near-zero plastic waste pollution by 2040. Achieving these targets will require capital investments of about US$18 billion for waste management and recycling between 2017 and 2040, with approximately US$1 billion per year in additional operational financing for solid waste management by 2040.
Implementing programmes on sustainable development and plastic waste reduction has become one of Indonesia's national priorities. As has mobilising capital for waste management systems which are traditionally under-funded due to the challenging economics of high capital and operational expenditures as well as weak revenue streams.
In addition to enhancing collection, sorting, processing, and recycling, Bersih Indonesia was also designed to address financing challenges on two fronts—by optimising running costs and enhancing revenue streams through a combination of regency-wide collection fees plus higher income from materials.
The aim is to deploy the project in phases across three regencies in Java—Malang, Magelang and Sukabumi, serving a combined population of over 6.5 million residents.
At full capacity, the three systems expect to collect a combined total of over 800,000 tonnes of municipal solid waste and divert about 140,000 tonnes of plastic waste every year with the potential to create around 8,000 jobs. The multi-year initiative has kicked off in Malang, the second largest regency in East Java.
Phase One expects to serve more than 2.6 million people and will be developed at a cost of US$29 million which will be fully funded by the Alliance.
(PRA)
---
Subscribe to Get the Latest Updates from PRA Please click here
©2022 Plastics and Rubber Asia. All rights reserved.

©2022 Plastics and Rubber Asia. All rights reserved.
Home
Terms & Conditions
Privacy Policy
Webmail
Site Map
About Us
SOCIAL MEDIA