Packaging: Dow's packaging solution certified to reduce 35% emissions in China; To work with Want-Want Group for solventless adhesives in packaging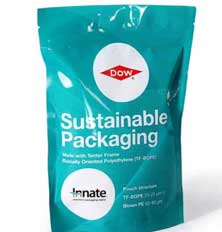 Materials firm Dow says its recyclable packaging solution, enabled by Innate TF Polyethylene Resins for Tenter Frame Biaxial Orientation (TF-BOPE), is now officially certified in China to reduce carbon emissions by 35% compared to traditional unrecyclable packaging materials, supporting brand owners in achieving their carbon reduction goals.
Global testing service provider TÜV Rheinland has certified that the all-PE recyclable packaging created with Dow's Innate TF-BOPE emits 0.0194 kg carbon dioxide equivalent (CO2e) during its lifecycle, while traditional stand-up pouch packaging made with PE and PET composite materials emits 0.0297 kg CO2e.
The verification and validation process included site visits to Fujian Kaida, the packaging manufacturer in China, and Luhai, a Chinese integrated waste management company, as well as product document reviews and interviews with operational, technical and EH&S subject matter experts from Kaida and Luhai to calculate carbon emissions of this recyclable packaging from cradle to grave.
"This certification is testament to the value of Dow's recyclable packaging solutions in supporting customers to achieve their carbon reduction goals," said Bambang Candra, Asia Pacific Commercial Vice President of Dow Packaging and Specialty Plastics. "Adopting recyclable packaging is a step in the right direction to advance a sustainable future, and we strive to continue working closely with our partners to promote the circular economy for plastics."
This recyclable packaging solution has been adopted by Liby for the laundry pods. By replacing all its unrecyclable flexible packaging with Dow's recyclable packaging solution by 2025, Liby estimates that 4 million kg CO2e can be saved every year.
Meanwhile in related news, Dow has signed a Memorandum of Understanding (MoU) with Chinese food and beverage group Want-Want to focus on customised adhesives solutions, by leveraging on Dow's water-based and solventless adhesive technologies. Want-Want intends to use Dow's environmentally friendly laminating adhesives for its flexible packaging, to adopt recyclable packaging across more products under its portfolio.
"Adhesives is an important sector that can help reduce emissions and enable a circular economy. Not only are we advancing sustainable packaging on a larger scale, but we are also exploring benefits such as efficiency optimization and energy savings, supporting customers in reducing carbon footprint during production and transportation processes," said Jayne Wong, Global Adhesives Business Director, Dow Packaging & Specialty Plastics.
The signing of the MoU agreement aligns with Dow's sustainability goals for carbon neutrality by 2050, as well as supports Want-Want's sustainability goals to achieve carbon neutrality and adopt recyclable packaging for all products.
"In order to tackle climate change and create long-term value, we have an important part to play as one of China's largest food and beverage companies to establish an environmentally-friendly value chain – that inspires and encourages our consumers to make positive changes for the planet," said Yongmei Cao, General Manager of operations, Want-Want Group.
(PRA)
---
Subscribe to Get the Latest Updates from PRA Please click here
©2022 Plastics and Rubber Asia. All rights reserved.

©2022 Plastics and Rubber Asia. All rights reserved.
Home
Terms & Conditions
Privacy Policy
Webmail
Site Map
About Us
SOCIAL MEDIA