China expansions: Covestro breaks ground on elastomer/PUD facilities in Shanghai; Wanhua to use Clariant catalyst for maleic anhydride plant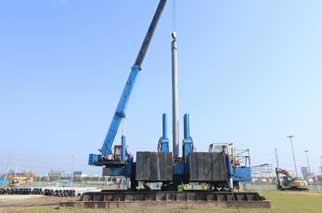 German materials manufacturer Covestro has broken ground on two new plants in Shanghai to meet the rising demand for polyurethane dispersions (PUDs) and elastomers. These new facilities, which represent a combined investment of a mid double-digit million euro amount, will be located within the Covestro Integrated Site Shanghai.
The new plant for PUDs, as well as a further line for polyester resins, from which PUDs are produced, are due to be completed in 2024. PUDs are used in more environmentally compatible coatings and adhesives for a wide range of applications, including automotive, construction, furniture, footwear and packaging. For instance, Covestro's Bayhydrol and Bayhytherm raw materials are used in basecoats for automotive OEM and refinish coatings, as well as in wood and furniture coatings and robust floor coatings, while adhesives formulated with Dispercoll U are used in furniture and shoe manufacturing as well as in the automotive industry.
The new facility for polyurethane elastomers, which are widely used in industries ranging from offshore wind to solar energy as well as material handling, is expected to become operational already in 2023. The market for these flexible and durable materials in China and the Asia-Pacific region is growing faster than both gross domestic product and downstream industries.
Independent of the investment of Covestro in Shanghai, its large portfolio of waterborne polyurethane coating raw materials based on PUDs for various applications also includes products of the Baybond, Impranil, NeoPac and NeoRez series.
"With the new investment, we will be even better positioned to address the rising demand for more environmentally compatible coatings and adhesives across the globe," said Zhong Xiaobin, Senior Vice President of the Coatings and Adhesives segment of Covestro in the Asia Pacific region. "As one of the global leaders in this segment, we will continue to tap the trend where our customers turn to more sustainable waterborne systems with equally good properties to replace solvent-based products."
"The new facility for polyurethane elastomers will ensure that we have a strong capacity to meet the needs of our customers," said Simon Chen, Head of Covestro's Elastomers segment in Asia Pacific. "Our Desmodur based polyurethane elastomers will serve a wider range of applications as they boast excellent performance, particularly in the field of sustainable energy."
Since 2001, Covestro says it has invested EUR3.6 billion into building the Shanghai integrated site, which comprises 11 plants and is the company's largest site in the world. In the past year, the Shanghai site obtained the ISCC Plus mass balance certification, meaning it can supply customers with larger product volumes from renewably attributed raw materials.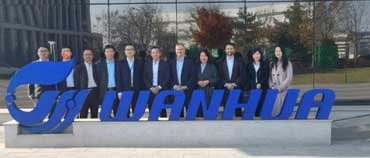 In other news, Swiss chemical firm Clariant has been awarded a major contract by Wanhua Chemical Group to supply catalysts for its new maleic anhydride plant, which will be one of the largest in the world. Designed to produce 200 kilotonnes/year of maleic anhydride, the plant will rely on Clariant's SynDane catalyst for the production process. The facility will be located in Yantai city, Shandong province, and is scheduled to commence operation in 2023. Also based in Yantai, Wanhua is one of the largest chemical producers in China and is among the top 30 chemical producers globally by 2020 sales.
The Wanhua plant will be the first to use a new maleic anhydride production technology. Compared to the conventional technology, this improves production efficiency and reduces power consumption. The technology licensor Conser estimates a reduction in energy consumption of 2.5 to 3.0 MW per hour of production at the Wanhua plant. Assuming 8,000 hours/year of production, Wanhua's annual energy savings will amount to 20,000 to 24,000 MWh.
Jace Wang, Head of Business Unit Catalysts at Clariant in China, commented, "Sustainability is a vital aspect of our company strategy, and we are proud to support Wanhua in this ambitious and important project with our innovative catalysts."
Clariant's SynDane is suitable for the new production technology. This was previously confirmed in successful performance testing with MAN DWE. Moreover, SynDane further intensifies the production and energy efficiencies of the new process, providing its exceptionally low pressure drop. The catalyst's special structure and chemical composition also increase the selectivity towards maleic anhydride and thus maximise product yield.
China is in the process of gradually eliminating the use of non-degradable plastics, which is expected to boost demand for biodegradable plastic. Maleic anhydride is an important base material for polybutylene adipate terephthalate (PBAT) and polybutylene succinate (PBS) biodegradable plastics. PBAT plastic offers similar properties to low-density polyethylene plastic. However, when buried in soil, it is completely decomposed by naturally occurring micro-organisms, leaving no toxic residues. PBS is another biodegradable plastic with a high degree of biodegradability.
A second catalyst was selected for the existing nitric acid plant in Ningbo: EnviCat N2O-S, is designed for highly effective purification of offgas containing nitrous oxide (N2O), a powerful climate gas.
Wanhua can expect up to 95% of N2O emissions, to be converted into harmless oxygen and nitrogen. This is particularly important for the producer, as nitrous oxide is 300 times more harmful to the climate than carbon dioxide.
To help minimise the damaging effects of this greenhouse gas, Clariant launched a major campaign offering a free load of its EnviCat N2O-S to 10 nitric acid producers worldwide, who will be able to reduce their N2O emissions by more than 4 million tonnes/year of CO2 equivalents when using the catalyst.
(PRA)
---
Subscribe to Get the Latest Updates from PRA Please click here
©2022 Plastics and Rubber Asia. All rights reserved.

©2022 Plastics and Rubber Asia. All rights reserved.
Home
Terms & Conditions
Privacy Policy
Webmail
Site Map
About Us
SOCIAL MEDIA