Tie-ups: Nexus/Braskem to set up recycling facility in US; Shiseido, Sekisui, Sumitomo Chemical collaborate on recycling cosmetics containers

Recycling firm Nexus Circular and Brazilian polyolefins maker Braskem have signed a Memorandum of Understanding (MOU) to secure the production output from a new advanced recycling facility planned near Chicago, US. The new facility will have an initial capacity to convert over 30,000 tonnes/year of used plastic into new materials, with the potential to rapidly expand the processing capacity to over 120,000 tonnes/year.
Nexus Circular is a commercial leader in advanced recycling that uses proprietary technology and a leading process design to convert landfill-bound films and other hard-to-recycle plastics into high-quality materials used to produce virgin-quality sustainable plastics. Since 2018, Nexus has been supplying consistent, on-spec commercial volumes of ISCC PLUS certified circular products. In January 2022, Braskem made a strategic investment in Nexus Circular.
By the terms of the MOU, Braskem gains exclusive rights to the production output from this new advanced recycling facility, which supports Braskem's strategic objective to sell 300,000 tonnes of products with recycled content by 2025 and 1 million tonnes by 2030.
Braskem America's CEO Mark Nikolich said, "With the new facility, we will leverage Nexus' proven, commercial advanced recycling technology to secure high-quality feedstock for the production of Braskem's certified circular PP resins. Braskem has dedicated substantial resources towards reducing plastic waste and is making significant progress towards a more sustainable portfolio of PP to support our clients' goals."
Nexus' solution is end-to-end acquiring and converting used plastics into circular virgin-equivalent feedstock for meeting recycled plastics objectives.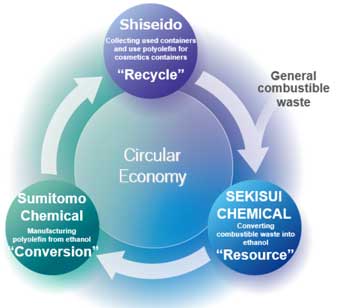 In other news, cosmetics firm Shiseido Company, and chemicals firms Sekisui Chemical and Sumitomo Chemical will start a joint initiative to establish a circular economy for plastic cosmetics containers, in which used cosmetics plastic containers are collected, converted to resources and materials without sorting, and recycled back into plastic cosmetics containers.
Cosmetics containers are made from a wide variety of plastics as their importance is placed on protection of contents, ease of use, and design. Therefore, sorting cosmetic containers for recycling is difficult, posing a significant challenge in recycling them into plastic resources. To solve this issue, the three firms have agreed to work together to build a new system to collect used plastic cosmetics containers and recycle them back into new cosmetics containers, leveraging their respective expertise.
Shiseido will introduce a new scheme to collect plastic cosmetics containers through retail stores and use recycled polyolefin for its cosmetics containers.
Sekisui will utilise the "BR ethanol technology" (it converts combustible waste into gas without the need for sorting and converts the gas into ethanol using microbes. In April 2022, the company began testing at its demonstration plant newly constructed in Kuji City, Iwate Prefecture, Japan, with the aim of commercialising this technology). It will use this technology to convert used plastics into ethanol, a raw material for plastics, by turning combustible waste into gas without sorting, and converting the gas into ethanol using microbes.
Meanwhile, Sumitomo Chemical will manufacture ethylene from that ethanol by using a technology for converting renewable ethanol into ethylene, and produce, from the ethylene, polyolefin products with quality equivalent to conventional polyolefin using fossil resources. Sumitomo Chemical established a new pilot facility to manufacture ethylene using renewable ethanol as a raw material at its Chiba Works (Ichihara, Chiba, Japan) in April 2022.
The three companies will advance this cross-sectoral alliance, while also calling on related industries and companies to join in the effort, said the press release.
(PRA)
---
Subscribe to Get the Latest Updates from PRA Please click here
©2022 Plastics and Rubber Asia. All rights reserved.

©2022 Plastics and Rubber Asia. All rights reserved.
Home
Terms & Conditions
Privacy Policy
Webmail
Site Map
About Us
SOCIAL MEDIA