Tie-ups: DIC/SAP partner on blockchain tech to trace plastic circularity; Teijin/Fujitsu to develop blockchain platform to promote recycled materials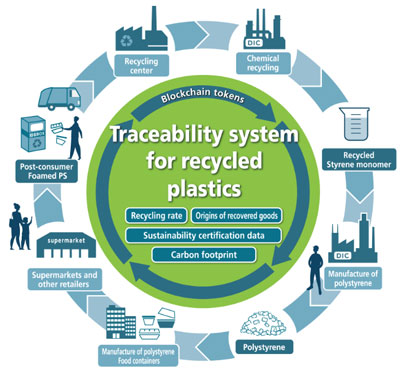 Japan's DIC Corporation, which produces polystyrene (PS), is partnering with systems firm SAP SE to undertake a pilot project using blockchain technology in the construction of a waste plastics traceability system that will advance the recycling of plastics. The new pilot project will use the GreenToken by SAP system to track raw materials across the entire supply chain, from the point of generation, to enhance the visibility of production and inspection processes, and of data pertaining to physical properties and quality. This will help customers understand how much recycled material is actually in the products they are using.
In November 2020, DIC announced plans to collaborate with another company in the practical implementation of a closed-loop recycling system for PS that maximises the technologies, as well as the collection and recycling configurations, of both companies. This system employs chemical recycling technologies to enable the conversion of collected post-consumer foamed PS containers not suitable for material recycling back into styrene monomer, PS's precursor, thereby facilitating the closed-loop recycling of these items.
Recent years have brought a worldwide increase in demand for the recycling of plastics, reflecting a rising awareness of the importance of sustainability. Companies using recycled plastics require accurate information on the origins of such raw materials and on comingled materials.
GreenToken by SAP uses private blockchain technology to make the supply chain transparent, following materials throughout the resource life cycle, from origin through manufacture, sale, use, collection, pulverisation, recycling and reuse. Digital twin technology makes it possible to record information, including unique raw material attributes related to origin, carbon footprint and source of collected PS containers, as well as sustainability certification data, using tokens.
The issue of tokens provides the means to track recycled materials even when they are mixed with other raw materials and processed into new products.
GreenToken by SAP is a solution developed through SAP's intrapreneurship program.
"Chemical recycling is key to accelerating the shift to a circular economy," explains its co-founder James Veale. "Plastic from chemically recycled plastic waste is indistinguishable from plastic from conventional sources. Our solution proves that it really is circular plastic and provides complete, auditable supply chain transparency. That means more trust in recycling from customers and ultimately less waste in the environment."
Looking ahead, the DIC Group says it will continue collaborating with customers and suppliers across its supply chain with the aim of achieving greater circularity in the important market for food packaging.
Meanwhile in other news, Japanese chemical firm Teijin Limited and Fujitsu Limited have launched a joint project to realise a blockchain-based commercial platform. It will leverage Teijin's Life Cycle Assessment (LCA) Calculation Method for measuring the environmental impact of manufacturing processes across the value chain, as well as Fujitsu's blockchain technology to collect and track primary data on environmental impact (including GHG emissions) to deliver transparent traceability.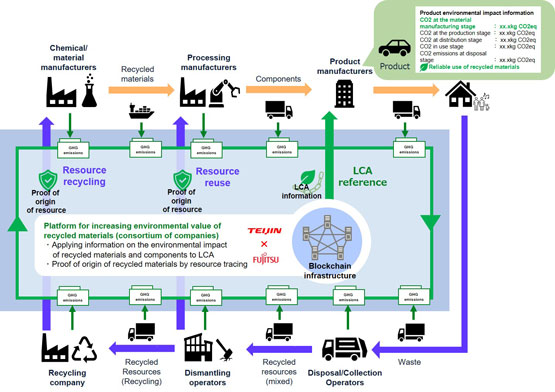 The new platform will promote the use of recycled materials and environmentally friendly designs by providing manufacturers who design products from recycled materials with accurate information about their environmental footprint, including proof of origin of recycled materials and data on GHG emissions.
Features of the new platform include improving the reliability and the environmental value of recycled materials by leveraging Fujitsu's blockchain technology to collect and trace primary data on environmental impact (including GHG emissions) across the value-chain.
As a first step in their collaboration, Teijin and Fujitsu will start full-scale trials with the aim of realising business in the FRP field within fiscal 2022. Based on the results of these trials, the two companies will consider expanding the scope of the project for other types of materials.
The two parties will further promote discussions and field trials with partner companies and organisations that support this initiative.
Measuring and reducing the environmental impact of manufacturing processes as well as enhancing the environmental value of recycled materials represents an ongoing challenge for players in the manufacturing industry.
To this end, manufacturers are increasingly introducing LCA throughout the life cycle of products, disclosing evaluation results, and taking proactive measures to obtain environmental labels as part of their environmental impact management strategies. The introduction of stricter environmental regulations in Europe in particular requires companies to not only adjust to additional requirements in the manufacturing process, but also to focus on environmentally friendly designs and materials. In particular, fibre-reinforced plastics (FRP), which are increasingly used for industrial purposes particularly in the transportation field such as aircraft and electric vehicles (EVs), will require more advanced, environmentally conscious design efforts in the future.
To achieve these goals, both the government and the private sector are actively working to regulate waste disposal and develop improved recycling technologies. However, transparency and traceability of recycled materials remain an ongoing challenge, and demand for solutions for reliable information management is expected to grow amidst trends to institutionalise the verification of the usage of recycled resources.
To address this issue, Teijin and Fujitsu started collaboration on a blockchain-based commercial platform to promote sustainable use of recycled materials and provide manufacturers with reliable and transparent information on the origin of recycled resources and data on GHG emissions.
Teijin has established a method for calculating greenhouse gas (GHG) emissions from carbon fibre and aramid fibre manufacturing processes and is also promoting initiatives related to FRP recycling.
Fujitsu adds it has a strong track record in building systems using blockchain technologies that ensure high transparency and traceability and makes it virtually impossible to falsify information.
(PRA)
---
Subscribe to Get the Latest Updates from PRA Please click here
©2022 Plastics and Rubber Asia. All rights reserved.

©2022 Plastics and Rubber Asia. All rights reserved.
Home
Terms & Conditions
Privacy Policy
Webmail
Site Map
About Us
SOCIAL MEDIA