TPEs for medical devices, innovative clean-eating system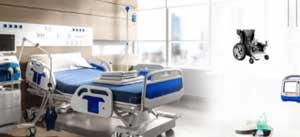 With escalating Covid-19 cases globally, more people are electing to have medical aid in a home environment. A growing trend in this sector is the use of durable medical equipment to assist the disadvantaged in their daily activities.
Durable medical equipment includes wheelchairs (manual and electric), hospital beds, traction equipment, canes, crutches, walkers, kidney machines, ventilators, oxygen monitors, pressure mattresses, electric patient lift and nebulizers.
Medical equipment should be reliable, durable and able to accomplish safety intendments in the medical and healthcare industry. That's why thermoplastic elastomer (TPE) materials are fast becoming choice material for many medical applications.
KRAIBURG TPE, a global TPE manufacturer of a wide range of thermoplastic elastomer products and custom solutions for multiple industries, offers high-quality TPE materials for medical applications.
Flexibility and safety are vital factors
The selection of TPE compounds used in the durable medical equipment sector depends on the requirements of manufacturers or OEMs. KRAIBURG TPE's compounds allow medical equipment design engineers to have ultimate flexibility in equipment design.
KRAIBURG TPE's Thermolast K and Thermolast M portfolio and custom-engineered TPE can support the manufacturer's most demanding product development needs and requirements. In addition, both TPE product lines are free from heavy metals, phthalates, latex and PVC.
Other benefits include the compound's processability through injection moulding and extrusion processes. Various colour options are also available with the assurance of worldwide consistent colour quality.
Lasting benefits for medical equipment
KRAIBURG TPE's Thermolast K series consists of a wide hardness range from supersoft (>10 Shore A) up to 66 Shore D, and is also resistant to abrasions, and scratches, allowing for long-lasting medical equipment. For safety, the selected series complies with the relevant FDA-Code of Federal Regulations (CFR), Title 21, and standard EN 71/3 regulations as well as China GB standards. Examples from the Thermolast K series include the FC/CS compound, a food-grade compound with good compression set and adhesion with PP and PE. The soft touch surface property makes it ideal for handle and grip applications of crutches, walkers, canes, hospital bed push buttons, electric patient lift belts, inhalation machine, membrane patch for TENS, pain reliever device surface, sealing for devices, etc.
Meanwhile, for non-food grade TPE such as VS/AD/HM series affords good adhesion with a range of polymers such as PC, ABS, ASA, SAN and PA. It is soft and velvety, abrasion and scratch resistant, as well as resistance to skin oil. These advantages make it suitable for diverse applications such as handles, knee adductor pads, limb contracture splint and protectors.
Medical-grade TPE makes the mark
The medical-grade Thermolast M series meets the VDI 2017 and ISO 10993-5 standards requirements as well as listed in the Drug Master File.
This series also affords optimum safety with excellent control management in KRAIBURG TPE's Medical Service Package, which assures optimum raw materials purity and a guaranteed 24-month supply security.
An example of the Thermolast M is the MC/AD1 series that offers good adhesion with polar thermoplastics like PC, ABS, PC/ABS, ASA, SAN, PET, PETG and PS. Besides being sterilisable, the compound is abrasion resistant and is available in natural colour.
The soft touch feature allows for possible applications such as seals, flexible connections, and valves for medical applications.
Material solution for clean eating systems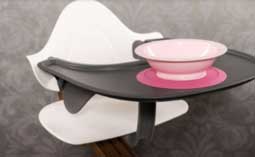 Meanwhile, KRAIBURG TPE's Thermolast K is a good fit for this innovative system designed for babies and toddlers. The Babynator learn-to-eat set for babies and toddlers makes eating cleaner. The non-slip system comprises a self-adhesive mat made of Thermolast K that firmly holds in place exchangeable accessories such as plates and bowls. The "Babynator" is available as a set or separately, in many different colours.
Babyhood and infancy are challenging – and not just for parents. Objects that are used every day also go through a daily endurance test. This is where the solution developed by a start-up business in Styria, Austria, comes into play. The technology using an adhesive plate was originally developed for pets and was perfected to create the "Yummynator". In the next step, the product was further developed in accordance with all the rules and regulations required for materials that are used for babies and in contact with food – the Babynator was born.
The product's highlight: The mat made of Thermolast K provides adhesion to many tables and high chairs. The mat is available as part of a set, or separately from the bowl and plate, and in various coluors.
The key factor in the project is that the compound adheres to different surfaces. To ensure safe use in lots of different households, the material needs to provide adhesion to the surfaces of as many types of table and high chair as possible. But that can only be achieved if the material stays flat on the surfaces, without forming bubbles or ridges. The compound therefore has good processing properties and a high degree of dimensional stability. Another advantage of the product solution is that high-brilliance colours and special-effect colours can be used. A bayonet mount that is directly integrated into the mat using multicomponent injection moulding serves to attach various plates and bowls made of polypropylene easily and safely, so that the dish is always held securely in place.
Each individual part of the product can be safely used in contact with food and meets all the standards, including BPA-free, Regulation (EU) No. 10/2011, US FDA CFR 21 (raw materials conformity), and EN71-3. Additional advantages are: The compound used also has a non-sticky surface, so that it is more resilient to dirt than other materials. In addition, due to its special composition the material does not leave any spots of oil and grease or any marks on different materials. Untreated wood surfaces, in particular, are therefore perfectly protected.
"Along with excellent advice and a flawless product, KRAIBURG TPE provides service worthy of the name. The company's support continued long after the actual purchase. KRAIBURG TPE offers a complete package and our customers benefit from it," Marcus König, the founder of Babynator, sums up.
The Babynator is also familiar from television programs such as TV channel VOX's entrepreneurs' show "The Lions' Den – Die Höhle der Löwen", in which Ralf Dümmel of DS Produkte GmbH pledged financial assistance to the Babynator startup business. The product solution was also nominated for the German Design Award 2021 and won the award in the "Excellent Product Design, Baby and Child Care" category. (Press Release)
(PRA)
---
Subscribe to Get the Latest Updates from PRA Please click here
©2021 Plastics and Rubber Asia. All rights reserved.

©2020 Plastics and Rubber Asia. All rights reserved.
Home
Terms & Conditions
Privacy Policy
Webmail
Site Map
About Us
SOCIAL MEDIA