Tie-ups: Ineos Styrolution/Tomra develop high purity recycled PS; Neste/LyondellBasell tie-up for renewable feedstock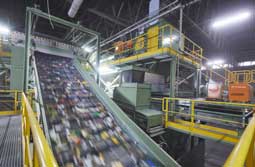 Styrenics maker Ineos Styrolution says its mechanically recycled polystyrene (PS), based on sorting machinery maker Tomra's NIR sorting process, delivers a PS purity of more than 99.9%. The new material is available in white and light grey. The new Styrolution PS ECO 440 is currently available in EMEA.
This new PS solution is suitable across a wide range of applications including food contact. It will enable customers to address their respective sustainability goals and contribute to the development of a circular economy. PS ECO is not only made from recycled material, it is also fully recyclable. This means the material offers true circularity with no need to downcycle.
Ineos Styrolution says it follows the concept of using Styrolution PS ECO material behind a functional barrier making the material suitable for food contact applications such as XPS foam food packaging trays. The concept, which conforms with requirements under FC Regulation (EU) No 10/2011, is based on a layer of virgin PS enclosing the recycled PS.
Contrary to traditional thought, the new mechanically recycled PS confirms once again that PS is indeed made for recycling.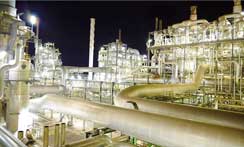 Meanwhile, in other news renewable chemicals firm Neste and LyondellBasell have tied up for a long-term commercial agreement under which LyondellBasell will source Neste RE, a feedstock from Neste that has been produced from 100% renewable feedstock from bio-based sources, such as waste and residue oils and fats. This feedstock will be processed through the cracker at LyondellBasell's Wesseling, Germany, plant into polymers and sold under the CirculenRenew brand name.
"We are delighted that our strategic relationship with LyondellBasell is further strengthened with this long-term commercial agreement. With LyondellBasell, we share both the innovative spirit and the sense of urgency to make active contributions towards combating climate change and accelerating the shift to a circular bio-economy. We made history together by joining forces in 2019 in the world's first commercial-scale production of bio-based polypropylene and bio-based polyethylene with verified renewable content. I am very much looking forward to the next industry milestones we can reach together," says Mercedes Alonso, Executive Vice President, Renewable Polymers and Chemicals at Neste.
"We are very pleased that together with Neste we can bring our customers one step closer to the creation of more sustainable end products," states Richard Roudeix, LyondellBasell Senior Vice President of Olefins and Polyolefins for Europe, Middle East, Africa and India. "The extended relationship with Neste is an important piece in our multi-pronged approach to deliver on our sustainability goals. We have already made some significant steps in this direction since the beginning of this year, amongst which the recent launch of our Circulen product family and the ISCC PLUS certification, which we have obtained for our European polymer sites."
Through their collaboration, Neste and LyondellBasell are jointly contributing to the development of the European market for more sustainable polymers and chemicals solutions. By ensuring continuity with significant industrial-scale volumes of renewable polymers produced with renewable feedstock from bio-based sources, the companies wish to enable sustainability-focused brands to develop more sustainable products and offerings.
In April 2021, LyondellBasell launched the Circulen family of products. LyondellBasell's CirculenRenew product line consist of polymers linked to renewable-based feedstocks, while polymers made from mechanically recycled materials are marketed under the brand name CirculenRecover and those linked to advanced (molecular) recycling are called CirculenRevive.
(PRA)
---
Subscribe to Get the Latest Updates from PRA Please click here
©2021 Plastics and Rubber Asia. All rights reserved.

©2020 Plastics and Rubber Asia. All rights reserved.
Home
Terms & Conditions
Privacy Policy
Webmail
Site Map
About Us
SOCIAL MEDIA