Tie-ups: Fraunhofer, Sabic, and P&G in recycling of single-use facemasks; Covestro explores recycling of polycarbonate composites with carboNXT/Mitsubishi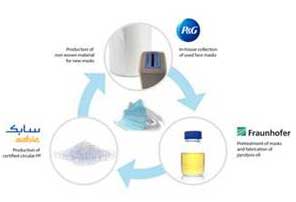 German Fraunhofer Institute UMSICHT, materials company Sabic and Procter & Gamble (P&G) are collaborating in a circular economy pilot project to demonstrate the feasibility of closed-loop recycling of single-use facemasks.
Due to Covid-19, use of billions of disposable facemasks is raising environmental concerns especially when they are thoughtlessly discarded in public spaces or on landfill sites or in incineration plants, representing a loss of valuable feedstock for new material.
As part of the pilot, P&G collected used facemasks worn by employees or given to visitors at its manufacturing and research sites in Germany. Although those masks are always disposed of responsibly, there was no ideal route in place to recycle them efficiently. To help demonstrate a potential step change in this scenario, special collection bins were set up, and the collected used masks were sent to Fraunhofer for further processing in a dedicated research pyrolysis plant.
"A single-use medical product such as a face mask has high hygiene requirements, both in terms of disposal and production. Mechanical recycling, would have not done the job", explains Dr. Alexander Hofmann, Head of Department Recycling Management at Fraunhofer UMSICHT. "In our solution, therefore, the masks were first automatically shredded and then thermochemically converted to pyrolysis oil. Pyrolysis breaks the plastic down into molecular fragments under pressure and heat, which will also destroy any residual pollutants or pathogens, such as the Coronavirus. In this way it is possible to produce feedstock for new plastics in virgin quality that can also meet the requirements for medical products", adds Hofmann, who is also Head of Research Department "Advanced Recycling" at Fraunhofer CCPE.
The pyrolysis oil was then sent to Sabic to be used as feedstock for the production of new PP resin. The resins were produced using the widely recognised principle of mass balance to combine the alternative feedstock with fossil-based feedstock in the production process. Mass balance is considered a crucial bridge between today's large scale linear economy and the more sustainable circular economy of the future, which today is operated on a smaller scale but is expected to grow quickly.
Finally, to close the loop, the PP polymer was supplied to P&G, where it was processed into non-woven fibre material.
The entire closed loop pilot project from facemask collection to production was developed and implemented within only seven months. The transferability of advanced recycling to other feedstocks and chemical products is being further researched at Fraunhofer CCPE.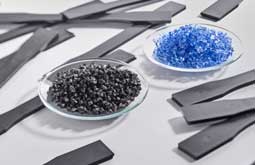 Meanwhile, in other news German materials firm Covestro is exploring the recycling of its Maezio brand of continuous fibre-reinforced polycarbonate composites (CFRTPs) with recycling specialist carboNXT.
Covestro says Maezio products are characterised by their extremely light weight, very high strength and exceptional flexibility of design. This means that waste generated during the production of composites also becomes a valuable raw material. However, because they consist of different materials that cannot be easily separated from one another, the recycling of composites is a challenge. Covestro is cooperating with recycling specialist carboNXT on this. It has developed a process that allows the waste to be processed on an industrial scale.
"We are very excited about this joint solution, as we cannot process the materials ourselves for technical reasons," explains Lisa Ketelsen, Head of Thermoplastic Composites at Covestro. "By recycling according to type at our partner's plant, the raw materials can be converted back into valuable products with similarly good properties as those characteristic of virgin materials. The recycling of materials makes it possible to use them again in other products. In this way, we save raw material resources and contribute to the focus on the circular economy."
"Our company has many years of experience in recycling carbon fibre-reinforced thermoplastics and has the necessary plant technologies to process such waste. We were therefore the partner of choice for this task," says Tim Rademacker, general manager at Mitsubishi Chemical Advanced Materials and responsible for the carbon fibre recycling business. "From the processed waste, we produce high-quality new compounds of carbon fibre-reinforced polycarbonate for Covestro at CarboNXT."
Demand for such recycled products is high because they are valuable raw materials, but also because more and more industrial customers and consumers are looking for more sustainable products.
The project will now be further developed to market maturity by Covestro, Mitsubishi Chemical Advanced Materials and possibly other partners. It is part of a global strategic program with which Covestro is focusing all its energy on the circular economy.
(PRA)
---
Subscribe to Get the Latest Updates from PRA Please click here
©2021 Plastics and Rubber Asia. All rights reserved.

©2020 Plastics and Rubber Asia. All rights reserved.
Home
Terms & Conditions
Privacy Policy
Webmail
Site Map
About Us
SOCIAL MEDIA