Expansion: Kureha to boost PVDF output in China; ExxonMobil, Sabic jv reaches mechanical completion of Texas MEG/PE units

Japanese chemical firm Kureha Corporation is to build a new polyvinylidene fluoride (PVDF) plant at its wholly-owned subsidiary, Kureha Changshu Fluoropolymers Co., in the Jiangsu Province of China.
Kureha currently has PVDF manufacturing facilities at the Japan Iwaki Factory and Kureha Changshu Fluoropolymers with production capacity of 6,000 tonnes/year and 5,000 tonnes/year, respectively. The company has been planning to increase capacity to address growing customer requests for the polymer and recently received an approval to proceed with its facility enhancement project (to produce up to 15,000 tonnes/year) from authorities of China's Jiangsu Province, where Kureha Changshu Fluoropolymers currently operates. The production capacity will be increased to 10,000 tonnes (in the first stage of capacity increase)
PVDF is used as a binder material in lithium-ion battery (LiB) manufacturing as well as an engineering plastic for various industrial uses. Recently, demand for PVDF is fast growing in the LiB-powered automobile sector, including EV, HEV and PHEV, as nations promote these vehicles as part of their environmental initiatives.
Expanding earnings in the PVDF business is one of Kureha's priority measures in the current mid-term management plan Kureha's Challenge 2022. This production ramp-up in China as well as ongoing capacity expansion at the Iwaki Factory, which is scheduled to complete in January 2022, are intended to support the growing demand for PVDF binder in the LiB market. Kureha aims to further strengthen its PVDF production capability in stages and in align with market growth to pursue business expansion.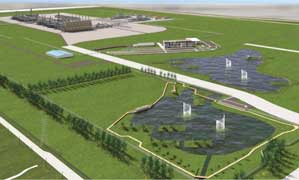 Meanwhile in other news, chemical firms ExxonMobil and Sabic's joint venture, Gulf Coast Growth Ventures, located near Corpus Christi, Texas, has reached mechanical completion of a monoethylene glycol (MEG) unit and two polyethylene (PE) units. Project start-up is expected to begin ahead of schedule, likely in the fourth quarter of 2021.
The project, which includes a 1.8 million-tonne ethane steam cracker, is expected to be delivered under budget and approximately 25% less than the average cost of similar projects along the US Gulf Coast. When completed, GCGV will produce 1,100 kilotonnes/year of MEG and 1,300 kilotonnes/year of PE.
"Gulf Coast Growth Ventures is a key development of our plan to serve growing demand for our high value performance products," said Karen McKee, president of ExxonMobil Chemical Company. "This is truly a best-in-class project, as demonstrated in schedule acceleration and cost competitiveness, despite the many challenges related to the Covid-19 pandemic."
"We are very proud to bring GCGV one step closer to operations," said Abdulrahman Al-Fageeh, SABIC's executive vice president of petrochemicals. "Not only are we ahead of schedule, but we have executed this project with the highest commitment and emphasis on safety with nearly 18 million safe person-hours worked, all while acting on the promises we made to the community when we started this journey four years ago."
Monoethylene glycol is commonly used in the manufacturing of polyesters and automotive coolants, and as a building block to create various forms of high-performance plastics. Polyethylene is commonly used in protective film, packaging and bottles and containers that prolong the shelf-life of food and medicines, as well as in various automotive parts that improve fuel efficiency and performance, and in medical applications.
Gulf Coast Growth Ventures expands the successful international relationship between ExxonMobil and Sabic, who have worked together in petrochemical ventures for more than 35 years. Ownership interests in the Gulf Coast Growth Ventures project is 50% ExxonMobil and 50% Sabic, with ExxonMobil as site operator.
The venture has generated more than US$22 billion in economic output for the state of Texas during construction and is estimated to create US$50 billion in economic benefits during the first six years of operation.
(PRA)
---
Subscribe to Get the Latest Updates from PRA Please click here
©2021 Plastics and Rubber Asia. All rights reserved.

©2020 Plastics and Rubber Asia. All rights reserved.
Home
Terms & Conditions
Privacy Policy
Webmail
Site Map
About Us
SOCIAL MEDIA