PRA magazine expands its digital footprint; ties up with M-HUB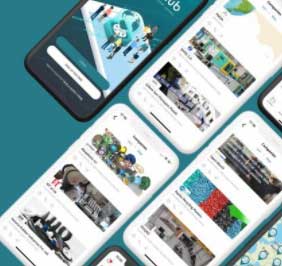 Kuala Lumpur, Malaysia – As the "new normal" continues to unfold, moving on from the Covid-19 global pandemic, digitalisation is increasingly becoming a mainstream as to how we conduct our business activities and how we source information.
Staying ahead of the digital trend, Plastics and Rubber Asia (PRA), Asia's leading print and digital magazine for the plastics and rubber industry that has been published since 1985, is boosting its online footprint with increased focus on digital publications and online marketing. In line with this, PRA offers various digital advertising products that are priced competitively (http://plasticsandrubberasia.com/media-kit.html) for clients to boost their publicity/promotional plans.
PRA has also tied up with M-HUB, the first global mobile app for the plastics industry that is available for free. PRA is featured on M-HUB that publishes select articles and news stories from PRA on its app.
To keep abreast with the plastics industry, sign up to M-HUB for free at https://app.m-hub.com to access its various features and get push notifications when new PRA posts are published.
For more details about PRA magazine, visit our website at www.plasticsandrubberasia.com
To get a free print and digital magazine subscription from PRA, sign up at http://plasticsandrubberasia.com/register.html
ABOUT PRA
Published since 1985, PRA magazine is available in print and digital formats. The print edition has a circulation of 12,000 copies per issue, and the digital edition has a distribution of 45,000 copies per issue. PRA has been a media partner of choice for a number of international and regional trade events, including K show, Plastindia, Chinaplas, Propak Asia, Propak Vietnam, Propak China, Koplas, TaipeiPlas, M'sia Plas, TPlas, Medical Manufacturing Asia, Indoplas, P&R Indonesia, IPF Japan, P&R Vietnam, JEC Asia, and more. It is supplemented by the online vertical platforms of Rubber Journal Asia or RJA (www.rubberjournalasia.com) and Injection Moulding Asia or IMA (www.injectionmouldingasia.com). PRA also has a dedicated website in Mandarin (www.plasticsandrubberasia.cn)
(PRA)
---
Subscribe to Get the Latest Updates from PRA Please click here
©2021 Plastics and Rubber Asia. All rights reserved.

©2020 Plastics and Rubber Asia. All rights reserved.
Home
Terms & Conditions
Privacy Policy
Webmail
Site Map
About Us
SOCIAL MEDIA