Recycling: Petro Rabigh signs MoUs for recycling plants in Saudi Arabia; Sumitomo Chemical completes pilot facility for PMMA recycling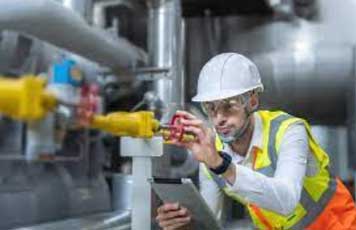 Rabigh Refining and Petrochemical Co. (Petro Rabigh) has signed three memorandums of understanding (MoUs) with investors to set up manufacturing plants in the Rabigh PlusTech Park.
The first MoU was inked with Pure Life Industries Middle East Co. to manufacture 80,000 water filters and flat ceramic membranes a year, the company said in a statement published on the Saudi stock exchange.
The second MoU was signed with Saudi Top Co. to produce 50,000 tonnes/year of recycled polymer compounds.
The third agreement was concluded with Green Community Co. to produce 100,000 tonnes/year of recycled plastic resin for food applications.
No details were shared on the total investment. The statement said that the new facilities will contribute to achieving Vision 2030 goals and maximise the added value of hydrocarbons.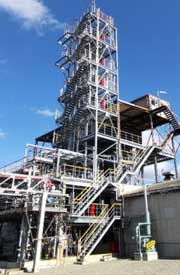 In other news, Japan's Sumitomo Chemical has constructed a new pilot facility for chemical recycling of acrylic resin (PMMA) at its Ehime Works in Niihama City, Ehime Prefecture, Japan. Samples of chemically recycled methyl methacrylate or MMA monomer produced in this facility and acrylic resin made from the monomer will become available in spring 2023. It says it will accelerate the development of a circular system for acrylic resin that integrates all steps, from collection of used acrylic resin, to recycling of the collected resin into a monomer material, to use of the material as products.
Acrylic resins, which possess the highest level of transparency among plastics, as well as superior weatherability and processability, are used in a wide range of applications, such as automobile tail lamps, home appliances, water tanks, liquid crystal displays (LCDs), and protective partition panels to reduce the spread of droplets. Meanwhile, as plastics are made from fossil resources, there is an urgent need to reduce greenhouse gas (GHG) emissions generated across the entire process, from production to disposal of plastics, as well as to promote the recycling of used plastics as resources.
Sumitomo Chemical has jointly developed with The Japan Steel Works Ltd. (JSW, headquartered in Shinagawa-ku, Tokyo) a technology for pyrolysing acrylic resin and recycling it, with high efficiency, into MMA monomer, which is a raw material for acrylic resin. The new pilot facility the Company has built at its Ehime Works is equipped with JSW's twin-screw extruder.
Sumitomo Chemical will validate the technology to recycle acrylic resin at a high quality and work on scaling the production process. The recycled MMA monomer will have the same level of quality, and its GHG emissions over the entire product life cycle are expected to be at least 60% less, compared to MMA monomer manufactured from fossil resources.
Sumitomo Chemical has also set out to build a circular system for acrylic resin, collecting acrylic plastic scraps and used acrylic resin from Nippura, a long-time business partner, as well as from major home appliance manufacturers, while also working to develop a customer base for acrylic resin made from the recycled MMA monomer. Going forward, Sumitomo Chemical will step up collaboration with partners in other industries on collection, recycling, and business development in order to accelerate the development of a circular system for acrylic resin.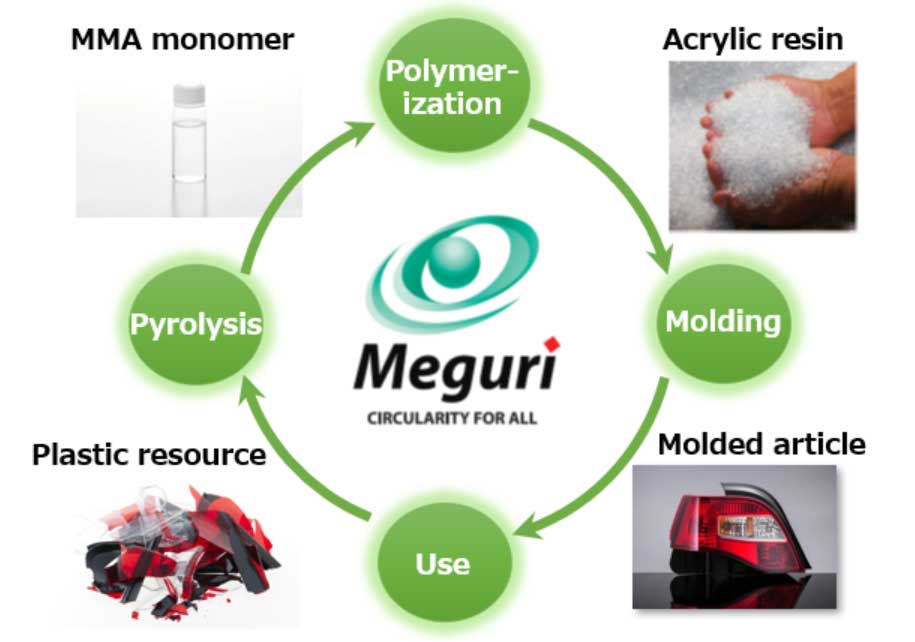 In September 2022, Sumitomo Chemical launched the Meguri brand for plastic products made with recycling technology, as part of its effort to contribute to building a circular economy.
The chemically recycled MMA monomer produced in the newly constructed pilot facility and acrylic resin made from the monomer will be the first Meguri brand products. Going forward, acrylic resins obtained using recycling technology will be sold as Sumipex Meguri.
In addition, acrylic resin sheets made with material recycling technology, handled by Sumila Acryl, a wholly owned subsidiary of the company, will also be sold under the Meguri brand, and is scheduled to be launched in January 2023.
(PRA)
---
Subscribe to Get the Latest Updates from PRA Please click here
©2023 Plastics and Rubber Asia. All rights reserved.

©2023 Plastics and Rubber Asia. All rights reserved.
Home
Terms & Conditions
Privacy Policy
Webmail
Site Map
About Us
SOCIAL MEDIA