Green materials: LG Chem to produce plastics from fishing nets; Nexam Chemical secures first major order from South Korea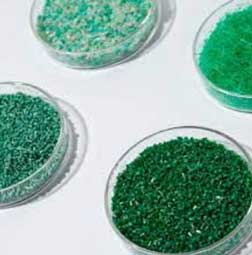 South Korean chemical firm LG Chem says that it has entered into an MOU with Netspa, a resource circulation company, to set up a resource circulation system which will see Netspa supplying marine plastic waste to LG Chem's pyrolysis oil plant in Dangjin, Chungnam. The company will use marine wastes, such as discarded fish nets, as raw materials for its pyrolysis oil plant.
Through this MOU, LG Chem says it will secure raw materials for its Seokmun National Industrial Park pyrolysis oil plant in Dangjin, Chungnam, which is scheduled to begin operations in 2024. Once Netspa sorts and processes plastics from marine wastes, LG Chem will use it to produce recycled plastics.
The two companies hope to not only protect the marine ecosystem but also reduce carbon emissions through this resource circulation partnership, since about 50,000 tonnes of marine waste, including discarded fish nets, are generated every year in Korea. But collecting this waste has been difficult, and even when it has been collected, it has been notoriously difficult to treat. Until now, therefore, it has for the most part, simply been left or incinerated.
LG Chem Petrochemicals Company President KUG LAE, NOH stated, "We will further accelerate eco-friendly technologies and businesses for sustainable growth in the future such as marine waste resource circulation."

In other news, Swedish firm Nexam Chemical, which develops, produces and sells additives to the plastics industry worldwide, has continued success with additives for PET recycling in South Korea. The order has a value of approximately SEK2 million and will be delivered during February, March and April 2023. This builds further confidence in the Reactive Recycling product portfolio, it adds.
On two previous occasions during the autumn 2022, Nexam Chemical has informed about a new business relationship in South Korea. The new customer has gradually gone from a major industrial attempt to repair recycled plastic to now entering a more regular situation. This means that the customer has placed an order for a time interval, which is a sign that the project is entering a continuous commercial phase that usually lasts for a longer period, usually several years.
"That we go from lab samples to pilot scale and then to industrialization is exactly what we strive for in all projects. This time, however, it has gone much faster than usual, which is extra gratifying. The fact that it also concerns our growth oriented initiative in Reactive Recycling strengthens our confidence in the market," says Johan Arvidsson, CEO of Nexam Chemical.
(PRA)
---
Subscribe to Get the Latest Updates from PRA Please click here
©2023 Plastics and Rubber Asia. All rights reserved.

©2023 Plastics and Rubber Asia. All rights reserved.
Home
Terms & Conditions
Privacy Policy
Webmail
Site Map
About Us
SOCIAL MEDIA