Holistic wellness with TPEs
Health encompasses not only physical wellbeing but also psychological, emotional, and social wellness. Thus, various modalities for promoting health exist, ranging from gym workouts to music and sound therapy for stress relief to healthcare diagnostics. Experts in these fields rely on top-of-the-line equipment to get the job done.
KRAIBURG TPE, a global TPE manufacturer of a wide range of thermoplastic elastomer products and custom solutions for multiple industries, offers TPEs that are suitable to be applied on musical instruments and accessories, gym equipment applications such treadmills, skipping ropes, weight training deep stations, upright bikes, etc, and for a variety medical and healthcare applications, owing to properties that render soft touch, scratch resistance and wear/tear and chemical resistance; wide hardness range, durablility, flexibility, and more.
Making music with TPEs
Music serves not only to provide entertainment to individuals but also to sooth frayed nerves, in some instances. Music has been known to help relieve stress and even been proven to control our heart rates and blood pressure.
Creating music and playing musical instruments are tangible forces that have the power to magnify and enhance emotions and it is for these reasons music is known as "food for the soul".
Meanwhile, musical instruments and accessories need to be able to stand the test of time and rigors of handling and constant use. Previously, materials like wood and metals were used in musical instruments, and now manufacturers are utilizing state-of-the-art materials, such as thermoplastic elastomers (TPEs), in their products to allow for more convenience, ease of use and lighter weight.
TPEs: music to the ears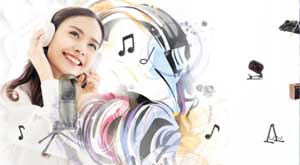 KRAIBURG TPE's compounds offer excellent resistance to sebum and oil and, thus, are suitable for applications such as earphones, headsets, and earpiece tips that are in constant contact with the human body.
With the soft touch feature of KRAIBURG TPE compounds, comfort is also maximized, especially in wearable electronic devices.
TPE compounds can also be used for sound damping of musical equipment. The sound absorption effect of the compounds provides stability and noise reduction on equipment such as speakers, amplifiers, and record players.
Providing versatility in musical equipment
KRAIBURG TPE's compounds are known for their high abrasion resistance, allowing for suitability in musical instrument accessories such as foot pedals, protection pads and portable keyboard stands.
The scratch and wear/tear resistance features of TPEs also make the compounds suitable to be used on musical accessories such as buttons, seals and switches on digital tuners and metronomes.
KRAIBURG TPE offers non-toxic, environmentally-friendly materials with a wide hardness range, which allows a multitude of musical instrument applications.
Furthermore, the TPEs can be pre-colored into various color options that creates more inspiring designs for applications in the music sector.
Reinventing laboratory equipment with TPEs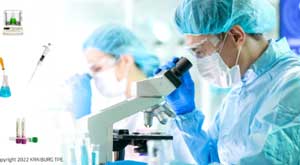 Most medical decisions are based on laboratory test results, emphasizing the importance of early diagnosis for early prevention and treatment of illnesses. These work of analysis and testing has been aided by a variety of equipment and devices in the clinical laboratory.
Thermoplastic elastomers (TPEs) are increasingly used for the development of safe and efficient laboratory equipment to improve detection, evaluation, and response, either at home or in a clinical setting.
KRAIBURG TPE offers its THERMOLAST H TPE series of compounds for a variety medical and healthcare applications.
The compounds meet the performance and structural criteria for clinical laboratory equipment and components. These include buttons, handles, droppers, valves, pipettes, test tube racks, stoppers, flexible connections, closures and gaskets.
Better structural properties and performance with TPEs
Thermolast H TPE series of compounds exhibit flexibility, durability, and a soft and velvety surface in respective applications. These compounds, available in a variety of pre-coloration options, have a wide processing window and can be processed via injection moulding and extrusion.
Furthermore, KRAIBURG TPE is able to customize the compounds to suit the customers' needs to fulfil medical regulations for specific clinical laboratory equipment and applications.
Solutions for versatility and safety
The Thermolast H series of compounds are sterilizable with an autoclave at 121°C and also through the EtO process. It is also free of hazardous substances such as latex, PVC, heavy metals, and phthalates, resulting in high-quality material solutions that meet Cytotoxicity, GB/T 16886.5, ISO10993-5, as well as various global food contact and relevant medical standards.
The series' compounds also meet food-grade standards such as the Commission Regulation (EU) No. 10/2011, the US Food and Drug Administration's Code of Federal Regulations Title 21 (21CFR), and China's GB (GuoBiao) standards.
Additionally, the series of compounds feature excellent properties such as adhesion to PP, soft touch surface, chemical abrasion, compression set and haptics etc., allowing for product design flexibility.
TPEs make work outs easier and fun
Going to the gym is not only a recreational past time for adults but also a path for them to achieve their health and fitness goals. The desire to stay fit and healthy has never been more relevant than now.
In addition, with the latest, innovative gym equipment and cable motion technology, fitness enthusiasts are able to expand their exercise possibilities to build balance, strength and power.
Furthermore, today's gym equipment has evolved and it is no longer bulky but instead compact, to allow for space savings, and far more aesthetic.
To achieve ergonomics and cost effectiveness in gym equipment, manufacturers are turning to TPE compounds.
VS/AD/HM series: keeping fit with TPEs
KRAIBURG TPE's VS/AD/HM series of compounds can be used in gym equipment applications. The compounds are known for their chemical resistance as well as resistance to abrasion and scratches, which makes the compounds ideal for gym equipment applications where the surface is in constant contact with human sweat and strenuous physical activities.
This series of TPE compounds offers a consistent colourability, allowing for the possibility of more attractive equipment.
Also, the TPE compounds render a soft, velvety surface feel to products, making them suitable for handles and grip applications in equipment.
The excellent adhesion property to nylon, PA6 and PA12, as well as other polar thermoplastics like PC, ABS, ASA and SAN, allow for flexibility in product development.
Other possible applications where the VS/AD/HM series can be used include fitness ab wheels, bicycle cushion covers, buttons, etc.
EC series: aesthetic features in gym equipment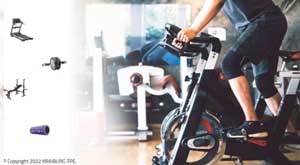 KRAIBURG TPE's EC series of compounds is an electric conductivity series with low resistivity, which is a fundamental property of a material that measures how strongly it resists electric current.
This holds the EC compounds in good stead for potential applications in gym simulation vests, required for stimulating the muscles, for work-outs and bodybuilding. The use of weight vests as a tool for fitness has increased significantly, especially in the tactical fitness industry, with weighted calisthenics, speed and agility, and other weighted running workouts.
Another attribute of the EC series is that it has a soft, non-sticky haptic surface, which provides comfort to the user when wearing the vest.
Furthermore, it is halogen-free, for safety in applications, and has good adhesion to polypropylene (PP) resin, allowing for a wide variety of applications.
(PRA)
---
Subscribe to Get the Latest Updates from PRA Please click here
©2022 Plastics and Rubber Asia. All rights reserved.

©2022 Plastics and Rubber Asia. All rights reserved.
Home
Terms & Conditions
Privacy Policy
Webmail
Site Map
About Us
SOCIAL MEDIA