Plants: Mitsubishi Chemical to build CFRTP pilot facility in Japan; BASF opens PU R&D centre in Thailand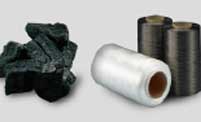 Japanese chemical firm Mitsubishi Chemical Corporation will build a new pilot facility for carbon fibre-reinforced thermoplastic (CFRTP) in Fukui Prefecture, Japan, and scheduled to start operation by the end of 2021.
Last year, MCC acquired German carbon fibre prepreg manufacturer, c-m-p GmbH that has production technology of unidirectional /fabric prepreg and provides solutions to various markets, particularly in the aerospace and automotive fields. With this acquisition, MCC says it will have prepreg plants in Europe, US and Japan.
MCC adds that it has an extensive track record of successfully using CFRP in applications such as automobiles, and the company has a wealth of technologies relating to carbon fibre and plastic modification. With support from the Industrial Technology Centre of Fukui Prefecture and leveraging technological synergy within the MCC Group, MCC has recently established technology enabling manufacturing of high-quality CFRTP with low void content. In the future, MCC will market the product as a new series in its Kyron thermoplastic composite brand and roll it out to the Japanese CFRTP market, which until now has relied chiefly on imported products.
Against a backdrop of tighter environmental regulations, needs for lighter aircraft and automobile bodies are growing in the mobility sector, and use of CFRP is predicted to increase, since it is both light and strong. Until now, CFRP using thermosetting resin has been the main product in this segment, but to promote CFRP utilisation, more widespread use needs to be made of CFRTP, which enables shorter component production times and is easy to recycle.
MCC adds that it has world-class technology relating to PAN-based and pitch-based carbon fibres as well as thermoplastics ranging from general-use grades to highly heat-resistant products.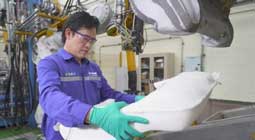 The company will proactively expand its CFRP business by harnessing the power of the entire MCC Group to develop new products capable of fulfilling increasingly diverse and sophisticated customer needs and providing optimal and timely solutions to the mobility sector, where technological innovation is taking place.
Meanwhile in other news, German chemicals firm BASF has opened its ASEAN Technical Development Centre adjacent to its existing Polyurethane (PU) System House at Bangpoo site in Thailand. The new facility houses a pre-polymer reactor technology to produce a hardener (component B) – a key component to boost product development efficiency, thereby enabling faster time-to-market of PU materials and solutions, it adds.
The advanced reactor technology is further designed to deliver on a much larger capacity, meeting demanding customer requirements across all grades. The new pre-polymer reactor technology is additionally capable of developing customised PU system products, which helps improve the commercialisation of these specialised solutions.
The centre also boasts several new service upgrades, such as more advanced testing and software capabilities and complements BASF's technical support network in China, Korea, and Germany.
BASF previously increased the production capacity of its polyurethane system house in Bangpoo as part of a move to better meet the growing demand across automotive, consumer, construction, and industrial markets in ASEAN. With a total production area of 2,700 sq m, the redesigned system house includes additional mixing vessels, reactors, and storage tanks.
The ASEAN car market by production volume continues to grow with differentiated products and emerging applications. Thailand and Indonesia are among the largest automotive industries in Southeast Asia, while Vietnam is already one of the world's largest footwear exporters, and its industry is expected to grow as more manufacturers are relocating their manufacturing base there.
(PRA)
---
Subscribe to Get the Latest Updates from PRA Please click here
©2020 Plastics and Rubber Asia. All rights reserved.
©2020 Plastics and Rubber Asia. All rights reserved.
Home
Terms & Conditions
Privacy Policy
Webmail
Site Map
About Us
SOCIAL MEDIA