UN treaty, drastic reforms can stem plastic waste crisis – Peak Plastics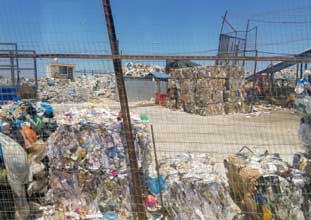 Plastic consumption is anticipated to nearly double in the G20 by 2050 unless the United Nations (UN) agrees on a sweeping set of new global policies, including worldwide bans on some single-use plastic products, extended producer responsibility schemes and taxes on virgin plastic production, according to a new report.
Peak Plastics: Bending the Consumption Curve is a report that is the first to forensically model the potential effects of policies that United Nations plastic treaty negotiators are considering. According to the study, if things continue as they are, the annual consumption of plastics across the G20 will rise to 451 million tonnes by 2050, almost twice as much as the 261 million tonnes it reached in 2019.
The research from Back to Blue, an initiative of Economist Impact and The Nippon Foundation, and was supported by prominent authorities on plastic production, consumption and pollution including OECD, the World Bank, Systemiq, CSIR, and WWF also reveals that on the current trajectory countries will not reach peak plastic consumption this century: the tipping point after which plastic consumption begins to decline.
The UN Treaty on Plastic Pollution, which was developed in March of last year with the support of 175 countries, aims to end plastic pollution globally. By the end of 2024, it is anticipated that this historic treaty will have been agreed upon through a series of meetings that have taken place all over the world. The Back to Blue study discovered that the only policies at the most ambitious end of those being considered will significantly affect the spiraling plastic waste crisis.
The report's researchers looked at three policy options that have advanced in the UN treaty's negotiations because they are thought to have the greatest chance of achieving peak plastic consumption.
These regulations prohibit the use of problematic single-use plastic products and address the entire plastic lifecycle, from manufacturing to disposal. and that include "polluter pays" Extended Producer Responsibility programs for complete end-of-life costs, a tax on the manufacture of virgin plastic, all fall short of stopping the unrelenting rise in plastic consumption.
The only way to reach peak plastics and see future consumption slow is through a combination of these policies and more audacious measures, such as potential restrictions on the production of virgin plastic. The research predicts that by the middle of the century, plastic consumption in the study countries will nearly double if the negotiators are unable to reach agreement on any policy interventions.
According to the report, a global ban on unnecessary single-use plastic (SUP) items is the most effective policy of those studied. Even with a SUP ban in place, plastic consumption in 2050 will still be 1.48 times higher than it was in 2019.
The use of SUPs will only be slightly decreased by EPR programs, but they are still a vital part of the solution. If EPR programs are made mandatory, plastic consumption in the target countries will increase 1.66 times between 2019 and 2050. This is only marginally less than the baseline, which is 1.73 times, if no policies are implemented.
In the event that all three scenarios come to pass, plastic consumption will still increase, albeit more slowly – 1.25 times higher in 2050 than in 2019. The results show that there is a "considerable" chance that the UN treaty won't be strong enough to slant the consumption curve downward.
The report proposes that in order to reduce plastic consumption to the necessary level, it is necessary to enact laws and regulations that are so strict that they are likely to be opposed by manufacturers, retailers, trade associations, consumer advocacy groups, and other parties.
Industry participants concur that the plastic consumption curve can only be shifted by drastic and audacious reforms. To reduce plastic pollution, all parties involved—from petrochemical firms to consumers—must work together to manage the crisis. A piecemeal strategy will fail, they said.
(PRA)
---
Subscribe to Get the Latest Updates from PRA Please click here
©2023 Plastics and Rubber Asia. All rights reserved.

©2023 Plastics and Rubber Asia. All rights reserved.
Home
Terms & Conditions
Privacy Policy
Webmail
Site Map
About Us
SOCIAL MEDIA