Project STOP hands over circular waste project to East Java community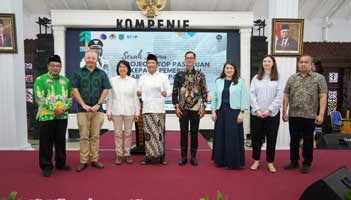 Project STOP has celebrated a major milestone this year with the handover of its second city partnership in the Pasuruan Regency, East Java. It adds that this "demonstrates how a strong public-private partnership can reduce waste and plastics leakage into the environment and support circularity of materials."
On the occasion of Indonesia's National Waste Awareness Day, Project STOP handed over the programme to the Pasuruan government, to be managed solely by them and the communities of Lekok and Nguling.
Launched in 2017 by chemical firm Borealis and Systemiq, Project STOP (STOP Ocean Plastics) works with cities in Indonesia to create effective, circular waste management systems. Supported by industry and government partners, Project STOP aims to achieve zero leakage of waste into the environment, recycle more plastics, build economically sustainable programs, and create economic and health benefits for local communities.
Community participation is at the heart of the programme. To date, Project STOP Pasuruan has reached 132,000 people with formal waste collection services and is both recycling and composting waste in its two material processing facilities (MRF). Each MRF has a capacity of 25 tonnes per day, creating 120 permanent jobs for the community, and collecting over 5,000 tonnes of waste, including 700 tonnes of plastic.
"Since 2019, we have been partnering with Project STOP Pasuruan to provide a circular waste system accessible to the community. We are very pleased with the multi-stakeholder collaboration operated continuously by the local government to promote sustainable waste systems that are economically profitable and provide new job opportunities for the local communities," said H. M. Irsyad Yusuf, Regent of Pasuruan during the handoff ceremony.
Ministry of Environment and Forestry, through Directorate General PSLB3, Vivien Rosa Ratnawati, said, "Indonesian government appreciates the role and contribution of Project STOP, Nestlé, Systemiq, local government and all the parties with their active role in supporting government's efforts to create circular economy and finding total solutions in waste management to increase the community welfare. I hope that initiatives like this will inspires other parties to do the same thing."
A handover ceremony was hosted at the Pasuruan regency auditorium to celebrate Lekok and Nguling's autonomy with key local, national, and international stakeholders joining in person. Attendees consisted of numerous government officials, local organisations, village heads, village business units, and Project STOP's founding partners and funders.
"Project STOP has been very close to our hearts ever since we created it and then initiated it together with our partner Systemiq," commented Thomas Gangl, Borealis CEO. "Being able to hand over the second city partnership programme to the local government fills us with joy. After Project STOP Muncar, now also Project STOP Pasuruan has "grown up" and reached economic autonomy. We celebrate this milestone together with all our project partners and look forward to continued success for this important programme."
"Proper waste management requires lasting efforts and significant contributions from all stakeholders involved and is vital for the health and well-being of our local communities," said Mike Webster, Programme Director of Project STOP at Systemiq. "We are extremely grateful for the partnership with the Indonesian government, the Pasuruan government, our project funders and partners, and community leaders. It is wonderful to be able to hand over an established waste management system so that they can continue efforts on the ground."
Nestlé was the first food and beverage company to join Project STOP as a strategic partner and is a main funder of the city partnership in Pasuruan, together with Siegwerk, one of the leading global providers of printing inks and coatings.
"A clean environment is a fundamental human right. Project STOP shows that waste management systems can be built and financially maintained if all stakeholders participate. It was an honour to support Pasuruan. We are confident that this success can be replicated. A multi-stakeholder approach is very important in the waste management sector to ensure the sustainability of the system. This effort would not be possible without the tireless commitment from the Indonesian and Pasuruan government including the community," said Janarthanan Nallasura, President Director at Siegwerk, "we are driven by our commitment to support circularity through Project STOP and would like to thank you for the continuous support from all stakeholders to stop waste and go circular."
"Our vision is that no plastic waste ends up in landfills or as litter in the environment. We are proud to have supported Project STOP to achieve its independence – and keep valuable packaging and organic residues in the economy – and out of nature. Moreover, these collaborative efforts support Indonesia's national target to achieve 70% of waste management," said Prawitya Soemadijo, Director of Sustainability, Nestlé Indonesia.
(PRA)
---
Subscribe to Get the Latest Updates from PRA Please click here
©2023 Plastics and Rubber Asia. All rights reserved.

©2023 Plastics and Rubber Asia. All rights reserved.
Home
Terms & Conditions
Privacy Policy
Webmail
Site Map
About Us
SOCIAL MEDIA