Expansions: Covestro starts up EUR200 mn chlorine plant in Tarragona; Ineos/Lotte to build third VAM plant in South Korea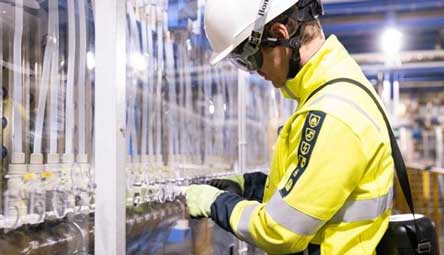 German materials firm Covestro says it has successfully started up a new world-scale facility for the production of chlorine in Tarragona, Spain, for its MDI production also in Tarragona. It is the first world-scale production plant for chlorine based upon the ODC (oxygen depolarised cathode) technology invented by Covestro and its partners.
The company says it will strengthen the European production network for MDI – a precursor for the manufacture of rigid polyurethane foam used to insulate refrigeration appliances and buildings. The EUR200 million investment has created 50 new jobs on site.
The new chlorine facility is the first industrial-scale plant in the world to use the ODC technology, which has been developed by Covestro in collaboration with thyssenkrupp nucera.
Compared to the currently predominant conventional chlor-alkali electrolysis, the new process requires a lower voltage, which results in energy savings of up to 25%. At the new plant in Tarragona, this can avoid up to 22,000 tonnes/year of CO2 emissions compared with existing processes – based on the energy mix at the start of construction planning in 2018. The new plant will thus make an important contribution to Covestro's goal of being operationally climate-neutral by 2035.
The chlorine is used on site as a raw material for the production of MDI, a precursor for the manufacture of rigid polyurethane foams as used for producing energy-efficient insulation solutions for buildings and refrigerating devices.
In 2019, the global MDI market had a volume of around 7,500 kilotonnes and is expected to further grow in the long term. In addition to chlorine, the plant will also produce caustic soda for the Iberian and European markets. Both chlorine and caustic soda are two indispensable basic chemicals for the chemical industry, and are also key raw materials for many other strategic sectors.
Andrea Firenze, General Manager of Covestro in Spain, added: "The arrival of this plant allows us to significantly strengthen Covestro's MDI production in Tarragona. Being able to have our own, independent supply of chlorine gives us the ability to further increase the efficiency and competitiveness of our MDI plant. Moreover, the new plant also strengthens Tarragona's position as the benchmark for chemistry in southern Europe, promotes the economic and social development of the area and both directly as well as indirectly generates new jobs. I would therefore like to sincerely thank all my colleagues who have contributed to the success of this project with their work."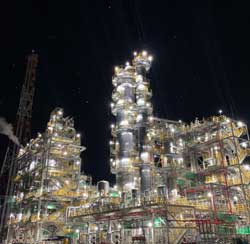 In other news, joint venture firm Lotte Ineos Chemical (a joint venture between UK-based Ineos and South Korea's Lotte) says it plans to increase vinyl acetate monomer (VAM) production capacity from the current 450,000 tonnes to 700,000 tonnes with the addition of a third VAM plant. The new plant is scheduled to start-up by the end of 2025.
VAM is widely used for everyday products such as food packaging, solar panels, windscreens, polarising films, adhesives and paints. In recent years VAM demand has increased significantly to meet global solar power generation.
The company says it has purchased additional land next to the existing plant in Ulsan for the construction of the new VAM plant, and has begun the Front-End Engineering Design (FEED) work with Lotte Engineering & Construction.
David Brooks CEO Ineos Acetyls said: "The Ineos Lotte team in Ulsan have a very strong record in delivering projects safely and on time. This investment, using well proven Ineos technology, will support our customer growth plans in North East Asia and globally."
(PRA)
---
Subscribe to Get the Latest Updates from PRA Please click here
©2023 Plastics and Rubber Asia. All rights reserved.

©2023 Plastics and Rubber Asia. All rights reserved.
Home
Terms & Conditions
Privacy Policy
Webmail
Site Map
About Us
SOCIAL MEDIA