Neste and Iillig to cooperate on thermoformed sustainable packaging through demo cases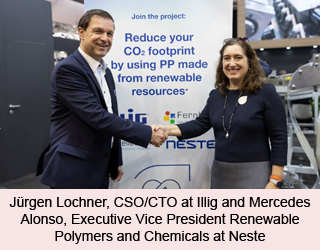 Sustainable materials firm Neste and German thermoforming machinery company Illig have entered into a strategic partnership to advance the use of more sustainable solutions in the production of thermoformed plastic packaging through demonstration cases. Such cases aim to verify the drop-in nature of renewable and recycled materials for demanding applications – by recreating value chains on a small scale for demonstration purposes.
The partners combine Neste's expertise in providing renewable and recycled materials for polymers production and Illig's expertise in manufacturing thermoforming systems to create practical showcases. Inviting additional partners for individual cases, the showcases are to demonstrate that plastics made from more sustainable raw materials can be further processed within the already existing infrastructure similarly to those produced purely from fossil resources, resulting in products of equal quality and with properties meeting regulatory requirements.
In spring 2022 and together with companies LyondellBasell and Fernholz, the project participants already successfully ran a feasibility study along the value chain turning renewable Neste RE feedstock into polypropylene with measurable C14 bio-based content. The study showed that further processing steps along the value chain – including cracking, polymerisation, sheet extrusion and thermoforming – could be performed without any deviations from processing fossil raw materials. The four companies presented their joint project at 2022's K fair in Düsseldorf with a live demonstration of the thermoforming.
As part of the new cooperation agreement, Illig and Neste now intend to conduct similar demonstration case studies to promote the usage of renewable feedstock like Neste RE especially in demanding applications such as packaging suited for food contact or technical applications such as consumer electronics. Such studies could explore the manufacturing of packaging with varying measurable C14 bio-based content, but also include packaging produced with recycled raw materials leveraging Neste's capabilities in chemical recycling to create circular plastics value chains.
To recreate entire value chains, additional partners will be invited to join individual cases. Over the course of the studies, processes, facilities and machinery used will be closely monitored and analysed to provide new insight into the quality and property of products and the performance of value chain infrastructure.
Jeroen Verhoeven, Vice President Value Chain Development at Neste's Renewable Polymers and Chemicals business unit, said, "Together with Illig, we can verify the drop-in nature of our solutions and the shift to more sustainable raw materials in the production processes in very practical demonstration cases, which can serve as blueprints for large-scale and real value chains. Our goal is to demonstrate what's possible already today to promote these solutions in the industry. By demonstrating the feasibility of renewable and recycled materials along value chains in demonstration cases, we can foster their acceptance on a larger scale."
(PRA)
---
Subscribe to Get the Latest Updates from PRA Please click here
©2023 Plastics and Rubber Asia. All rights reserved.

©2023 Plastics and Rubber Asia. All rights reserved.
Home
Terms & Conditions
Privacy Policy
Webmail
Site Map
About Us
SOCIAL MEDIA