Green tie-ups: LyondellBasell/Kirkbi invest in APK for recycling technology; CPChem/Nexus in long-term feedstock agreement for bioPE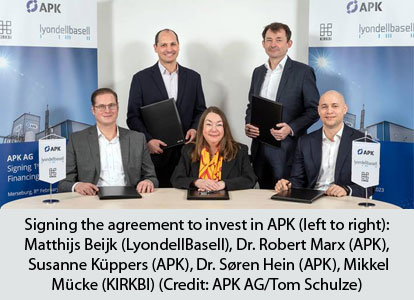 Chemical firm LyondellBasell and Kirkbi, the Kirk Kristiansen family's private holding and investment company of the Lego brand, have signed an agreement to make an investment in Germany-based APK, which specialises in a solvent-based recycling technology for low density polyethylene (LDPE). Together with other co-investors, the companies will pump in EUR130 million into APK.
APK, founded in 2008, aims to increase the recycling of multi-layer flexible packaging materials – which today make up the majority of mixed plastic waste from the consumer sector. To this end, APK has developed the solvent-based Newcycling process, which separates the different polymers of multi-layer packaging materials and produces recycled materials with a high degree of purity suitable for new packaging materials.
At its site in Merseburg, Germany, APK is operating a pilot plant, where the industrialisation of this technology has already been achieved. Since June 2022, APK has also been operating a technical centre at the Frankfurt Hoechst location via its subsidiary APK Newcycling Competence Center GmbH (APK NCC).
Under the agreement, LyondellBasell and Kirkbi will become minority shareholders in APK and together with other co-investors will invest approximately EUR130 million in APK. Further Newcyling plants are planned to be built to increase the production capacity.
Yvonne van der Laan, LyondellBasell Executive Vice President, Circular and Low Carbon Solutions, said, "Advancing this technology, through our investment in APK, will enable more plastic packaging waste to be reintroduced back into the value chain and will address the demand from consumers and brand owners for more sustainable packaging. Products made using this unique Newcycling solvent-based technology will be a great complementary addition to our existing Circulen product portfolio, which currently offers mechanical and advanced recycling solutions to our customers."
"Our Newcycling technology makes it possible to close the loop even with complex waste streams and to produce high-quality LDPE recyclates from mixed plastic waste - highly efficient and offering both economic and ecological advantages. We have been proving for years that this is also possible on an industrial scale at our plant in Merseburg," says Susanne Küppers, Member of the Executive Board of APK/Managing Director of APK NCC.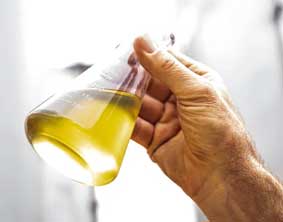 In other news, recycler Nexus Circular says that the company has signed a long-term commercial agreement with Chevron Phillips Chemical (CPChem) for the supply of a significant volume annually of circular liquid feedstocks from a new advanced recycling facility. This long-term contractual commitment further strengthens CPChem's relationship with Nexus for advanced recycled plastic feedstocks to produce Marlex Anew circular PE.
Nexus has been supplying CPChem for over two years with consistent bulk shipments of ISCC PLUS certified materials. In December 2021, Six Pines Investments, a wholly-owned sustainable investment subsidiary of CPChem, made an investment in Nexus to expand production at the Atlanta, Georgia, facility. Both companies are continuing discussions for future new expansion commitments.
Nexus Circular is a commercial leader in advanced recycling with a proven proprietary technology and a process design that converts landfill-bound films and other hard-to-recycle plastics into high-quality liquids which are then used to produce virgin-quality circular plastics. Since 2018, Nexus has been consistently supplying commercial volumes of circular liquid products, having diverted over 3,600 tonnes of used plastics from landfill.
CPChem is targeting an annual production volume of 450,000 tonnes of Marlex Anew Circular Polyethylene by 2030. The proven, fully commercialised advanced recycling technology from Nexus repeatedly transforms difficult-to-recycle plastics into new products to accelerate the transition to a circular economy for plastics.
(PRA)
---
Subscribe to Get the Latest Updates from PRA Please click here
©2023 Plastics and Rubber Asia. All rights reserved.

©2023 Plastics and Rubber Asia. All rights reserved.
Home
Terms & Conditions
Privacy Policy
Webmail
Site Map
About Us
SOCIAL MEDIA