BASF to cut 2,600 jobs; expects savings of EUR500 mn/year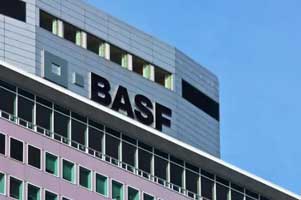 German chemicals firm BASF says it plans to cut around 2,600 jobs, which is about 2% of its global workforce of more than111,000 employees worldwide, in a cost-cutting drive due to the impact of high energy prices. The job cuts will mainly be centred in Germany and come against the back of charges related to its oil/gas subsidiary's exit from Russia that has pushed it to report losses in 2022.
The Ludwigshafen-based company said the cost-cutting programme would be implemented this year and next to generate annual savings of more than EUR500 million in the company's service, operating and R&D divisions and corporate headquarters by 2024.
"Globally, the measures are expected to have a net effect on around 2,600 positions; this figure includes the creation of new positions, in particular in hubs," BASF said in a statement.
It said that some plants at its Ludwigshafen site would close, affecting around 700 production jobs, these include two ammonia plants and related fertiliser facilities. It will also close units producing caprolactam, a chemical used to make fibres and plastics, and TDI, a compound used to make flexible foam. The plans, which are expected to lower the group's annual costs by EUR200 million by the end of 2026, will also lead to reduced production in Germany of adipic acid — a compound used to make nylon — as well as closure of three other plants that were needed in its production.
BASF adds that the capacity of its caprolactam plant in Antwerp, Belgium, is sufficient to serve captive and merchant market demand in Europe going forward. High value-added products, such as standard and specialty amines and the Adblue business, will be unaffected and will continue to be supplied via the second ammonia plant at the Ludwigshafen site, it said further.
It will also focus on reduction of the adipic acid production capacity and closure of the plants for cyclohexanol and cyclohexanone as well as soda ash: Adipic acid production at the joint venture with Domo in Chalampé, France, will remain unchanged and has sufficient capacity – in the changed market environment – to supply the business in Europe. Cyclohexanol and cyclohexanone are precursors for adipic acid; the soda ash plant uses by-products of the adipic acid production. BASF will continue to operate the production plants for polyamide 6.6 in Ludwigshafen, which need adipic acid as a precursor.
Furthermore, it will look at closure of the TDI plant and the precursor plants for DNT and TDA: demand for TDI has developed only very weakly especially in Europe, Middle East and Africa and has been significantly below expectations. The TDI complex in Ludwigshafen has been underutilised and has not met expectations in terms of economic performance, it adds. "This situation has further worsened with sharply increased energy and utility costs. BASF's European customers will continue to be reliably supplied with TDI from BASF's global production network with plants in Geismar, Louisiana; Yeosu, South Korea; and Shanghai, China," said the company.
But CEO Martin Brudermüller said the company was "very confident that we will be able to offer most of the affected employees employment in other plants."
Brudermüller's comments came shortly after BASF announced that it would prematurely end its share buyback programme, having spent just under half of the EUR3 billion previously committed, due to "profound changes in the global economy".
BASF reported a net loss for 2022 of EUR627 million euros, following a profit of EUR5.5 billion the previous year. The profits was affected by charges of EUR6.3 billion largely due to the exit from Russia of its Wintershall Dea gas and oil subsidiary and on the unit's gas transportation business.
In announcing the cost-saving drive, Brudermüller also said that "Europe's competitiveness is increasingly suffering from over-regulation, slow and bureaucratic permitting processes, and in particular, high costs for most production input factors."
"All this has already hampered market growth in Europe in comparison with other regions," he said. "High energy prices are now putting an additional burden on profitability and competitiveness in Europe."
However, BASF is still banking on the Asian sector to push its sales and is one of several large German groups that are making a big bet on China, where it is building a EUR10 billion plastics engineering facility, which it says will support growing demand in the country.
In its outlook for 2023, BASF says "the high level of uncertainty that arose over the course of 2022 due to the war in Ukraine, high raw materials and energy costs in Europe, rising prices and interest rates, inflation and the development of the coronavirus pandemic will continue in 2023. All of these factors will negatively impact global demand. BASF thus only expects moderate growth of 1.6 % for the global economy in 2023. For global chemical production, BASF expects growth of 2%."
Based on these assumptions, the BASF Group is expected to generate sales of between EUR84 billion and EUR87 billion in 2023. The company expects a weak first half of 2023 followed by an improved earnings environment in the second half of the year due to recovery effects, especially in China.
(PRA)
---
Subscribe to Get the Latest Updates from PRA Please click here
©2023 Plastics and Rubber Asia. All rights reserved.

©2023 Plastics and Rubber Asia. All rights reserved.
Home
Terms & Conditions
Privacy Policy
Webmail
Site Map
About Us
SOCIAL MEDIA