Green tie-ups: Xampla and Croda/Incotec to work on microplastic-free seed coatings; Kemira breakthroughs in the production of biobased water-soluble polymers
UK's Croda International Plc has entered into a partnership with Cambridge University-backed Xampla to develop next generation, biodegradable, microplastic-free seed coatings.
Backed by the UK government and the National Institute of Agricultural Botany, the £640,000 project trial of Xampla's plastic-free seed coatings, will bring biodegradable replacements for seed coating polymers.
Seed coatings are used in agriculture to protect seeds from pests and diseases and increase germination, helping increase crop yield with minimal use of additional plant protection products. However, some seed coatings rely on petroleum-derived polymers, which are not fully degradable in agricultural soils. This innovative trial will see the development of next generation microplastic-free seed coatings that are fully biodegradable.
Through its Seed Enhancement specialists Incotec, Croda has already established itself as an industry leader in microplastic-free replacements for traditional seed coatings, including sunflower, corn, and vegetable seeds. Its partnership with Xampla now paves the way for completely natural, coatings that leave no residue and disappear without trace as seeds grow.
This collaboration also takes Croda one step closer to enhancing the company's focus on using crop science innovation to support crop and seed enhancement to mitigate the impact of a changing climate and land degradation.
The partnership will also help future-proof the seed coating industry, by offering a solution which is compliant with a microplastic ban across Europe, proposed by the European Chemicals Agency, which – if adopted – will be introduced by 2027.
Erik-Jan Bartels, Managing Director of the Incotec Seed Enhancement business at Croda International Plc, said, "Microplastics in agriculture in total account for 10% of the world's microplastics problem, and within that seed coatings account for 1% but that makes it no less important to change the industry, as we have been doing now for some time."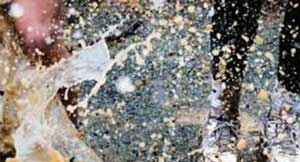 Meanwhile in other news, Finnish sustainable solutions provider for water-intensive industries Kemira says it has started the first worldwide full-scale production of its newly developed polymer based on biobased feedstock. The first commercial volumes are shipped to one of the wastewater treatment plants of the Helsinki Region Environmental Services (HSY) for trials.
With this very first biomass-balanced polyacrylamide, a water-soluble polymer, Kemira says it has succeeded in offering technically equivalent alternative for this special polymer type.
These polymers can be used in various industries, such as the water and energy industry, and potentially also in particularly demanding papermaking applications.
"Advanced municipal wastewater treatment has still a remarkable climate impact and our goal at HSY is to improve the environmental and overall performance of our treatment plants wherever possible. Replacing fossil based chemicals by more sustainable alternatives is one element of our strategy. Therefore, we are interested in testing this new polymer full-scale at our plant", explains Mari Heinonen, Director of Water Services at HSY.
The novel polymers are manufactured according to the principles of biomass-balance, in which the majority of fossil based raw materials are replaced by ISCC Plus certified biobased and renewable mass-balanced feedstocks. They are produced in Kemira's ISCC certified manufacturing facilities in San Giorgio di Nogaro, Italy, and Bradford, UK, and supplied globally to customers in water-intensive industries.
(PRA)
---
Subscribe to Get the Latest Updates from PRA Please click here
©2022 Plastics and Rubber Asia. All rights reserved.

©2022 Plastics and Rubber Asia. All rights reserved.
Home
Terms & Conditions
Privacy Policy
Webmail
Site Map
About Us
SOCIAL MEDIA