Uniloy acquires Century Die to bolster mould making capability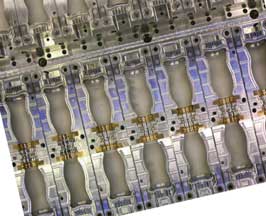 Blow moulding machine maker Uniloy Inc. has acquired Century Die Company, LLC of Fremont, Ohio, US. Terms were not disclosed.
With this acquisition, Uniloy says it gains Century's 70+ years of expertise and a proven record of manufacturing blow moulds for wheel, shuttle, reciprocating screw, injection stretch, injection blow, and industrial, as well as mould repairs and refurbishments and tooling for bottle handling.
Century Die Company has 65 employees at its 25,000 sq ft, Fremont, OH manufacturing facility. Uniloy plans to keep all existing operations currently at the Fremont location and bring all employees into the Uniloy team and brand. Mould manufacturing will also continue at Uniloy's Tecumseh, MI headquarters.
As a manufacturer of moulds for the blow moulding industry for over 60 years, Uniloy's current mould offerings include moulds for its reciprocating screw machines, as well as shuttle PET moulds and mould repairs, and refurbishments. With the acquisition, Uniloy's mould capabilities will be increased. It says, "the new mould line-up will be the most comprehensive in blow moulding".
Uniloy President/CEO Brian Marston adds, "Century's experience and manufacturing expertise in multiple blow moulding mould technologies will further bolster our position as a leader in moulds across the blow moulding spectrum. That's something no other blow moulding technology company can claim. This is a win for the Century Die team, the Uniloy team, and most importantly, a big win for our customers! We can now offer customers a turnkey solution across all of our machine platforms with moulds made in-house at Uniloy."
Century Die General Manager Tim Myers was quoted, "We have a solid and closely-knit team here at Century Die Company. After meeting with Brian and the leadership team at Uniloy, I can see we share many common beliefs and synergies that will ensure a smooth and prosperous transition for those in Fremont (Ohio) and Tecumseh (Michigan)."
(PRA)
---
Subscribe to Get the Latest Updates from PRA Please click here
©2022 Plastics and Rubber Asia. All rights reserved.

©2022 Plastics and Rubber Asia. All rights reserved.
Home
Terms & Conditions
Privacy Policy
Webmail
Site Map
About Us
SOCIAL MEDIA