Plants: Sumitomo Chemical licenses high-pressure PE technology to Russia; Técnicas Reunidas/Sasa Polyester to build PTA plant in Turkey

Sumitomo Chemical has concluded an agreement with Kazan Organichesky Sintez (KOS), in the Republic of Tatarstan of the Russian Federation, to license out its high-pressure production process for low-density polyethylene (LDPE) and ethylene-vinyl acetate (EVA) to boost KOS's polyethylene production.
KOS started manufacturing polyethylene in 1965. Among the leading Russian petrochemical companies, it is now one of the largest domestic producers of polyethylene. With the goal of increasing production capacity and further diversifying the product mix at its manufacturing site in Kazan, the capital city of Tatarstan, KOS is removing part of its existing manufacturing facilities and installing a facility. For this facility, KOS has adopted Sumitomo Chemical's high-pressure production process. The new facility will have an annual production capacity of 100 kilotonnes.
Sumitomo Chemical's high pressure polyethylene technology is a proprietary autoclaving polyethylene production process, which is switchable between LDPE and EVA in one manufacturing facility. For EVA, a wide range of product grades can be accommodated by adjusting the spike level of vinyl acetate. The technology is also energy efficient because of its high monomer reaction efficiency, and offers excellent operational stability. These points were highly regarded and led to the conclusion of this license agreement.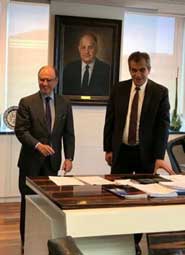 In other news, engineering firm Técnicas Reunidas is to build for Sasa Polyester a new petrochemical project for the production of PTA (Purified Terephtalic Acid) in Adana, Turkey. The first PTA plant in Turkey will have a capacity of 1.5 million tonnes/year.
The US$900 million project was announced at the end of 2020 and includes engineering, procurement and construction supervision and management. The contract has already been launched and will be executed under a fast-track scheme.
This project is part of an investment programme that Sasa Polyester will carry out in the petrochemical sector in Turkey. Turkey is the third importer of PTA in the world, after the US and Germany. This will the first PTA facility to be built in Turkey, and it will help to reduce the deficit and the imports of the country in this very important raw material.
PTA is used in the pharmaceutical and textile industries, as well as for food life extension and packaging.
Juan Lladó, Chairman of Técnicas Reunidas commented: "Técnicas Reunidas is uniquely placed to leverage on its engineering and technical expertise and its solid petrochemical track record to play a significant role in the growth of this industry in Turkey. We also look forward to participating in the economic development of the Adana province, boosting the local supply chain, optimising distribution and therefore achieving a significant reduction in the carbon footprint."
(PRA)
---
Subscribe to Get the Latest Updates from PRA Please click here
©2021 Plastics and Rubber Asia. All rights reserved.

©2020 Plastics and Rubber Asia. All rights reserved.
Home
Terms & Conditions
Privacy Policy
Webmail
Site Map
About Us
SOCIAL MEDIA