Plants: Hengyi to use Unipol technology for PE plant in Brunei; SK Chemical/Brightmark to build plastics renewal plant in South Korea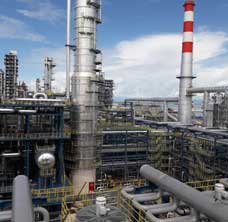 Hengyi Industries Sdn Bhd has selected Univation Technologies' Unipol PE Process for its world-scale 600,000-tonne/year PE plant to be located in Palau Muara Besar, Brunei. The new PE plant will be integrated into a larger refinery and petrochemicals project centred on a 14-million-tonne/year (280,000 b/d) crude oil refinery that will include 11.2 million tonnes/year of downstream capacity producing ethylene, benzene, para-xylene, ethylene glycol (EG), purified terephthalic acid (PTA), polyethylene (PE), polypropylene (PP), and polyethylene terephthalate (PET, polyester). The project will also include capacity to produce 6.33 million tonnes/year of fuels.
Hengyi Industries says it elected to take advantage of the flexible product capability of the Unipol PE Technology with a full-density plant design to produce a broad range of HDPE and LLDPE products to satisfy large-volume product demand for flexible packaging films and various PE moulded articles. With this versatile manufacturing capability, Hengyi's plans to implement an export-centric strategy focused on serving growing PE demand opportunities in southeast Asia as well as China.
Hengyi has also selected Univation's advanced software platforms for both process control capability and virtual process training. Hengyi will deploy Univation's most current generation of advanced process control capability: Premier Advanced Process Control 3.0 for control capability designed to maximise production rates, ensure efficient plant operations and enhance overall operational reliability of the PE process.
"The Palau Muara Besar refinery and petrochemicals project represents a significant investment within Brunei, and Univation is proud that Hengyi Industries has selected Unipol PE Technology for this strategic and multi-faceted project," commented Dr. Steven Stanley, President of Univation Technologies.
Chen Lian Cai, CEO of Hengyi Industries, included his comments, "This Hengyi Industry project represents Brunei's first-ever world-class oil refinery and petrochemical complex and also marks an important milestone as our company's second significant capital investment for the Palau Muara Besar site."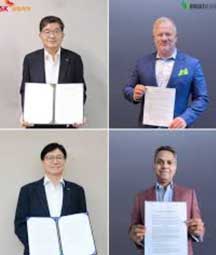 In other news, petchem firm SK Global Chemical, a subsidiary of SK Innovation, and US waste solutions firm Brightmark have tied up to build a 100,00-tonne/year plastics renewal plant in South Korea. The plant will use Brightmark's pyrolysis technology to recycle plastic waste.
Plastics renewal is Brightmark's proprietary type of pyrolysis, an advanced form of recycling with a unique ability to recycle all types of plastic waste that has reached the end of its useful life – including the most difficult to recycle plastics. The MOU makes SK Global Chemical the partner for Brightmark in South Korea to help resolve the plastic waste issue, which is a rising global concern. The world produces 385 million tonnes of plastic each year and 91% of that plastic never gets recycled. The rest ends up in an incinerator, a landfill, or as litter in the natural environment, where will remain for thousands of years.
"Pyrolysis is an essential technology to resolve plastic issue," said Na Kyung-soo, CEO of SK Global Chemical. "This partnership with Brightmark will help establish us as leaders on this important challenge. In addition to our cooperation with Brightmark, SK Global Chemical's Environmental, Social, and Corporate Governance (ESG) initiatives will continue to support the circular economy of plastic."
Both parties will carry out a feasibility study during 2021 and plan to cooperate by combining experience of pyrolysis and post treatment in South Korea. By the end of this year, the two parties will complete evaluation of the most optimal methods to operate, scale and develop Brightmark's technology within South Korea prior to finalisation of a joint venture agreement for the plant development and operation.
In past, the continuous operation of pyrolysis plants was difficult due to lack of technical and economic viability. Brightmark overcame these constraints, and its plastics renewal plant in Ashley, Indiana, with a capacity of 100,000 tonnes/year of plastic waste, which is the largest site in the world, will achieve full commercial scale in 2021.
SK Global Chemical is closely working together with SK Innovation, its holding company, in developing a post treatment process to remove impurities and to convert pyrolysis oil into plastic.
"It is very important to strengthen technological competitiveness in related industries", said Dr. Seong Jun Lee, Head of SK Innovation's Environmental Technology Institute. "In this regards, SK Innovation is developing core technologies such as improving yield of plastic conversion and removing impurities to secure the quality of pyrolysis oil from waste plastic."
When the commercial scale pyrolysis plant is operated continuously and successfully in Korea, the recycling rate of flexible packaging waste will be noticeably increased. Moreover, it is expected that this business will make it easier to reach the goal of building the plastic circular economy after SK Global Chemical succeeds in using this oil in its own plastic feedstock plant.
For Brightmark the partnership with SK Global Chemical in South Korea represents an important part of its commitment to globally scale solutions to the most pressing environmental challenges. Brightmark adds it is delivering on its mission through the deployment of disruptive, breakthrough waste solutions focused on plastics renewal (plastic waste-to-fuel) and renewable natural gas (organic waste-to-fuel).
(PRA)
---
Subscribe to Get the Latest Updates from PRA Please click here
©2021 Plastics and Rubber Asia. All rights reserved.

©2020 Plastics and Rubber Asia. All rights reserved.
Home
Terms & Conditions
Privacy Policy
Webmail
Site Map
About Us
SOCIAL MEDIA