Plants: Covestro plans new plants for PU dispersions and polyester resins in China; AkzoNobel opens new R&D lab for low cure powder coatings in Italy

German materials maker Covestro is planning a new production facility for polyurethane dispersions (PUDs) at the Covestro Integrated Site in Shanghai, China (CISS) to address the rising demand for environmentally compatible coatings and adhesives in the Asia-Pacific region. A further line for polyester resins, from which PUDs are produced, is also to be built there. The plants are due to be completed in 2024.
"With these investments, we are preparing for the continued growth in demand for these products and expanding our leading global position," says Michael Friede, Global Head of the Coatings, Adhesives, Specialties segment at Covestro. "In the future, customers will continue to rely on replacing solvent-based products with more sustainable waterborne systems with equally good properties. Thanks to our versatile production, we are at the same time flexible and can satisfy many different requirements."
Covestro develops tailor-made PUDs for a wide range of industries, thereby creating new growth opportunities. The company also emphasises on R&D of products and process technologies.
The areas of application for polyurethane dispersions are highly diversified. For instance, Covestro raw materials from the Bayhydrol UH, U and UV series and Bayhytherm are used in basecoats for automotive primary and refinish coatings, as well as in wood and furniture coatings and robust floor coatings. Adhesives formulated with Dispercoll U are used in furniture and shoe manufacturing as well as in the automotive industry.
The low-solvent components also play an important role in the production of coated textiles and fibre-reinforced plastics.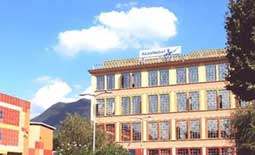 In other news, a new research centre which will develop pioneering products for the rapidly growing area of powder on wood has been opened by AkzoNobel at its site in Como, Italy.
The new R&D facility – which features an application lab, process lab, and analytical and testing lab – is dedicated to delivering low cure powder coatings for use on heat-sensitive substrates (such as MDF, plywood, thermoplastics and composites).
Its inauguration follows the recent acquisition of Stahl's powder coatings activities, which gave AkzoNobel access to a broad range of solutions, including unique UV technology. The Como center will now focus on developing an expanding portfolio of low cure solutions, including low bake, UV and ultra-low bake (ULB) powder technologies. This will enable customers to use less energy during production, gain process speed and boost their own sustainability profile.
"We're excited to build on our global leadership position and enter new markets while bringing more surfaces to life for our customers," explains Daniela Vlad, Director of AkzoNobel's Powder Coatings business. "In addition to strengthening our position as a technology leader, the new facility will also help to accelerate our speed to market so we can reach our customers even faster."
She adds that this is only the first phase of the company's expansion into powder on wood, with plans in place to open additional R&D centres in Asia and North America.
With customers worldwide looking to embrace the sustainability benefits that powder has to offer, powder on wood has become one of the fastest growing areas within the coatings industry. The company is therefore perfectly placed to make the most of the exciting new market opportunities that have opened up.
Continues Vlad: "The dedicated know-how we have in the new R&D centre will enable us to develop a broad range of innovative new surface solutions, particularly for our wood coatings customers.
"Having recently expanded our Como site, it means we can now accommodate a European manufacturing facility for powder on wood and the new R&D centre at the same location, which will speed up the service capability we offer to customers in this segment."
The Como site is AkzoNobel's biggest plant in Europe for producing powder coatings. As well as increasing capacity, the recent €20 million expansion also sharpened the company's focus on sustainable manufacturing.
AkzoNobel supplies powder coatings to customers worldwide, covering market segments ranging from domestic appliances, architecture and automotive, to furniture, IT and general industrial applications.
(PRA)
---
Subscribe to Get the Latest Updates from PRA Please click here
©2021 Plastics and Rubber Asia. All rights reserved.

©2020 Plastics and Rubber Asia. All rights reserved.
Home
Terms & Conditions
Privacy Policy
Webmail
Site Map
About Us
SOCIAL MEDIA