Biomaterial production using Coperion's ZSK technology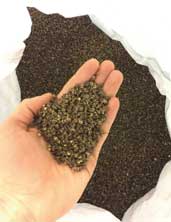 Swedish innovation company RenCom has started production of its Renol thermoplastic biomaterial that can be used to replace fossil-based plastics, utilising German firm Coperion's twin-screw extruder. Following comprehensive studies in Coperion's extrusion test lab in Stuttgart, Germany, RenCom and Coperion have developed the innovative extrusion process for Renol, a lignin-based material. Using Coperion's ZSK twin-screw extruder technology lignin can be transformed into durable, reusable biomaterial.
Coperion has delivered a ZSK twin-screw extruder, gravimetric feeders, a strand pelletising system, a lignin bag dump station and a big bag station to RenCom. The system has now been successfully commissioned and production has already started, according to schedule. RenCom will be able to produce more than 1,000 tonnes/year of biomaterial.
RenCom's patented technology is based on lignin, a by-product from the forest industry, transforming it into a high-performance renewable material that is able to replace plastics. Renol can be used in ratios up to 50% in applications such as films (shopping bags, mulch films or retail bags), injection moulding (furniture and automotive parts) and as an infill material for artificial football pitches replacing toxic and non-degradable rubber. It can be used directly in existing production infrastructure without any modifications to machines or methods.
Coperion has in cooperation with RenCom designed a complete extrusion system comprising a ZSK Mv PLUS -co-rotating twin-screw extruder as well as auxiliary equipment. The ZSK Mv PLUS series unites an optimally balanced large free screw volume with high screw speeds and a high specific torque. Thanks to the deeply cut screw flights thermal stress on the raw material is very low and product processing is very gently.
The comprehensive studies in Coperion's test lab and the realisation of the extrusion system has been the beginning of a successful partnership between RenCom and Coperion, add the firms.
"We are very happy to be able to support this innovative company on their exciting journey. We see big potential for their lignin-based product decreasing the carbon footprint by substituting fossil-based plastics. We are proud to support the production of their sustainable products," commented Peter von Hoffmann, General Manager Business Unit Engineering Plastics & Special Applications at Coperion.
(PRA)
---
Subscribe to Get the Latest Updates from PRA Please click here
©2021 Plastics and Rubber Asia. All rights reserved.

©2020 Plastics and Rubber Asia. All rights reserved.
Home
Terms & Conditions
Privacy Policy
Webmail
Site Map
About Us
SOCIAL MEDIA