TPE compounds for hair care accessories, medical devices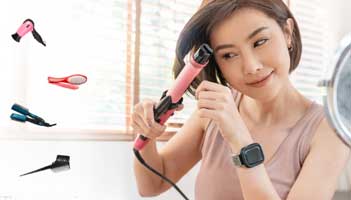 Hair is one's crowning glory, and it surprisingly gives clues about one's health, habits, lifestyle, mood, and even culture. Today's hair trends favor the natural look, which means working with rather than against the hair texture, density, and colour. Working with various types of hair to match the wearer's desire has never been easier. The most recent hair care tools are simple to use, portable, and can help you achieve your desired hairstyle in a matter of minutes. In addition, the availability of both high-end and low-cost hair accessories has increased the popularity of these devices.
Hair care accessory innovations necessitate the use of advanced materials such as thermoplastic elastomers, allowing manufacturers to develop premium products that meet the needs of discerning consumers and help them avoid bad hair days.
Thermoplastic elastomers or TPEs can provide aesthetic, functional, and design element in hair care accessories such as anti-frizz combs, straightener and curler devices, hair dryers, shampoo brushes, hair extension pliers, and more.
Kraiburg TPE, a global TPE manufacturer of a diverse range of thermoplastic elastomer products and custom solutions for a variety of industries, provides high-quality and custom-engineered compounds with mechanical and physical properties suitable for hair care accessories and other consumer and industrial applications.
Thermolast K TPE - main advantages
Kraiburg TPE's Thermolast K TPE series has material advantages such as resistance to skin oils, sunscreen, and sebum; abrasion and scratch resistance; high elasticity, and more, all of which meet the requirements for the manufacturing of hair care accessories. The TPE series can be coloured in multiple ways and is available in hardnesses ranging from supersoft (48 VRLH) to 66 Shore D, making it ideal for use in accessory handle, button, and grip.
TPE series - features lightweight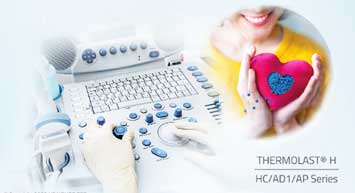 Thermolast K has selected lightweight TPE series that are suitable for applications in compact and lightweight products such as portable dryer, straightener, curling wands, and combs/brushes that are popular among frequent travelers or people who live minimalist and on-the-go lifestyles.
On a related development, Kraiburg TPE has introduced the Thermolast H HC/AD1/AP series of compounds for medical devices application. These new TPE compounds allow adhesion with a range of polar thermoplastics.
The medical device industry is driving product innovation to meet the demands of today's advanced healthcare system. TPEs are widely used in medical technology because of their high strength, transparency, biocompatibility, as well as soft touch surface and superior adhesion properties.
Recently, Kraiburg TPE has added the HC/AD1/AP polar adhesion series to the Thermolast H product family that offers superior bonding with PC, ABS, PC/ABS, PETG, and PCTG polymers.
Heng Hooi Chi, Product Specialist at Kraiburg TPE, comments on the material advantage of the Thermolast H series: "Thermolast H is your material solution for healthcare and medical device application needs with superior adhesion to engineering thermoplastics such PC, ABS, PETG, etc. Our high-quality material solutions meet Asia Pacific medical standards and custom-engineered support at all project stages upon request."
Aditya Purandare, Project Manager Market Launch Thermolast H Asia Pacific, comments on the material advantage of the Thermolast H series: "Manufacturing Thermolast H, the exclusively designed TPE for the Asia Pacific medical device market requirements in Malaysia will benefit our Asian customers with a high-quality product, quick lead times, application and technical support as well as product customization."
Design flexibility for products
Kraiburg TPE's Thermolast H HC/AD1/AP series, which is available in hardness ranging from 30 to 80 Shore A, has optimised mechanical properties and soft touch surface for product design flexibility.
The series is available in natural colour for flexible coloration options, since manufacturers are increasingly looking for opportunities to strengthen their competitive edge by enhancing their product aesthetic impact.
Kraiburg TPE's Thermolast H HC/AD1/AP series can be directly injection moulded (without bonding agents) to adhere a hard thermoplastic with a soft TPE compound, allowing for savings in multi-component applications, as well as rendering shorter assembly and production times.
Medical-use compounds
Targeted at the medical device sector, the Thermolast H HC/AD1/AP series is sterilisable.
Furthermore, this series is free of animal ingredients, PVC, silicone, and latex, and complies with Cytotoxicity ISO 10993-5,GB/T 16886.5 as well as the RoHS and REACH.
This makes the compound ideal for use in healthcare and medical device applications such as handles and grips, push buttons, seals, valves, flexible connectors, and other products requiring high levels of safety and hygiene.
Sustainability successes of our TPE
In addition to the material for hair care accessories and medical devices, other recent sustainability innovations from Kraiburg TPE include a material solution specifically developed for automotive, consumer and industry applications that contains post-consumer recycled (PCR) and post-industrial recycled (PIR) content. This demonstrates how strongly Kraiburg TPE adheres to its sustainability principle.
(PRA)
---
Subscribe to Get the Latest Updates from PRA Please click here
©2022 Plastics and Rubber Asia. All rights reserved.

©2022 Plastics and Rubber Asia. All rights reserved.
Home
Terms & Conditions
Privacy Policy
Webmail
Site Map
About Us
SOCIAL MEDIA