Davis-Standard's SHO extruder with improved output; compact CHP for extrusion coating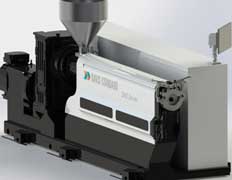 US extrusion machinery maker Davis-Standard has introduced the latest in the company's groove feed innovation with the launch of its SHO extruder. Equipped to save space while offering outputs up to 20% higher than existing groove feed models, the SHO is engineered with an optimised feed section and high-performance, energy-efficient DSB barrier screw. This is especially beneficial for high-viscosity HDPE applications such as pipe extrusion, where lower melt temperatures, reduced power consumption and improved energy efficiency are paramount.
"Improving energy efficiency equates to tangible savings for your operation while reducing your carbon footprint," said John Christiano, VP Technology. Groove feed extrusion technology contributes to improving your bottom line while providing uncompromising melt quality. "The SHO builds upon our existing groove feed technology with a more streamlined, compact footprint and even greater performance in terms of output and energy savings."
The SHO features Davis-Standard's next-generation gearcase to optimize valuable production space along with a streamlined hopper, low-profile power panel, rugged base, and all components fully enclosed. Advantages include improvements in output, output consistency, melt quality, reduced purging/changeover time, and energy efficiency. It is available in sizes ranging from 2 to 6 inches (50 to 150mm) with an L/D of 42:1.
Meanwhile, the company has also introduced a new compact extruder engineered for extrusion coating applications – the CHP. The machine's sleek design offers a smaller footprint and lighter weight to allow for easier addition to an existing carriage or platform structure. This provides processors with a space-saving replacement or coextrusion addition for increasing outputs and line speed.
"This design addresses profitability factors such as reduced raw material loss, improved outputs, and greater application development," said Danis Roy, Davis-Standard Vice President – Sales Films & Flexible Packaging. "The CHP is built for exceptional performance with improved transition times and significantly higher processing rates than conventional extruders. We're excited about the results we'll see in the field."
The CHP is available in sizes ranging from 52 mm to 100 mm. Processors benefit from efficient mixing that delivers low pressure and melt temperature variability and output rates up to 80 to100% higher than current extruder options. In addition, a reduced residence time of 3:1 with a faster purge between resins and colours supports quick changeovers minimising raw material loss for bottom-line impact.
Davis-Standard has a CHP extruder at its laboratory facility in Pawcatuck, Conn., for customers to run trials and validate processing opportunities prior to purchase.
(PRA)
---
Subscribe to Get the Latest Updates from PRA Please click here
©2021 Plastics and Rubber Asia. All rights reserved.

©2020 Plastics and Rubber Asia. All rights reserved.
Home
Terms & Conditions
Privacy Policy
Webmail
Site Map
About Us
SOCIAL MEDIA