Recycling: Cadel/Erema tie-up for ink removal in printed films; Agilyx/Braskem collaboration on PP from waste plastics in US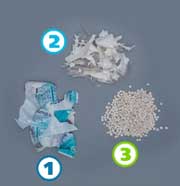 Spanish company Cadel Deinking has been working on the removal of printing inks from plastic surfaces since 2014 and has developed an innovative process for this purpose. In combination with Austrian firm Erema's recycling technology, this ink removal process has already proven its suitability for real-life applications involving the recycling of printed in-house and post-industrial film waste. This allows for feeding of recycled pellets made from originally printed film back into the production process. Erema says it is now, with its subsidiary Keycycle, intensifying its cooperation with Cadel Deinking to drive this development forward technologically and form a product that meets industrial standards.
From next year, Keycycle will exclusively take over worldwide sales and project implementation of this technology, which is patented in over 20 countries. The company will operate the pilot system in Sant Vicente del Raspeig (Alicante, Spain) together with Cadel Deinking."
Printing inks are a major challenge in the recycling of plastics and there are different strategies for solving this challenge. Reducing printing directly on the packaging film is a requirement for the Design for Recycling strategy, but it is often not possible to eliminate it completely in the many different fields of application for film products. That is why ink removal technologies are still being investigated.
Erema has been working together with Cadel Deinking since June 2020 with the aim of removing printing inks during the recycling process. The technology they have developed removes the ink from the shredded film before the material is fed into the recycling extruder. Combined with an Erema Intarema extruder, the ink removal process has been so successful during test runs using the pilot system that orders have already been placed for five Deinking systems.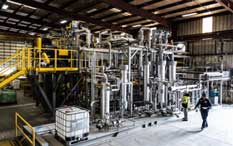 Meanwhile, in other news, Agilyx Corporation, a wholly owned subsidiary of Agilyx AS, a pioneer in the advanced recycling of post-use plastics, and Braskem, the largest polyolefins producer in the Americas and leading producer of biopolymers, are tying up to explore the development and construction of an advanced plastics recycling project in North America.
The project aims to examine an efficient pathway to produce polypropylene (PP) using difficult-to-recycle mixed waste plastic, powered by Agilyx advanced recycling technology. Mixed waste plastics for this project would be sourced through Agilyx's feedstock management company, Cyclyx International, Inc. In addition, this project is targeting circular PP with the necessary properties for demanding customer applications such as food packaging, consumer, and hygiene products.
Mark Nikolich, CEO of Braskem America, stated, "As the North American leader in polypropylene, Braskem is committed to evolving its feedstock portfolio to leverage more sustainable input sources and is currently evaluating various supply agreements and innovative projects to drive this shift. Our collaboration with Agilyx is just the most recent example of Braskem's efforts to more holistically address the limited availability of propylene feedstock derived from post-use plastic in the market today. Looking forward, Braskem intends to explore direct investment options as needed to help accelerate this transition to more circular and sustainable feedstock and production technologies."
"We are pleased to partner with Braskem to advance this project forward and to expand the market for post-use recycled plastic," said Tim Stedman, CEO of Agilyx. "Agilyx has a proven technology leadership and track record in converting hard-to-recycle plastic. This collaboration targets a new product pathway for Agilyx, converting mixed waste plastic into the chemical building blocks used to produce polypropylene."
(PRA)
---
Subscribe to Get the Latest Updates from PRA Please click here
©2020 Plastics and Rubber Asia. All rights reserved.
©2020 Plastics and Rubber Asia. All rights reserved.
Home
Terms & Conditions
Privacy Policy
Webmail
Site Map
About Us
SOCIAL MEDIA