Kraiburg TPE levels up active outdoor gears, arts-crafts tools with food contact-safe TPEs
Active outdoor equipment styled with TPEs
Camping as a recreational hobby has become widespread in today's stressful lifestyle as it offers an option for an escape into the natural environment. It has become a popular activity for people wishing to disconnect from modern technology and immersing themselves in a total wilderness adventure.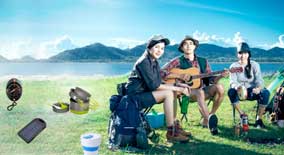 It may be a traditional activity, but it has access to all the modern comforts. Traditionally, camping gear was utilitarian, but today's forward-thinking camping equipment manufacturers are producing more aesthetically pleasing designs for portable camping equipment like stoves, sleeping bags, foldable chairs and tables, survival gear, navigational devices and cooking tools.
These accessories, while they evoke leisure and convenience, must ensure user safety as well as ease-of-use and durability, among other virtues. Advanced materials such as thermoplastic elastomers (TPEs) render the desired properties sought for quality camping accessories.
Escaping to the outdoors with safety in mind
Kraiburg TPE's Thermolast K VS/AD/HM series is the material solution for camping equipment applications. Important features of the series are that it ensures safety of outdoor electrical insulation, as well as renders soft surface benefits in recreational accessories to ensure safe handling. With its soft and velvety surface characteristics, it is suitable for use in handles and surface applications.
The series is also targeted at applications that require excellent scratch resistance and abrasion resistance. Moreover, it is UV resistance as well as resistant to skin oils, olive oil and sunscreen. Given these attributes, it enhances the durability of end products.
The VS/AD/HM series is UL94 HB listed as well as DIN 75201-B – Fogging, and VDA 270 B3 – Odor. It also has excellent adhesion to PA6 and PA12 as well as other polar thermoplastics like PC, ABS, PC/ABS, ASA and SAN, allowing for a variety of applications.
Some examples of applications for camping equipment are: pocketknife grip, foldable shove hand grip, foldable bed and chair leg knob, body surface of mosquito repellent and surface of solar power device.
Functionality and design are assets
Innovating TPEs into camping equipment can enhance the end-products' functionality and design, which are a feature of Kraiburg TPE's Thermolast K FC/AP series.
The series is halogen-free (according to IEC 61249-2-21) and complies with EU Regulation No. 10/2011 and US FDA – Code of Federal Regulations (CFR), Title 21 and DIN EN 71-3.It has excellent adhesion with PP and non-sticky surface characteristics, with a wide range of hardness, from 30 to 90 Shore A. It comes in natural and translucent, and it can always be customized to black or any other designed colours upon customer request.
This makes the compound series suitable for a wide range of camping equipment accessories such as portable coffee maker grip & sealing, foldable cup, cooking gear handle, and more.
The Therapeutic Art of Creativity with TPEs
Ahead of the "new normal", as a result of the Covid-19 pandemic, the Stay-at-Home economy is starting to unfold. This has seen lifestyles changing dramatically in compliance to national lockdowns, thus resulting in major activities, including work and recreation, being held indoors. One way of spending quality time with children and also family members is to enjoy and inspire them to delve into the art and craft sector, which can help develop their creative and thinking skills, while improving interactive relations.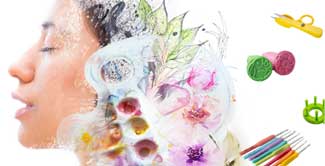 For the elderly, who are prone to cognitive decline, art and craft activities are believed to be able to improve cognitive health and motor functions. Owing to its ergonomic and functional characteristics, TPE is a recommended material application for designing art and craft accessories, specifically for applications that require sealing, soft-touch surfaces and grips.
TPEs for durability and comfortable handling
Kraiburg TPE's thermoplastic elastomers are frequently used as hard-soft combinations, for soft-touch design, or functional elements as well as impact resistance modifiers in art and craft tools and accessories. The Thermolast K TPE series has a wide range of hardness from supersoft<10 Shore A up to 60 Shore D. It can be processed by multi-component injection moulding, with a wide range of materials such as PP, ABS, PC, PC/ABS, PCT, PETG, ASA, SAN, PMMA, PA6/6.6/12, POM, PS, HIPS, etc. The selected TPE compound range features materials that can come with properties such as thermal stability, abrasion resistance, or scratch resistance.
Thus, the Thermolast K materials are ideal for use in producing knobs of stand drawing boards, handles of paper cutters, grips of stamping sticks, drawing pens and pencil sharpener surfaces and colour pallets. Other applications are paddles of the pottery wheel ceramic machine, ring cutters, handle hooks, crochet needle handles, yarn needles, and many other items.
Adding variety to applications
Kraiburg TPE materials, including the Thermolast K materials are recyclable and free from latex, PVC, phthalates, or heavy metals. The TPE can be processed through both injection moulding and extrusion. Aside from the various colour options available in-house, Kraiburg TPE also ensures worldwide consistent colour quality from experts, to inspire creativity in designing applications.
(PRA)
---
Subscribe to Get the Latest Updates from PRA Please click here
©2020 Plastics and Rubber Asia. All rights reserved.
©2020 Plastics and Rubber Asia. All rights reserved.
Home
Terms & Conditions
Privacy Policy
Webmail
Site Map
About Us
SOCIAL MEDIA