Recycling: PET recycling technologies continue to grow for Erema; Starlinger doubles production capacity for recycling systems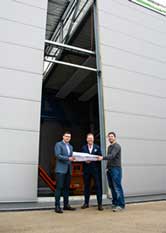 The recycling of PET bottles has gained worldwide acceptance over the past 20 years and has become a model for the circular economy in plastics, due to the stricter guidelines for plastic packaging and higher recycling rates set by the EU.
One such company offering systems is Austrian recycling machine manufacturer Erema and its bottle-to-bottle Vacurema technology, which allows high recyclate content. Erema estimates the total capacity of all PET recycling machines sold to date for various applications at 2.6 million tonnes/year, with the recent trend pointing towards large-scale systems processing 2,000 kg/hour upwards.
"Despite declining sales of beverages due to the pandemic and a tense situation in the recycling industry accounted for by the fall in the price of virgin material, interest in our PET recycling technologies remains high," reports Christoph Wöss, Business Development Manager at Erema.
For example, a recycling system installed in Mexico this year consists of two Vacurema Basic T machines with a throughput capacity of 4,000 kg/hour each and Solid State Polycondensation (SSP). "The customer is planning an annual production of up to 60,000 tonnes of food contact compliant rPET. These are the largest systems we have ever built, but our order books already have an order for an even larger one," says Wöss.
It also has the Vacunite energy-efficient system, developed in cooperation with Polymetrix, which has already been sold to 13 customers worldwide since its launch two years ago. The process combines vacuum and nitrogen technology, for decontamination efficiency and, with the best rPET colour values, claims Erema. It also ensures that higher proportions of rPET are possible in the bottle end product. One of these systems was recently commissioned at the RCS Group in Germany.
Growth is driven by more than the positive development of the bottle-to-bottle sector. Processing PET flakes directly into preforms (flakes-to-preform) or film in a single processing step - made possible using the Multi Purpose Reactor, which can be installed as an upgrade to existing film extrusion lines (bottle-to-sheet) - and especially into recycled pellets for the textile industry (bottle-to-POY) also boosts demand in this segment. In total, Erema says it was able to deliver 42 plants with a total capacity of 643,000 tonnes/year within one year between October 2019 and October 2020. This is roughly equivalent to the total capacity of all PET recycling machines sold from 2011 to 2018.
Finally, following the expansion of manufacturing and office space, the customer centre at Erema's headquarters in Ansfelden is also currently being expanded. Material tests using the Vacunite process will also be carried out on-site, starting hopefully during the first half of 2021, adds the company.
In order to develop and implement closed-loop systems comparable to the bottle-to-bottle cycle for other types of packaging, Erema is also involved in various research projects such as PET2PACK and CORNETPolyCycle. PET2PACK is working on the development of PET rigid recyclates that are approved for use in food packaging. CORNETPolyCycle focuses on the development of a test strategy for the comprehensive safety assessment of plastic polymer recyclates that will pave the way for recycled polyolefins and polystyrene to be used in packaging with direct food contact.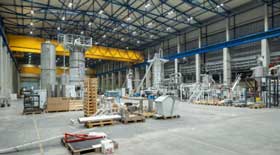 Meanwhile, Austrian compatriot machine manufacturer Starlinger has been producing plastics recycling systems from the recoSTAR PET series at its new site in Schwerin, Germany, since the end of August 2020.
"In the past two years, our division Starlinger recycling technology has seen strong demand for recycling systems. This field of activity with an annual turnover of EUR130 million constitutes an important mainstay for the future of Starlinger – a mainstay that we intend to build on. With this in mind, we decided to expand our production capacity by opening a new factory," explains Angelika Huemer, CEO/Managing Partner of Starlinger & Co.
Why a production site in Germany? "We had to act quickly to meet the demand. So it stood to reason that we should make use of existing buildings that we could adapt quickly. uniROTA Maplan Schwerin GmbH, a company affiliated with the Starlinger Group, had unused production halls available.
These have now been converted to enable us to manufacture our PET recycling systems," says Huemer.
The specialist personnel required for the technically complex assembly work were recruited from the Schwerin area and were trained in Austria. On a total of 11,000 sq m of floor space the largest PET processing systems sold by Starlinger recycling technology are assembled – they can reach output rates of up to 3.6 tonnes/hour. The first two systems manufactured at the Schwerin site will be delivered already end of December 2020.
"Particularly in the field of PET recycling we have experienced significant growth since 2018," says Paul Niedl, Head of Sales of the division Starlinger recycling technology.
Meanwhile, brand companies such as Coca-Cola are important driving forces. "These brand owners – in Austria the mineral water bottler Vöslauer, for example – are rigorously implementing their sustainability strategy and thus creating a market for recycled PET," says Niedl.
"We already have close to 80 PET bottle-to-bottle recycling plants in operation at customers' sites around the world, 12 of them in Germany, Austria and Switzerland alone."
Niedl also sees an urgent need for incentives for companies and, above all, concrete specifications from politicians and legislators about how to establish the sustainable use and reuse of plastics in both an economic and social sense.
(PRA)
---
Subscribe to Get the Latest Updates from PRA Please click here
©2020 Plastics and Rubber Asia. All rights reserved.
©2020 Plastics and Rubber Asia. All rights reserved.
Home
Terms & Conditions
Privacy Policy
Webmail
Site Map
About Us
SOCIAL MEDIA