APK relies on Coperion ZSK extruder technology for its recycling process
The amount of plastic waste produced daily is one of the greatest problems of modern times. Worldwide, nearly 80 million tonnes/year of plastic packaging waste accrues. Of this amount, currently only about 10% of the resources used are recovered by recycling, with 90% of it incinerated, dumped into landfills, or littered into the environment. The necessity of a circular plastic economy has never been greater.
Thus, German firm APK AG developed the solventbased plastic recycling process Newcycling to recycle multi-polymer and multi-layer plastic packaging, that previously could not be recycled, can now be separated and processed into homogeneous regrind. The firm is using Coperion's ZSK twin-screw extruders.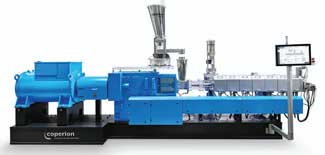 The solvent-based process enables clean and single-origin PA and PE pellets with virgin-near material character to be extracted from complex PA/PE multi-layer films. These recyclates can be reused in high-quality products up to the original application. Downcycling can thus be reduced and closed-loop recycling becomes possible.
In Newcycling at APK's Merseburg location, PA/ PE multi-layer film is first mechanically pre-treated, undergoing among other things shredding and classification.
Next, the PE layer is dissolved and liquefied in a solvent bath, leading to separation of the polymers and polymer layers. The undissolved PA is then separated from the dissolved PE using conventional solid-liquid separation technology and the polymers are further processed in separate material streams.
The PA is introduced into a Coperion ZSK twin screw extruder where it passes through various process sections and is processed into a high-quality PA melt using very high dispersion performance and intensive devolatilisation. Finally, it is pelletised into first-class PA recyclates.
Following pre-evaporation, the PE is likewise introduced into a ZSK twin screw extruder together with the solvent. There, intensive devolatilisation of the liquid takes place, precisely calibrated for this application to produce first-class results even when PE/solvent ratios fluctuate. The solvent is completely volatilised and added back into the Newcycling process in a closed loop. PE remains in the form of a homogeneous, high-quality melt that is then pelletised. The PE recyclate possesses quality similar to that of virgin product.
APK says Newcycling recyclates exhibit on average 66% fewer emissions than virgin material of a given plastic and are suited for a wide range of applications such as cosmetics packaging.
(PRA)
---
Subscribe to Get the Latest Updates from PRA Please click here
©2020 Plastics and Rubber Asia. All rights reserved.
©2020 Plastics and Rubber Asia. All rights reserved.
Home
Terms & Conditions
Privacy Policy
Webmail
Site Map
About Us
SOCIAL MEDIA