Green materials: Toray innovates 100% bio-based adipic acid for PA66; Technip/Agilyx launch solution for chemical recycling of PS
Japan's Toray Industries says that it has developed the world's first 100% bio-based adipic acid, a raw material for nylon 66 (polyamide 66), from sugars derived from inedible biomass. This achievement came from using a proprietary synthesis technique combining the company's microbial fermentation technology and chemical purification technology that harnesses separation membranes.
The company has started to scale up its capabilities in this area. It will test polymerisation of nylon 66, develop production technology, conduct market research, and take steps to commercialise applications for this bio-based adipic acid by around 2030.
Nylon 66 has been used for many years in fibres, resins, and other applications due to its durable, strong, and rigid properties. Pressures to develop eco-friendly nylon 66 have risen in recent years amid a growing awareness of the need to realise a sustainable society. One challenge is that conventional chemical synthesis for producing adipic acid, the raw material of nylon 66, generates a greenhouse gas called dinitrogen monoxide.
Toray was the first in the world to discover microorganisms that produce an adipic acid intermediate from sugars. The company reconfigured metabolic pathways within microorganisms to enhance production efficiency by applying genetic engineering technology, which artificially recombines genes to streamline synthesis in microorganisms. It also employed bioinformatics technologies to design optimal microbial fermentation pathways for synthesis. Quantity of the intermediate synthesised by microorganisms has increased more than 1,000-fold since the initial discovery, and the efficiency of synthesis has improved dramatically.
Toray is using reverse osmosis separation membranes to concentrate the intermediate in the purification process. This approach is more energy efficient than other methods that do not use these membranes.
This bio-adipic acid production technique is free of dinitrogen monoxide emissions, unlike the manufacturing processes for petroleum-derived adipic acid,and is expected to help combat global warming.

Toray is developing a process for producing sugars from crop residues and other inedible plant resources. Sugars from this process could be used as raw materials for bio-based adipic acid. Toray would thus be able to create a total supply chain to make chemicals from inedible biomass, helping pave the way to a circular economy.
Toray's achievement is partly attributed to joint research with the National Institute of Advanced Industrial Science and Technology, and RIKEN, Japan's largest comprehensive research institution. That effort is part of two projects that the three partners are undertaking with funding from the New Energy and Industrial Technology Development Organisation. The first project is "Development of Production Techniques for Highly Functional Biomaterials Using Plant and Other Organism Smart Cells", and the second ongoing project is "Development of bio-based production technology to accelerate Carbon Recycling".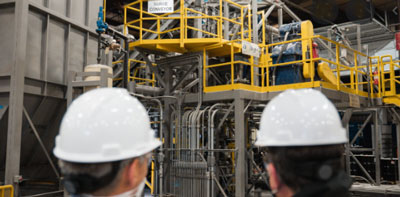 Meanwhile in other news, technology firm Technip Energies and recycling company Agilyx have launched the TruStyrenyx brand, said to be the only all-in-one solution for the chemical recycling of polystyrene.
TruStyrenyx combines Agilyx's pyrolysis process and Technip Energies purification technology, yielding a recycled styrene monomer with exceptional high purity. Styrene monomer is used to make numerous plastics and other polymers. It is one of the three primary components of ABS (acrylonitrile-butadiene-styrene), can make the pure polymer polystyrene, and is an ingredient in various synthetic rubbers.
This launch follows successful results from pilot plant testing conducted on difficult to recycle waste polystyrene, including flame retardant laden waste polystyrene. Recycled styrene monomer from the pilot plant meets American Society for Testing and Materials (ASTM) standards for styrene monomer and is greater than 99.8 wt% purity. Flame retardants contain halogens, which are known to be difficult impurities for current polymer production processes. The pilot plant has successfully shown that the resulting halogen concentration in the styrene monomer product is below available detection limits.
Technip Energies and Agilyx announced their partnership in June 2021, leveraging Agilyx conversion technology and Technip Energies purification process.
Bhaskar Patel, SVP of Sustainable Fuels, Chemicals and Circularity at Technip Energies, said: "We are pleased with the results of our pilot plant testing in our R&D facility in Weymouth, Massachusetts. This marks an important step in our development of circular solutions for styrenics technologies, and our relationship with Agilyx. Our joint innovative solution, TruStyrenyx, for the chemical recycling of polystyrene offers potential clients a feasible way to make polymer products from recycled sources without compromising product integrity."
Chris Faulkner, Chief Technology Officer at Agilyx, said: "This technology collaboration is completely new to the marketplace, offering an all-in-one solution for the chemical recycling of Polystyrene. The high purity of the recycled styrene monomer from testing proves that TruStyrenyx offers a recycling solution on par with virgin materials."
(PRA)
---
Subscribe to Get the Latest Updates from PRA Please click here
©2022 Plastics and Rubber Asia. All rights reserved.

©2022 Plastics and Rubber Asia. All rights reserved.
Home
Terms & Conditions
Privacy Policy
Webmail
Site Map
About Us
SOCIAL MEDIA