Green Expansions: NextChem to undertake FEED for European recycling plant; LG/GS Caltex to produce feedstock for biomaterials in South Korea

Technology firm NextChem, a subsidiary of Italian plant engineering firm Maire Tecnimont, has been awarded a Front-end engineering design (FEED) contract by an unnamed plastics and chemicals supplier for a 75,000-tonne/year advanced mechanical recycling plant for municipal plastic waste in Europe.
The aim of the project is to establish an advanced mechanical recycling plant for polyolefins, which will manufacture products containing up to 100% post-consumer recycled materials (PCR). NextChem will be responsible for the FEED and also assist the client in the development of the execution phase. Completion of the FEED is expected by mid-2023. Once completed, the plant will be one of the largest advanced mechanical recycling facilities worldwide.
Alessandro Bernini, CEOC of Maire Tecnimont Group and NextChem, commented "Enabling leading producers to include in their product portfolio partially or completely recycled polymers is one of the most effective ways to give plastics a sustainable life cycle, reducing both consumption of fossil sources and the carbon footprint. This new recycling plant will also integrate NextChem's know-how and technology solutions, in order to convert waste sources into new second-life products. We are proud to enable this solution thanks to our technological know-how".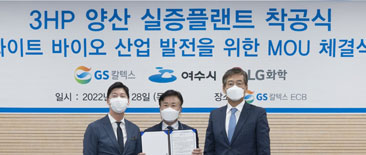 Meanwhile in other news, South Korean chemical firm LG Chem and partner GS Caltex recently held a ground-breaking ceremony at GS Caltex's Yeosu plant for its new bio-material pilot plant. The demo plant at GS Caltex's Yeosu complex will mainly produce 3-Hydroxypropionic acid prototype, a key raw material in the production of biodegradable plastics.
The construction will be completed by 2023, with both companies to produce various 3HP prototypes to accelerate their entry into the biodegradable materials market. 3HP is produced through an eco-friendly fermentation process, and is used as a base material for acrylic acid, acrylonitrile, and biodegradable materials.
The construction is set to be finished by 2023, after which both companies will produce various 3HP prototypes to accelerate their entry into the biodegradable materials market.
The two companies signed a joint development agreement (JDA) to develop 3HP's mass production technology and produce prototypes in November last year. In addition to 3HP, LG Chem and GS Caltex signed an MOU to develop 1,4-Butanediol (BDO) technology.
The two companies are planning to collaborate to further advance the white bio industry, which aims to replace the current materials used in the chemical industry with renewable resources such as microorganisms and enzymes.
LG Chem has the exclusive ownership over the 3HP fermentation technology and in 2020, the company succeeded in developing PLH (Poly Lactate 3-Hydroxypropionate), which it claims is the world's first biodegradable new material that is capable of realising mechanical properties equivalent to synthetic resins.
(PRA)
---
Subscribe to Get the Latest Updates from PRA Please click here
©2022 Plastics and Rubber Asia. All rights reserved.

©2022 Plastics and Rubber Asia. All rights reserved.
Home
Terms & Conditions
Privacy Policy
Webmail
Site Map
About Us
SOCIAL MEDIA