M&As: Walki Group accelerates growth by acquiring Finnish packaging producers; Brüggemann expands polymer additives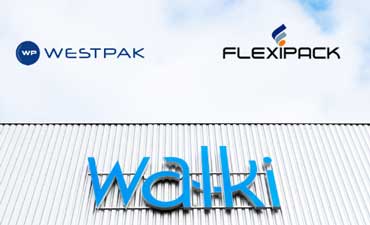 Finnish packaging maker Walki Group has signed a definitive agreement to acquire 100 % of shares in family-owned Westpak Oy Ab and Flexipack Oy Ab. For years, these two companies have formed an integrated value chain, providing flexible packaging solutions to leading Nordic food brands. Terms were not disclosed.
In 2021, Flexipack and Westpak generated combined sales of about EUR40 million. Together they are employing some 100 employees. Westpak is based in Säkylä, Finland, whilst Flexipack production facility is located in Vaasa, Finland.
"With this acquisition we continue to implement our strategy to expand our offering of more sustainable packaging alternatives by leveraging on our strong material science know-how. Flexipack and Westpak have a very complementary offering of high-quality printed products and a proven commitment to a dedicated customer service" says Leif Frilund, President/CEO of Walki Group.
"We are pleased to join forces with the Walki team, who values the history of our entrepreneurial driven business and is committed to our companies' long-term growth, We believe that by combining our market knowledge and customer focus with Walki's strong R&D capabilities and European footprint, we can provide even stronger benefits to our customers and a successful future for our employees," say Jonas Skuthälla , Managing Director of Westpak and Stefan Söderlund, Managing Director of Flexipack .
Flexipack and Westpak will support the continued growth of Walki's flexible packaging business and will become part of the global Business Area Consumer Packaging.
The transaction is pending upon approval from the relevant competitive authorities. The parties have agreed not to disclose the purchase price or the terms of the transaction.
Walki's business is organised in three areas: Consumer Packaging, Industrial Packaging and Engineered Materials, with operations in twelve different countries, both in Europe and Asia. Its production facilities are located in Finland, Germany, Belgium, France, Spain, the UK, Poland, Russia and China and it employs about 1 500 people globally. It expects a turnover for this year of more than EUR700 million.
In other news, family-owned German additives supplier Brüggemann has acquired Italy-based manufacturer of functionalised polymers Auserpolimeri, a part of the Eigenmann & Veronelli Group, to significantly expand its market presence in the field of high-performance polymer additives. Brüggemann has more than 300 employees and sales of EUR210 million/year. Terms were not disclosed.
"Auserpolimeri's chemically functionalised polyolefin-based polymers play a key role as impact modifiers, compatibilisers, coupling agents and adhesion promoters in improving the performance levels of engineering plastics for a wide range of applications. They ideally complement and complete our existing range of high-performance additives," says Dr. Klaus Bergmann, Head of Polymer Additives at Brüggemann.
Both Brüggemann and Auserpolimeri are established manufacturers and have grown strongly in recent years. Brüggemann Managing Director Dr. Stefan Lätsch emphasises that the Eigenmann & Veronelli Group has not only developed the Auserpolimeri site near Lucca by investing in its facilities and personnel, but also expanded its extensive customer network to a global level.
Gabriele Bonomi, CEO, Eigenmann & Veronelli Group said: "We are very pleased to have completed this transaction. Brüggemann is a highly qualified industrial partner that will provide Auserpolimeri with the necessary competences to face the next market challenges and to continue developing its extraordinary growth. The E&V Group will reinvest the proceeds from the sale to pursue its strategic plan."
Auserpolimeri and Brüggemann are united by their focus on highly specialised applications, especially in application technology. Lätsch comments: "We see the commitment to uncompromising quality assurance and to constant innovation as a significant common denominator. We welcome our new and highly qualified colleagues to our business and are looking forward to further growing our activities together. Customers of both companies will benefit from the close cooperation between sales, R&D, application technology and production - in the future, we will be able to offer customers even more differentiated market and product solutions."
Brüggemann shareholder and Chairman Ronald Ayles on the ambition of the enlarged group: "Our goal is to further strengthen the polymer additives business in the coming years, both by expanding production capacities at the Heilbronn and Piano di Coreglia sites and by intensifying the development of new products. The broadening of the product range and the development of new applications and markets are an essential part of our strategy". The focus will remain on speciality chemicals - Brüggemann will continue to supply "the missing link" for key industries in the future.
(PRA)
---
Subscribe to Get the Latest Updates from PRA Please click here
©2022 Plastics and Rubber Asia. All rights reserved.

©2022 Plastics and Rubber Asia. All rights reserved.
Home
Terms & Conditions
Privacy Policy
Webmail
Site Map
About Us
SOCIAL MEDIA