TPEs for ergonomically designed healthcare equipment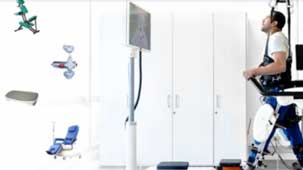 Ergonomic stressors, or the work needed to perform the tasks, are undoubtedly significantly impacting the productivity and well-being of healthcare workers.
In a medical setting, healthcare workers are susceptible to ergonomic hazards. This involves handling patients, such as moving and transferring them about that may require bending, lifting, or a sudden force, to manual operation of medical equipment and furniture. Thus, maintaining a static posture (sitting or standing for an extended time), and other such awkward postures and repetitive or monotonous motions may result in musculoskeletal disorders or MSDs.
There are ways to prevent MSDs, including adequate breaks or rest and recovery periods, positioning strategies when lifting or bending, use of assist devices, and generally adapting the physiological demand of a task to suit a worker's capacity.
In addition, ensuring that the equipment in use is ergonomically designed is also important to meet user capabilities and promote good work practices to prevent work-related risks.
For this purpose, new high-performance materials such as thermoplastic elastomers (TPEs) are widely used in the manufacture of healthcare devices and equipment to improve the ergonomics.
KRAIBURG TPE, a global TPE manufacturer of a wide range of thermoplastic elastomer products and custom solutions for multiple industries, offers high quality and custom-engineered TPE compounds that feature exceptional elasticity, material processability and light weight advantages of healthcare equipment.
TPEs for safety and user-comfort
The application of Kraiburg TPE's TPE compounds in healthcare equipment delivers safety and efficiency, as well as optimised function and comfort for users. The TPE materials also give the necessary flexibility in the ergonomic application for the design of healthcare equipment.
The high-performance TPE compounds feature a soft-touch surface; chemical/scratch resistance; durability, and other desired properties that make them suitable for application in appliances and fittings. These include blood draw arm stands, footrest assemblies on chairs, transfer armchairs, phlebotomy chairs, and more.
Additionally, the pre-colorable TPE compounds are available with various color options that guarantee a consistent colour quality worldwide.
Suitability for ergonomic designs
Kraiburg TPE's Thermolast M series and Thermolast K series of compounds are especially suited for applications that require ergonomic designs. Both consist of a wide range of hardness to cater to the different level of hardness required by customers.
They have good adhesion with PP, PC, ABS, PC/ABS, ASA, SAN, PET and PETG as well as PA; and can be processed via multi-component injection moulding and co-extrusion processes.
These versatile compounds are compliant to international material safety standards. The Thermolast M meets the requirement of VDI 2017, ISO 10993-5 standards and is listed in the Drug Master File. The Thermolast K selected series complies with the relevant FDA-Code of Federal Regulations (CFR), Title 21, and standard EN 71/3 regulations as well as China GB standards.
Thermolast M with Polyamide Adhesion fact sheet now available
Additionally, Kraiburg TPE has released the Thermolast M MC/AD/PA series factsheet and can be accessed from the company's website.
The MC/AD/PA series is the solution for applications requirement a fill scale Medial Grade Plastics with basic medical approval such as ISO 10993-5 and ISO 10993-10. The series is characterized by its excellent adhesion to various polyamides. The compounds are available in natural color and they are produced exclusively on a special medical unit. Its typical applications include handles, soft touch for switches and mats, sealing for plugs, soft touch surfaces, flexible connection, and more.
Oliver Kluge, Application specialist commented: "We are looking forward to introducing the world's first TPEs for medical applications in composites with polyami[1]des – including transparent PA12. The compounds are fully certified and suitable for a variety of attractive medical de[1]vices, including those used for in vitro diagnostics."
Kraiburg TPE's Thermolast M MC/AD/PA series offers the following advantages: High mechanical properties and outstanding tear resistance; Very low abrasion loss; Reliable adhesion and cohesive break to PA6, PA12 and transparent PA; Fulfil all aspect of the VDI 2017 guidelines for MGPs; Direct food contact grade (USD FDA CFR 21 , Regulation No 10/2011; Medical regulation approvals (ISO 10993 – 4 , ISO 10993 – 5 , ISO 10993 – 10 , ISO 10993 – 11 ; Thermoplastic processing; Sterilisable (ß-/y-radiation 2x35kGy, EtO); Very good colourability; and the KRAIBURG TPE Medical Service Package. (Press Release)
(PRA)
---
Subscribe to Get the Latest Updates from PRA Please click here
©2021 Plastics and Rubber Asia. All rights reserved.

©2020 Plastics and Rubber Asia. All rights reserved.
Home
Terms & Conditions
Privacy Policy
Webmail
Site Map
About Us
SOCIAL MEDIA