Packaging: ExxonMobil's new Exceed S for less complex film designs
Modern film design is a story of increasing complexity and compromise between performance and processability that is accepted to ensure durable packaging and high customer satisfaction.
Multi-component resin blends in coextruded and laminated films with high layer counts are common-place. Every step of producing and converting printed film into durable packaging is prone to complexity-induced inefficiency, scrap and human mistakes. What if the resin used could help simplify all of this?
As well, trends such as the growth of E-commerce for convenience are driving higher requirements for packaging integrity and survivability. Not forgetting the demand to increase recycled content, which requires high performance polymers to maintain mechanical properties of the final product.
Taking this into account, US materials firm ExxonMobil has commercialised Exceed S performance polyethylene (PE) resins, which are said to deliver industry leading combinations of stiffness and toughness while being easy to process.
Utilising the company's latest innovations in polymer science, the new PE platform provides opportunities to reduce the complexity of film formulations and designs while improving film performance, conversion efficiency, and packaging durability versus current market references.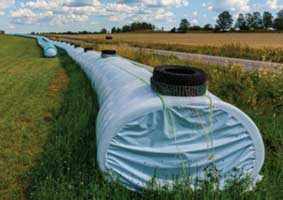 ExxonMobil adds that the development of the new PE was guided by both learnings from its Exceed XP products and the feedback it received from customers. Thus, Exceed S performance PE compared to Exceed XP performance PE extends the higher performance to much stiffer resins while maintaining the easy processing of the XP 8000 series products such as Exceed XP 8784 PE. So, the Exceed S and Exceed XP product families complement one another, says ExxonMobil
Simplifying film designs
"Exceed S performance PE resins deliver simplicity without compromise," said Tom Miller, Exceed S Marketing Manager, ExxonMobil. "Now converters can get high performance with easy processing, stiffness and toughness with less blending, and resin solutions that can simplify operations and improve package durability. It is a platform of performance polyethylene grades designed to do so much, so simply."
It enables converters to rethink film design for simpler solutions:
- Utilising Exceed S functional layers to maximise performance
- Leveraging increased performance to help facilitate solutions with sustainability benefits
- Reducing the need to add HDPE for stiffness or LDPE for easy processing
- Creating flatter, less extensible films to increase print and package line efficiency
- Delivering more durable flexible packaging contributing to consumer satisfaction and helping to reduce food waste
- Creating stiff, tough, functional core layers using a single Exceed S grade
- Freeing-up skin layers to further enhance package sealing, optics, and haptics
- Enhancing stiffness and toughness of full-PE packaging
Asian packaging sector to benefit
Many flexible films and packaging in Asia, and indeed globally, can benefit from Exceed S performance PE, including laminated and non-laminated food and institutional packaging, medium and heavy duty sacks, and agricultural packaging, says ExxonMobil.
The first three commercially available grades are designed to ensure low melt pressure and high output on blown film lines. The combined benefits of Exceed S resins allow the creation of a broad range of packaging and film applications, ExxonMobil adds. (See Figure 1 for grade information).
Launching three grades of Exceed S performance PE provides the industry with options for each of these segments. For instance, Exceed S 9333ML was designed as a 2MI product to help it run well on equipment that is more sensitive to high melt pressure or temperature limitations
(PRA)
---
Subscribe to Get the Latest Updates from PRA Please click here
©2022 Plastics and Rubber Asia. All rights reserved.

©2022 Plastics and Rubber Asia. All rights reserved.
Home
Terms & Conditions
Privacy Policy
Webmail
Site Map
About Us
SOCIAL MEDIA