Expansions: Asahi Kasei launches foam lab in Düsseldorf; Cosmo Films expands with CPP film line in India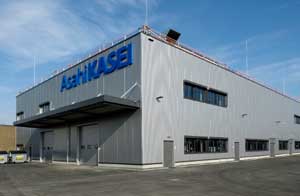 Asahi Kasei Europe has opened a new Foam Lab at its R&D Centre in Düsseldorf, Germany. Localising the technical support and grade development in Europe is the company's next step of business expansion of its SunForce family of particle foams.
The new Foam Lab was installed in December 2021 and is scheduled to start operation in spring 2022. Centrepiece of the new Lab is the beads foaming facility which will be used to locally produce test samples of the engineering plastics-based particle beads foam SunForce for European customers. This foam family is made of modified polyphenylene ether (mPPE) and polyamide (PA) and is a key element of Asahi Kasei's business expansion in Europe.
Both SunForce types are said to be unique, with the mPPE-based SunForce BE being the first material of its kind to receive the UL 94 V-0 flame retardancy. In addition, it offers a high dimensional stability, high processability and insulation properties that can for example contribute to safer, more efficient and more sustainable EV battery modules, it adds.
The PA-based SunForce AS convinces with its heat resistance (190℃/30min), as well as with resistances against oils and chemicals. Common to both particle foam types are the good adhesion properties in interaction with metals, carbon fibre-reinforced plastics or even fibre materials. Their properties open up new application fields, which were not feasible for conventional foams. Located in the centre of Europe, the heart of innovation of more sustainable materials, the Foam Lab will furthermore focus on the development of SunForce grades with an improved recyclability.
"The close proximity to the European market and the strong collaboration with our partners will help to develop new recyclable grades which perfectly fit the increasing demands of our customers in regard to maintaining the material performance while at the same time drastically improving its carbon footprint and recyclability," concludes Takashi Onoe, Manager R&D of SunForce at Asahi Kasei Europe. The Foam Lab is located at Asahi Kasei Europe's R&D Center in Düsseldorf Harbor, Germany.
In addition to the new facility for SunForce, the R&D Centre provides grade development and technical customer support in the field of engineering plastics, synthetic rubber, as well as for battery and coating materials.
Meanwhile in other news, India's Cosmo Films, specialising in films for packaging, labelling, lamination and synthetic paper and an emerging player in specialty chemicals, polymers & pet care, has expanded by setting up CPP film production line at Aurangabad with a rated capacity of 25,000 tones/year.
The CPP line will require investment of about US$18 million to be funded through internal accruals and debts and is expected to commence commercial production in two years.
Commenting on CPP line project Pankaj Poddar, Group CEO, Cosmo Films said, "Worldwide significant focus is being given on recyclability & sustainability of packaging films. Monolayer structure of CPP and BOPP is most preferred structure to address sustainability requirements. With current CPP capacity running close to 100% utilisation, the company planned capacity expansion with the world's largest width line and lowest cost of production."
He also added that other growth plans for a specialised BOPET line and BOPP line are progressing in line with the plan.
(PRA)
---
Subscribe to Get the Latest Updates from PRA Please click here
©2022 Plastics and Rubber Asia. All rights reserved.

©2022 Plastics and Rubber Asia. All rights reserved.
Home
Terms & Conditions
Privacy Policy
Webmail
Site Map
About Us
SOCIAL MEDIA