Jomar's IntelliDrive 855 IBM machine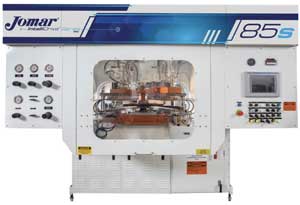 Jomar Corp., US-based manufacturer of injection blow moulding (IBM) machines for the pharmaceutical, healthcare, personal care, beauty, food and beverage, and household products industries, has launched a series of next generation injection blow moulding (IBM) machines incorporating a custom designed,servodriven hydraulic system.
The new IntelliDrive series enables significant improvements in energy consumption, production and performance, while occupying the same footprint as its standard hydraulic counterpart. In addition, this series features a servodriven hydraulic system that reduces power consumption by 40%-50% and offers a no-load cycle time of 1.8 seconds, significantly faster than standard hydraulic machines. Jomar engineers worked in collaboration with Bosch Rexroth, Charlotte, NC, to develop the servodriven hydraulic technology that drives the plasticiser.
"We have taken injection blow moulding to a new level with the new IntelliDrive series. We have developed a machine that lowers operating costs and increases production, bringing greater profits to our customers," said Ron Gabriele, Sales Manager for Jomar.
Along with low energy and utility costs, the IntelliDrive series features a reinforced main plate that reduces the chance of deflection. It also features a closed-loop machine clamping system that offers exact control over clamp speed and position, creating faster open and close speeds while reducing impact on tools, which prolongs the useful life of the moulds.
In general, the IntelliDrive series has a greater degree of control over the internal functions of the machine, resulting in more efficient use of energy. Also, the machine requires 40% less hydraulic oil, uses less than half the cooling tower water, and emits much less ambient heat than standard hydraulic machines, dramatically reducing total operating costs.
Over the last two years we have received numerous questions about our intentions to develop a fully electric machine. The IntelliDrive series is a preferable alternative for Jomar as we have achieved energy savings comparable to fully electric machines, while maintaining our robust and versatile hydraulic system," said Carlos Castro, President of Jomar. Energy savings depend on machine model, container specification and material process.
Jomar's development work on hybrid and all-electric machines consistently came to a standstill due to components that did not produce optimal benefits and were characterised by high replacement cost, according to Castro.
"We think the IntelliDrive series makes the most sense for our customers who want to save energy, but not have to contend with expensive and complicated repairs," he added.
The IntelliDrive Series hydraulic system greatly improves the energy efficiency and control of the machine, but does not require expensive components that could account for up to 15% of the entire machine. In fact, this line of machines will only cost 10%-15% more than the standard hydraulic machine and replacement parts will be available at a cost comparable to its fully hydraulic equivalent.
Jomar's confidence in the IntelliDrive series hydraulic system has allowed the company to extend the warranty by two and a half times the length of a standard warranty. "Not only are we reducing our customers' cost-per-part with savings on services, but we're offering a solution that has a very low cost of ownership. This is consistent with our overall effort to deliver short-term and long-term value to our clients," added Castro.
Other key features include a quick-change mounting system for the preform cylinder that dramatically reduces the time required for cylinder maintenance, a digital displacement transducer for better control and clamping speed, and a variable frequency drive for a secondary motor.
Jomar Seeks Agents: At a time of great interest in its IntelliDrive and TechnoDrive series IBM machines, Jomar is looking to expand its footprint in East and Southeast Asia by contracting with new agents. Manufacturer representatives in East and Southeast Asia can send inquiries to sales@jomarcorp.com
(PRA)
---
Subscribe to Get the Latest Updates from PRA Please click here
©2022 Plastics and Rubber Asia. All rights reserved.

©2022 Plastics and Rubber Asia. All rights reserved.
Home
Terms & Conditions
Privacy Policy
Webmail
Site Map
About Us
SOCIAL MEDIA