Cypet to change IBC market with PET IBCs for a circular economy
Cypet Technologies, European manufacturer of PET injection stretch blow moulding (ISBM) machines, is about to change the global Intermediate Bulk Container (IBC) market.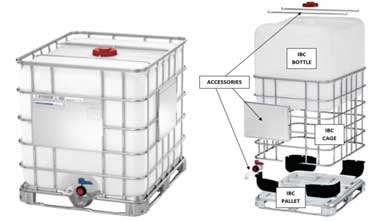 Using its extensive ISBM experience for large PET containers and following an intensive development programme, Cypet has extended its technology, to stretch- blow-mould 1,000 l IBC bottles from PET.
Cypet adds that it is looking to strike a strategic co-operation, for a partnership to implement the PET IBC bottle project globally.
Converting an IBC bottle from the current HDPE to the new PET has huge environmental and economic benefits as follows:
The PET bottle's 35% lower weight has the potential to reduce the plastic used in IBCs by 150,000 tonnes/year.


Less energy expended to produce and transport the bottles, with the associated reductions in carbon emissions


Low cost PET bottles would make rebottling of used IBCs more attractive than washing, eliminating consumption of water and cleaning chemicals.


PET bottles can be 100% recycled and used again to make new bottles or other PET containers, for a circular economy.


Unlike HDPE bottles, PET bottles can be produced with glass transparency, providing the capability of visually inspecting the IBC contents.
These advantages make PET bottles ideal for the rebottling of used IBC's, offering a cost-effective alternative to washing, especially for food contact applications. Cypet saw the market potential for PET IBC bottles and invested in the design and engineering of a larger, more advanced production system for these containers.
"Cypet's technology is taking PET where it has never been before. This opens up a new range of opportunities, yet to be explored. We are very excited to see how this leap in PET processing technology will improve the environmental impact, economics and performance of IBCs in the bulk packaging industry," said Constantinos Sideris, Managing Director, Cypet Technologies.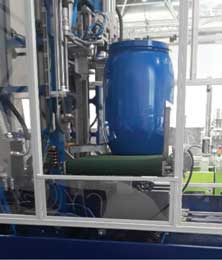 Previously, Cypet has used its technology to mould very large PET containers. This has enabled PET packaging to enter into new applications, not accessible to it in the past: 50 l drums; 50 l beer kegs; 55 l crates and 120 l drums.
The company adds that it also holds the world record for the biggest PET container in production, with 120 litre open-mouth PET drums of 400 mm neck diameter. Cypet has exhibited its K 53 machine at the K2019 fair, producing 120 litre drums.
(PRA)
---
Subscribe to Get the Latest Updates from PRA Please click here
©2022 Plastics and Rubber Asia. All rights reserved.

©2022 Plastics and Rubber Asia. All rights reserved.
Home
Terms & Conditions
Privacy Policy
Webmail
Site Map
About Us
SOCIAL MEDIA