Compounding: Coperion commissions three lines for PP/PA at Nanjing Julong
Having been awarded three Smart Compounding Lines from Nanjing Julong Science & Technology Co for the production of PP (polypropylene) and PA (polyamide), Coperion China says all three lines have been successfully installed and are in full operation. Coperion's Smart Compounding Lines are pre-configured turnkey solutions from a single source. Developed in best-practice design, the compounding lines are tailored with focus for the Asian market.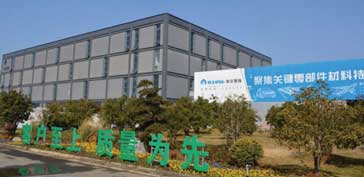 Coperion's scope of the Nanjing Julong project included the engineering and design of the three lines as well as their installation supervision and commissioning. Coperion delivered the entire solution from raw material handling receiving to the handling of finished goods, including three ZSK 70 Mc18 twin screw extruders assembled locally at Coperion Nanjing, strand pelletisers from Coperion Pelletizing Technology, a silo washing system and the Distributed Control System (DCS).
Up to now, the new Smart Compounding Lines are said to be running reliably at the highest throughput rates and Coperion will further support Nanjing Julong as a service partner. Coperion also says it will provide the site and spare parts service for the entire plant.
High level of automation
Together with Julong, Coperion's engineering teams in Shanghai and Nanjing have planned, developed and designed the entire factory from layout to commissioning. Based on the extensive know-how collected from more than 150 installed compounding lines, one of Coperion's main focuses was on user-friendly plant design by improving the working conditions for the operators at every step of production.
The result comprises a high level of automation and digitalisation of Julong's plants. Central functions are performed by the DCS Control System which has an interface and signal exchange with Julong's Manufacturing Execution System and supports and improves Julong's automated processes from order handling to manufacturing and thus increases the efficiency of the entire production.
ZSK twin-screw extruders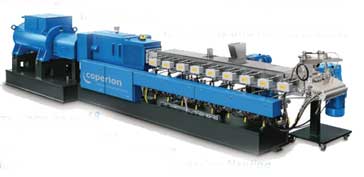 The three Smart Compounding Lines are each equipped with a ZSK 70 Mc18 twin screw extruder with a screw diameter of 70 mm and a specific torque of 18 Nm/cm3.
ZSK extruders are ideal for processing products with a high torque requirement, such as PP and PA. The ZSK 70 Mc18 twin screw extruders are locally assembled at Coperion's manufacturing site in Nanjing, China. Chinese customers benefit from local added value, transport, and tax savings as well as from shorter delivery times. Even the after-sales services are customised to local parts and needs, it adds.
Coperion's SP treasure strand pelletisers
Julong's three Smart Compounding Lines are equipped with Coperion's SP 320 treasure strand pelletisers. This strand pelletiser series was developed through close cooperation between Coperion Pelletizing Technology, Offenbach, Germany, and Coperion Nanjing. Coperion Pelletizing Technology is responsible for the design and manufactures the cutting chamber. The remaining pelletiser assembly is manufactured locally in Nanjing
The SP 320 treasure strand pelletiser is ideally suited for processing of highly abrasive strengthened products. It has a working width of 320 mm and can process up to 88 strands at throughput rates of up to 2,500 kg/hour.
Key design features of the SP treasure pelletiser include high throughput rates, easy accessibility and ease of cleaning.
Besides the use of tried-and-tested components within Smart Compounding Lines, Julong will continue to benefit from available local spare parts, avoiding time-consuming and expensive import procedures, and allowing Julong to achieve quick return on investment, says Coperion
(PRA)
---
Subscribe to Get the Latest Updates from PRA Please click here
©2022 Plastics and Rubber Asia. All rights reserved.

©2022 Plastics and Rubber Asia. All rights reserved.
Home
Terms & Conditions
Privacy Policy
Webmail
Site Map
About Us
SOCIAL MEDIA